Elephone is one of those Chinese smartphone makers that can offer a great bang for the buck. Back in December, the company teased the P6000 device as being one of the firsts to come with a Android 5.0 preinstalled out of the box.
At that time, the manufacturer wanted to join the big guys game like Google Nexus 6 and offer the latest and greatest by Google.
However, as you will see later in this review, the manufacturer used a little trick, as it currently ships with the Android 4.4 Kitkat. Still, the company promises to update their OS as soon as February, which is really fast especially if we consider some other companies, which are very slow with the OS updates.
Right now, when the device is released, we take it for a spin for a full review. Let us start by checking out the specs.
Specs Sheet
| | |
| --- | --- |
| Display | 5 inch 1280×720 IPS screen |
| Processor | MTK6732 64-bit 1.5 GHz GPU: Mali T760 |
| RAM | 2GB |
| Camera | 13.0 MP back camera, 2.0 MP front camera |
| Connectivity | Bluetooth, 3G, GPS, WIFI, GSM,EDGE, GPRS, UMTS, HSPA, HSPA+, FDD LTE |
| Battery | 2700 mAh |
| Dimensions | 144.5 x 71.6 x 8.9 mm / 5.69 x 2.82 x 0.35 inch / 0.165 kg |
| OS | Android 4.4 kitkat |
| Storage | 16GB + sd card (up to 64GB) |
Design
As you can see from the pics above, the device is made out of plastic material. Still, the overall build quality of quite good. On the front of the device you can see the capacitive buttons (the round home button is lit). If we take a look at the top, there is a 2mp camera, speaker grill and sensor light.
On the left side of the handset, there is nothing, except smooth glossy plastic. On the right side, there are volume rocker as well as power on/off buttons. On the top of the device there is a 3.5mm headphone jack. On the bottom you can see a Micro USB port for charging/syncing.
If we flip the device, you can find a 13mp camera along with the single LED flash. Also, there is an Elephone logo along with the single speaker.
What is more, you can take the back cover off and access the battery, which has a capacity of 2700mAh and is replaceable. Also, there are two SIM card slots (one being capable of GSM 850/900/1800/1900MHz and WCDMA 900/2100MHz and another capable of FDD-LTE 800/1800/2100/2600MHz) and the Micro SD card slot for memory expansion (up to 64GB).
Display
If we take a look at the screen, we have a 5 inches IPS LCD screen, which has a resolution of 720p. It is not a Full HD screen, but we are still happy to see how it performs. It is crisp, vivid, colour reproduction is great and viewing angles are superb.
Performance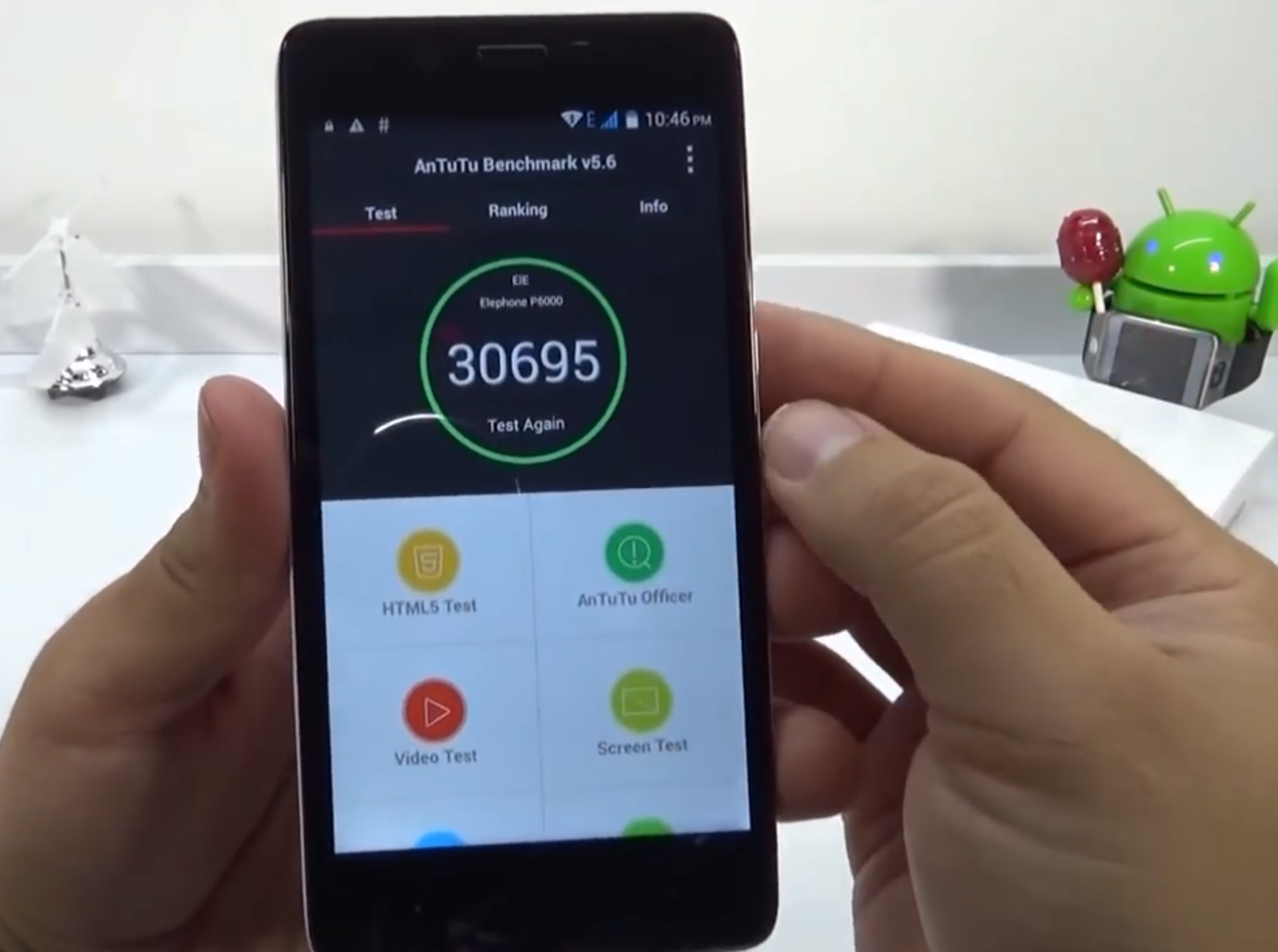 The Elephone P6000 runs a MTK6732 64-bit Quad Core, 1.5GHz chip inside, which really performs well in real life scenarios. It can achieve a score of over 30000 in Antutu benchmarking system as well. What is more, the device is backed up by 2 GB of Ram memory. Also, it has 16 GB of internal storage, which can be expanded via Micro SD card. All of this is being run by the Android 4.4 Kitkat. As you can see, the Elephone did not release the Android 5.0 device out of the box, but it has promised to update their OS as soon as possible (they say that the firmware will be available in February).
We have decided to check how the device performs, when it needs to perform some more graphic intensive tasks like Riptide GP 2 and some other games.
What we can say that the Elephone P6000 can run all these games smoothly and without any lags or skipped frames. It is quite impressive for such a budget friendly device. However, the device tends to heat up a bit, but it is usual for all devices. Still, the temperature level is passable.
As you can imagine, day to day tasks like running throughout the different screens or menus can be done without any issues. Honestly, it the operating system just flies! Kudos to Android 4.4, processing power inside the device and some great software implementations by Elephone.
We have also checked out some other functionality like GPS, Bluetooth, USB OTG, proximity sensors etc. We did not encounter with any issues whatsoever. The GPS lock speed was great. It looks like the GPS issues with Mediatek chips is a matter of the past.
Camera
The device packs a 13mp camera. We are not aware of the sensor make, but we presume that it may be Sony IMX214. The camera interface is pretty simple. You can choose from a variety of options, which include standard, landscape, sports, panorama modes. Also, there are some settings like changing the resolution, self timer, ISO sensitivity, continuous auto-focus etc. All in all, the interface is simple and fast.
What is more, taking pictures and focusing is very fast. That can be also said about shooting videos.
Allright, that's enough about the specs, but what about the image quality. Lets take a look!
We have to say that the daylight shots are stunning. We took them during the cloudy day, which sometimes can be a challenge for some devices. Here you can see that the detail level is very good, the colour reproduction is very natural. The device does not have any issues with the white balance or saturation. As you can see, the 13mp shooter even captured the clouds in great looking colours.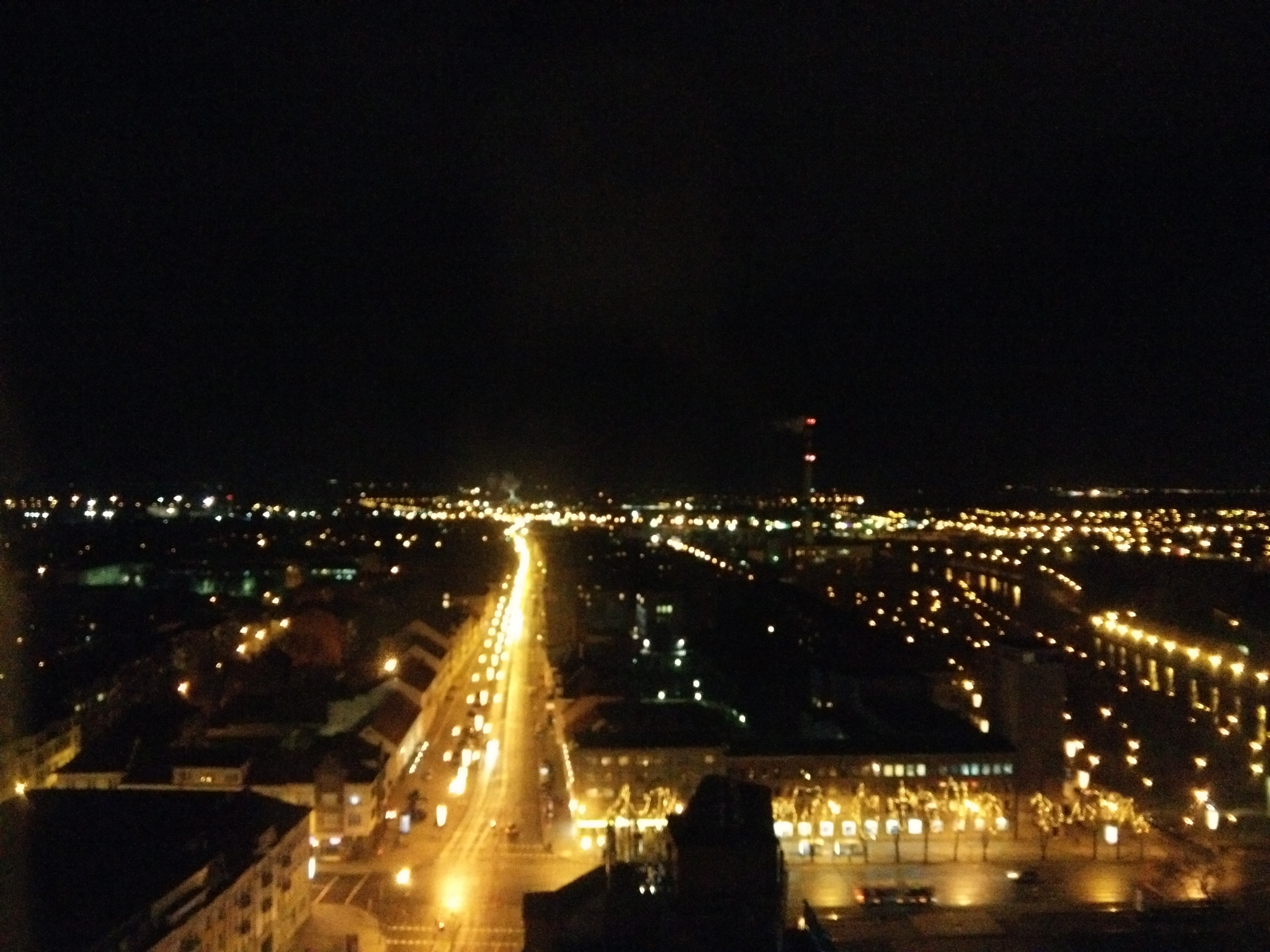 The night shot is not as good as the daylight one, but it can still capture some details. Of course, it comes with quite a lot of noise, but we are pretty sure that most of devices could not deliver a better night photo.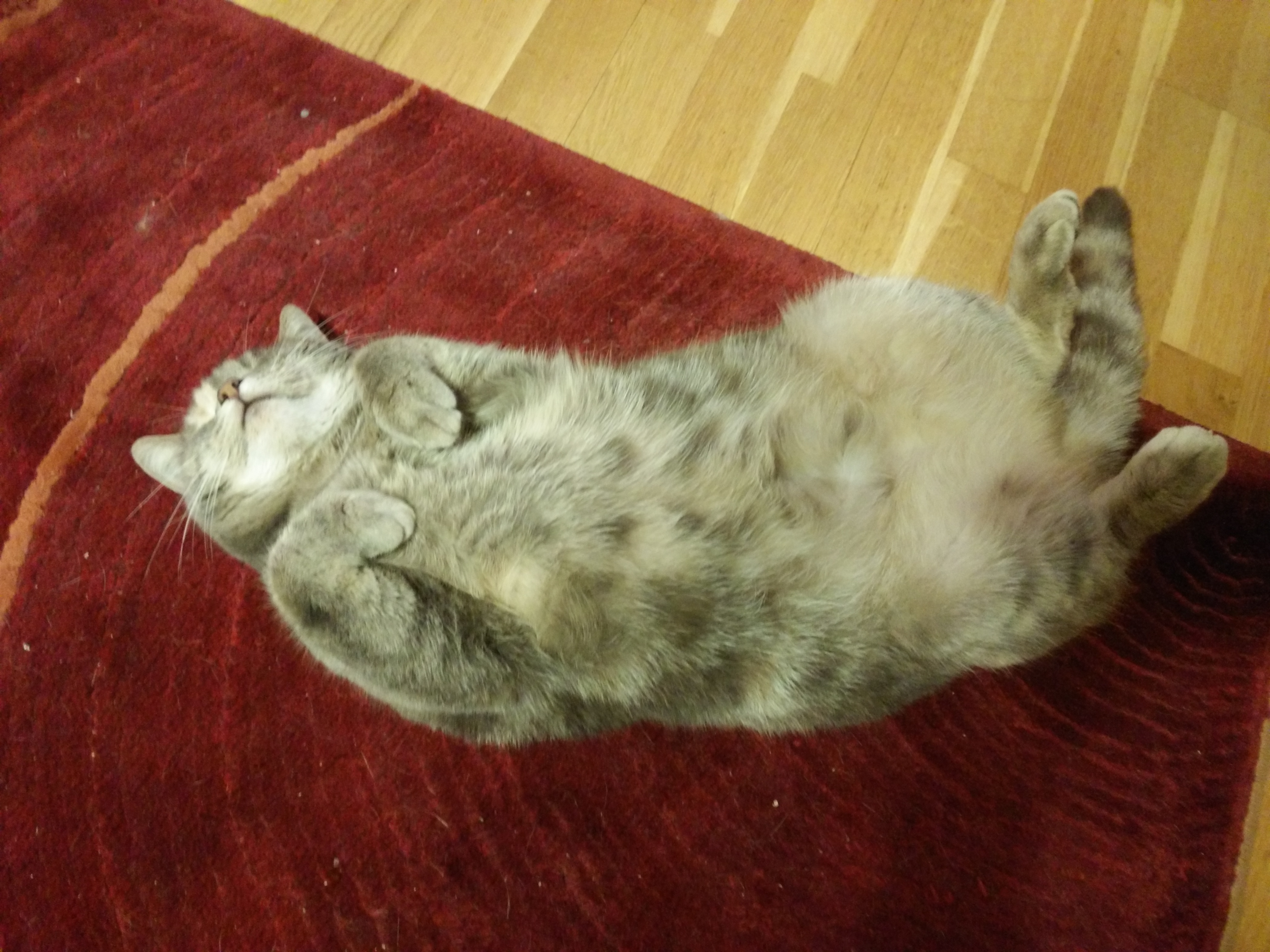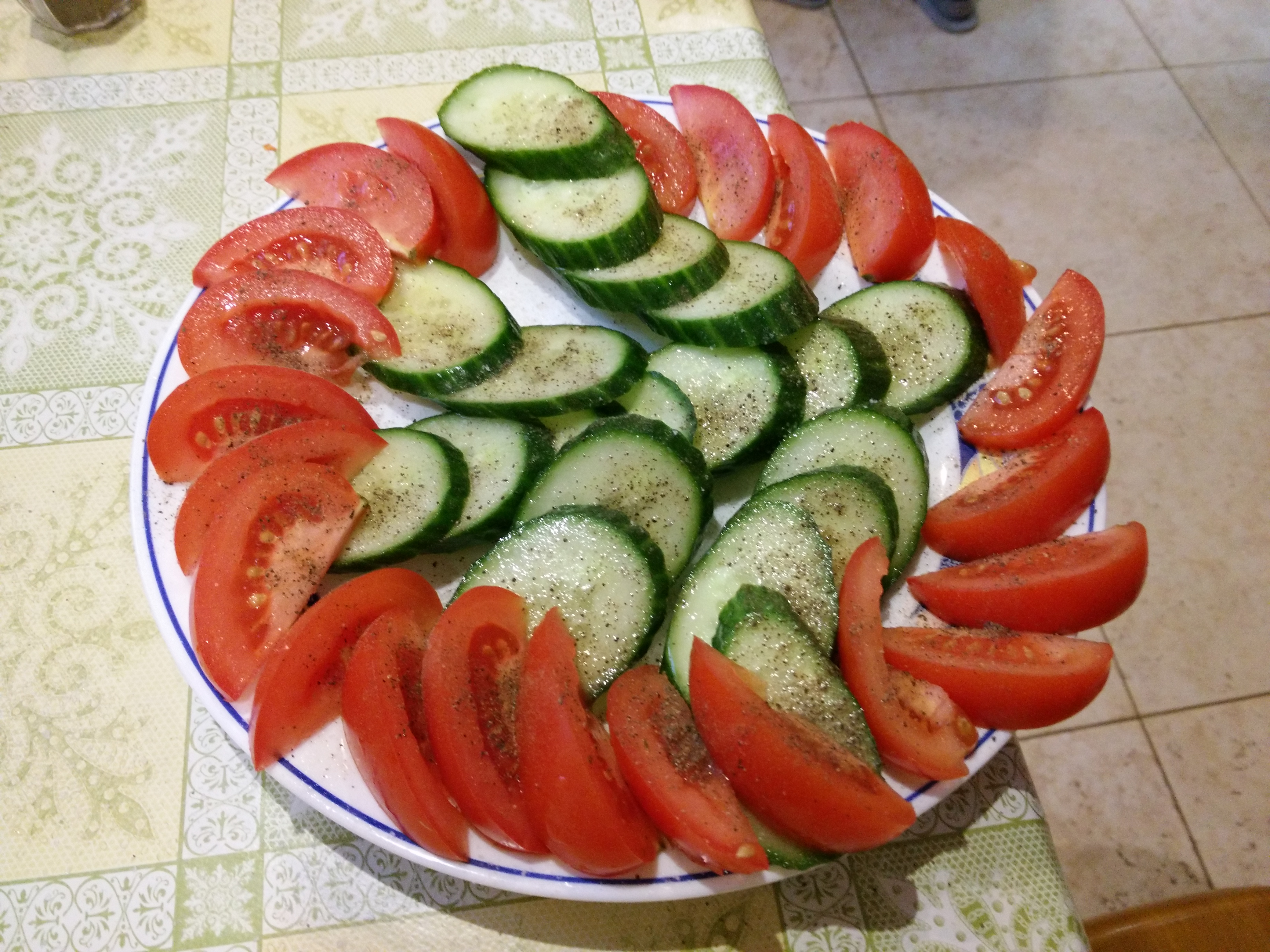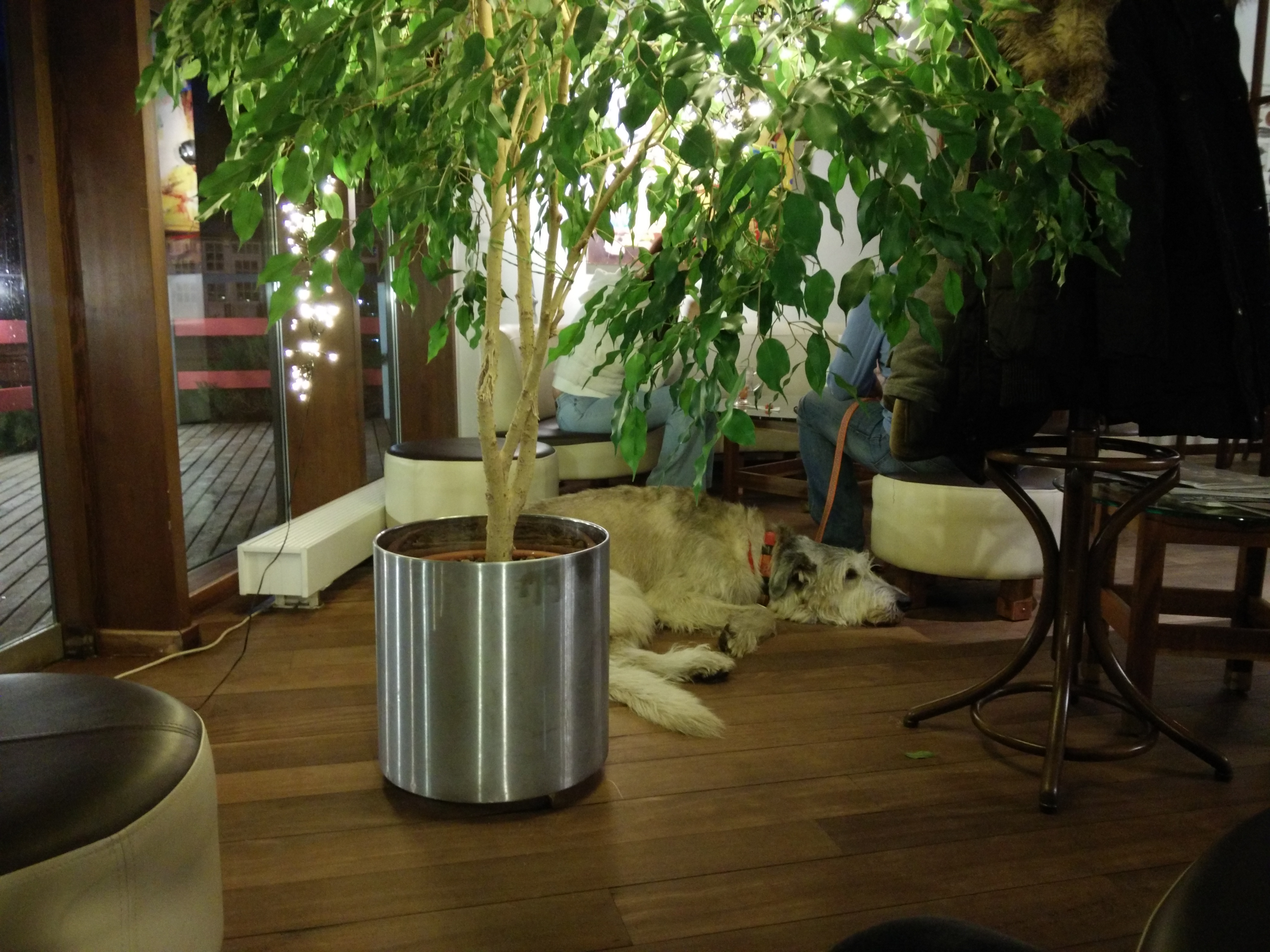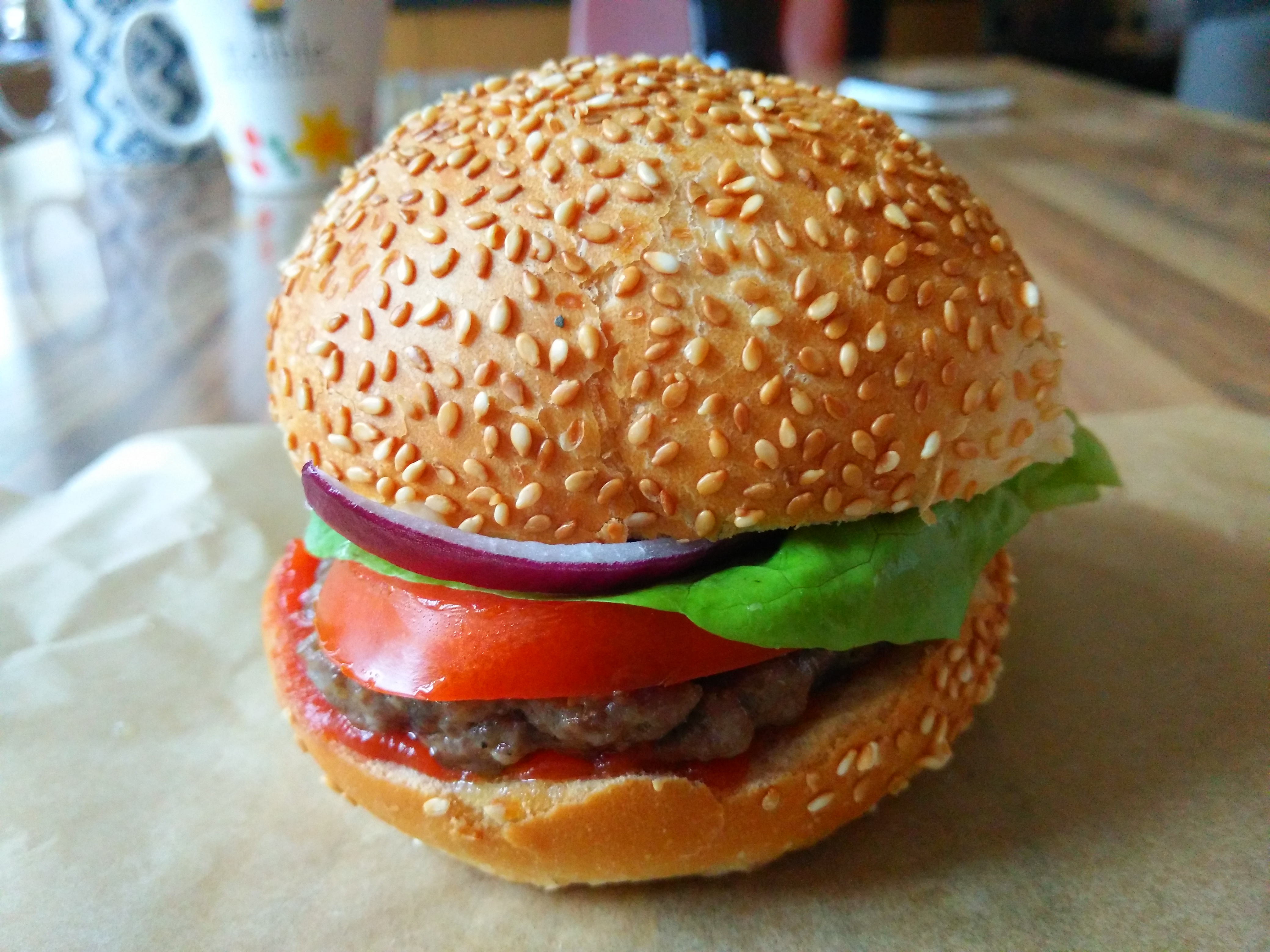 As you can see from the pics above, the indoors photos turn out to be pretty good. They spot platy of detail, colours are try to life and the noise level are kept to normal.
Overall, we are very happy with the Elephone's P6000 camera, which can take pictures very fast, the detail level both outside and inside is very good, noise level are kept at minimum. What it more, colour reproduction seems to be very natural, which very really like. Finally, the device has no issues with the white balance or saturation in auto-mode, which an average consumer usually uses.
Battery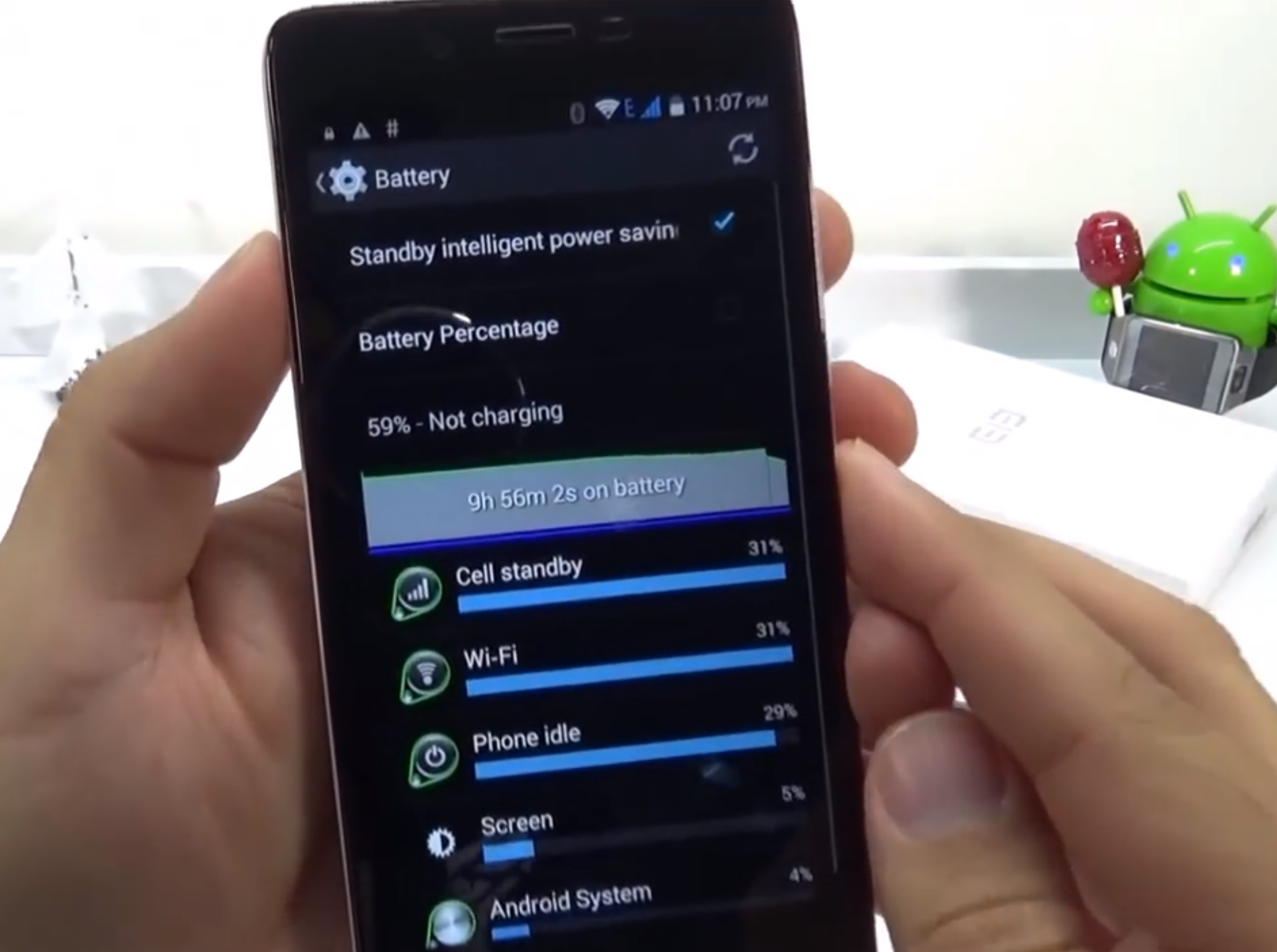 We can say that the battery life is really good. While doing some daily tasks, which include a little bit of everything like browsing the web, checking emails, Facebook, watching some Youtube and gaming, you can go through a full day of usage. Also, in case the battery dies, you can always replace it by removing the back cover.
Final Words
Overal, we like what we are seeing here. The Elephone P6000 delivers to the fullest for the amazingly low $169.99 price tag. It has a great and sturdy design with a great built quality. Also, it comes with dual SIM card slots as well as Micro SD card slot for more flexibility. In addition, the battery, which also proved to be a great performer, can be hot-swapped in case it dies after some heavy usage. Furthermore, we like the display, which has great colour reproduction, awesome viewing angles and sunlight legibility. Also, we loved the camera, which managed to perform well both in daylight and indoors scenarios. In addition, for such a price point you get all the connectivity you need on the go, which includes Wifi, Bluetooth, GPS and last but not least the 4G connectivity, which has the FDD-LTE 800/1800/2100/2600MHz bands. All in all, we can definitely recommend to buy Elephone P6000 from Gearbest.com to get it for as low as $115.99.