Onda V919 Review — Dua-boot 3g Tablet
Onda may not be a manufacturer that comes to your mind when think of tablets, but this time around the company has something interesting to offer. That is a V919 tablet. One of the greatest highlights of this aluminium slate is that it can dual boot either on Android 4.4 Kitkat or on Windows 8.1. That is definitely a key selling point of the device as it has at least two categories of the consumers in mind: those, who seek mainly media consumption and those, who look for some for productivity that can be done on Windows environment. We do not claim that Android is not productive, but still, a lot of people are just used to doing their office work on Microsoft's operating system. It all sounds like a great idea, but can Onda V919 deliver? Is it worth your attention? Let us take a look at this Onda V919 review.
Specs Sheet
| | |
| --- | --- |
| Display | 9.7 inch 2048×1536 IPS screen |
| Processor | Intel Quad-core 2.16GHz (Z3736F), GPU: Intel HD Graphic (Gen7) |
| RAM | 2GB |
| Camera | 5.0 MP back camera, 2.0 MP front camera |
| Connectivity | Bluetooth, 3G, GPS, WIFI, GSM,EDGE, GPRS, UMTS, HSPA, HSPA+, FDD LTE |
| Battery | 7000 mAh (up to 7 hours video playing time) |
| Dimensions | 24.0 x 17.0 x 0.8 cm / 9.4 x 6.7 x 0.3 inches / 0.496 kg |
| OS | Android 4.4, Windows 8.1 |
| Storage | 64GB (can be expanded up to 128GB via Micro SD) |
As far as the specs go we can say that it has quite a good pack to offer.
Design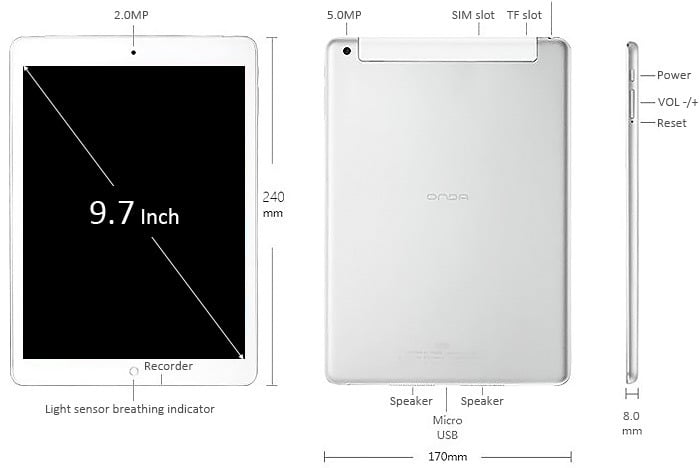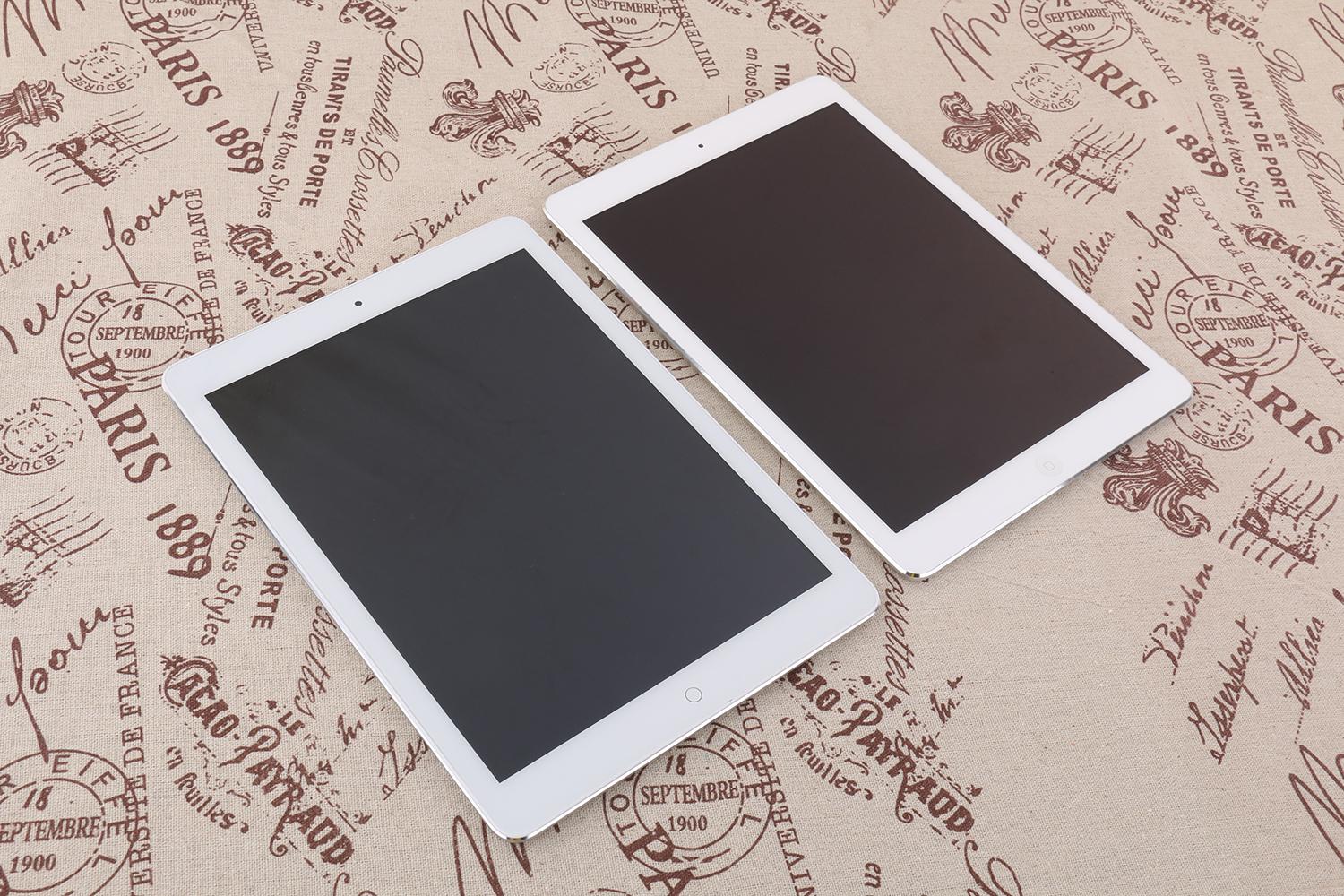 Onda V919 is on the left, the iPad Air is on the right.
As you can see from the above pics, the Onda V919 has taken a lot of inspiration from the Apple iPad, that is why we choose to do a little visuals comparison. We cannot say that the Onda tablet is a complete clone of the iPad, but it does look extremely similar. Well, even well established brands are not afraid of making almost identical products, so "that's all right".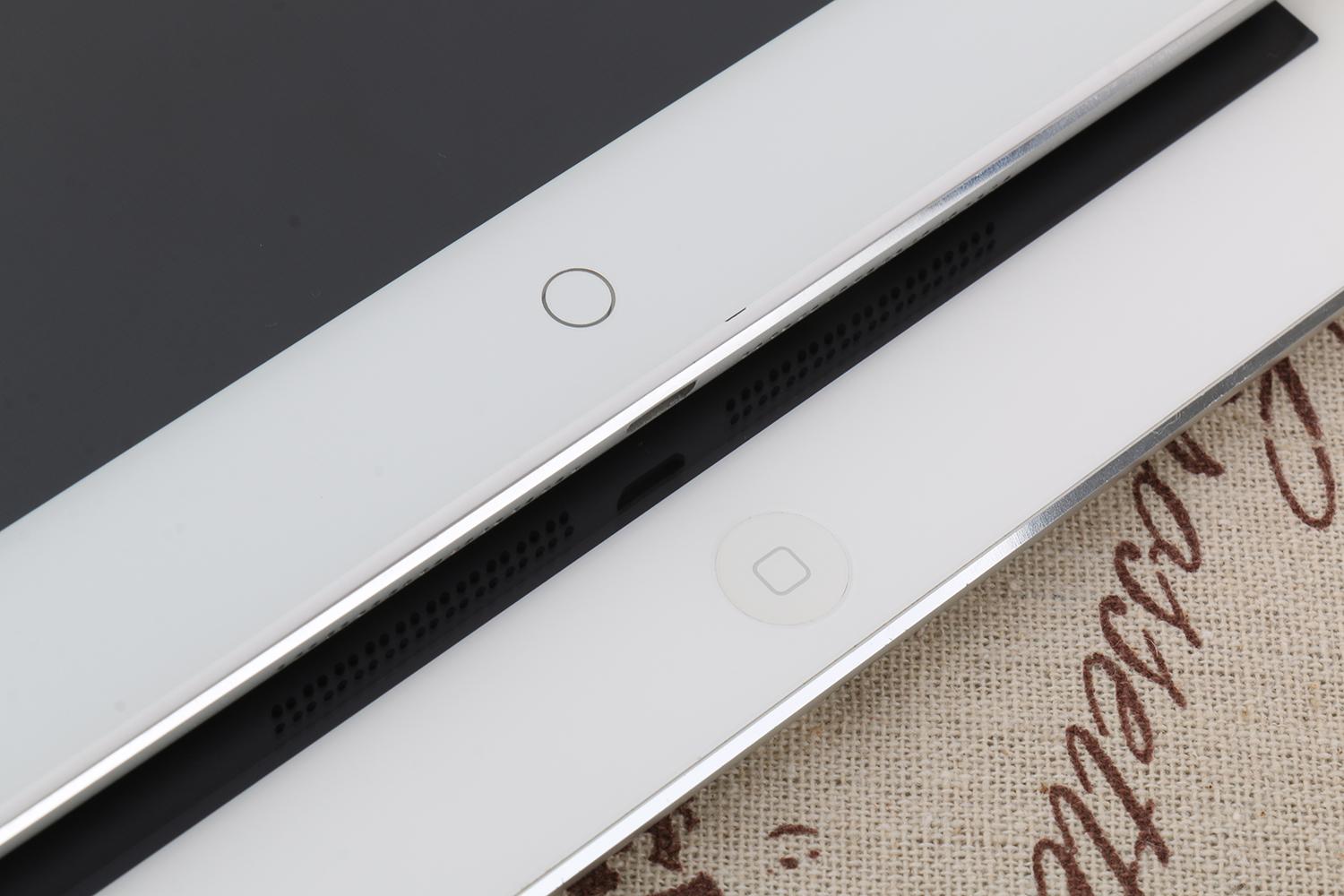 As we can see, Onda V919 is made out of aluminium material, which always adds that premium look and feel. On the front of the device we can see a 9.7 inch 2048×1536 IPS screen, which spots the same resolution as the iPad Air. Also, there is a front facing shooter, which has 2mp of resolution. What is more, there a home button. This time, it is not exactly the same as Apple's device, but it reminds us a bit of the Meizu's or Nubia's implementation.
If we flip the device upside down, we can see that there is a white plastic cover, which can be removed. There you can find a two slots. One of them is Micro SD (up to 128GB) and another is Micro SIM slot, which has GSM and 3G connectivity (GSM 850 / 900 / 1800 / 1900MHz, WCDMA 850/1900/2100MHz).
What is more, there is a 5mp camera on the back along with the company's branding and some certification marks. On the bottom, there are two stereo speakers along with the Micro USB port for charging and syncing. On the top, there is a 3.5mm headphone jack, which is placed on almost the same position as iPad.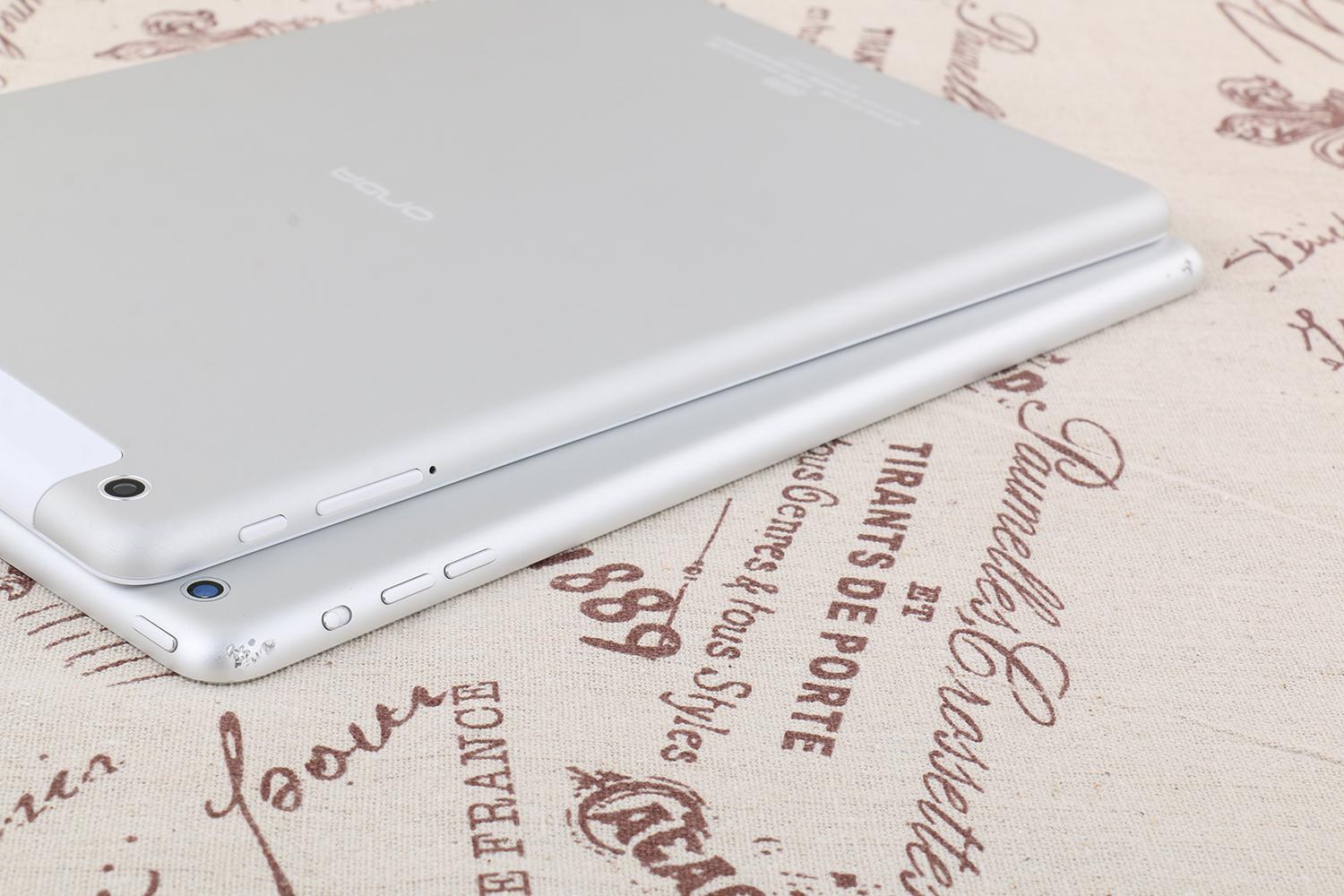 On the right side of the device there are volume up/down buttons along with the power on/off switch.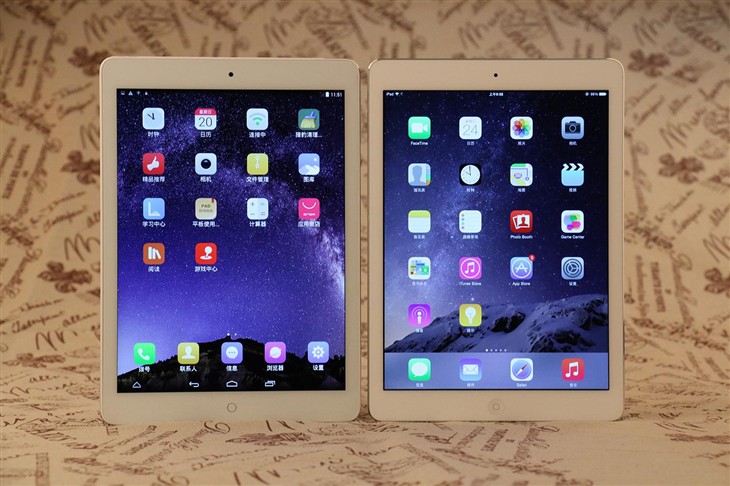 Overall, the built quality is very good. It is on par with the Apple's offering in the tablet portfolio, which is a good thing.
Performance
We decided to put the Onda V919 through some benchmarking tests. Let us take a look how it performed.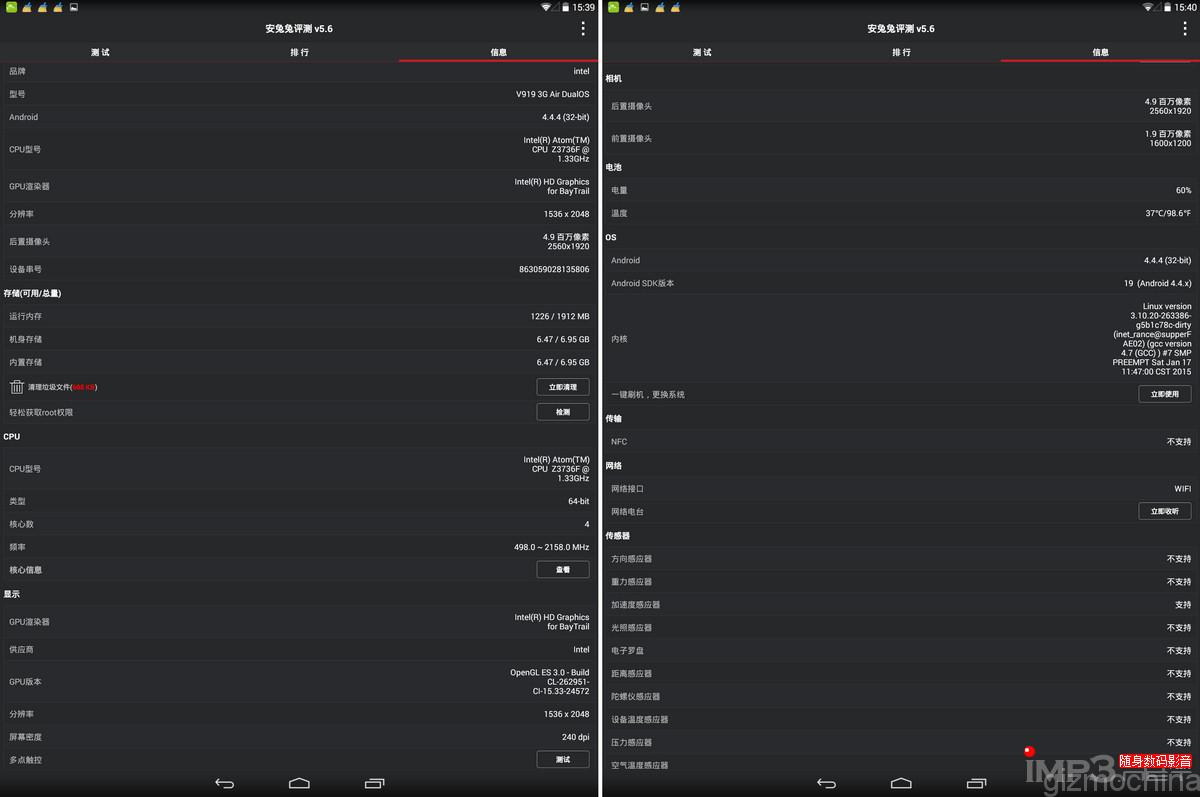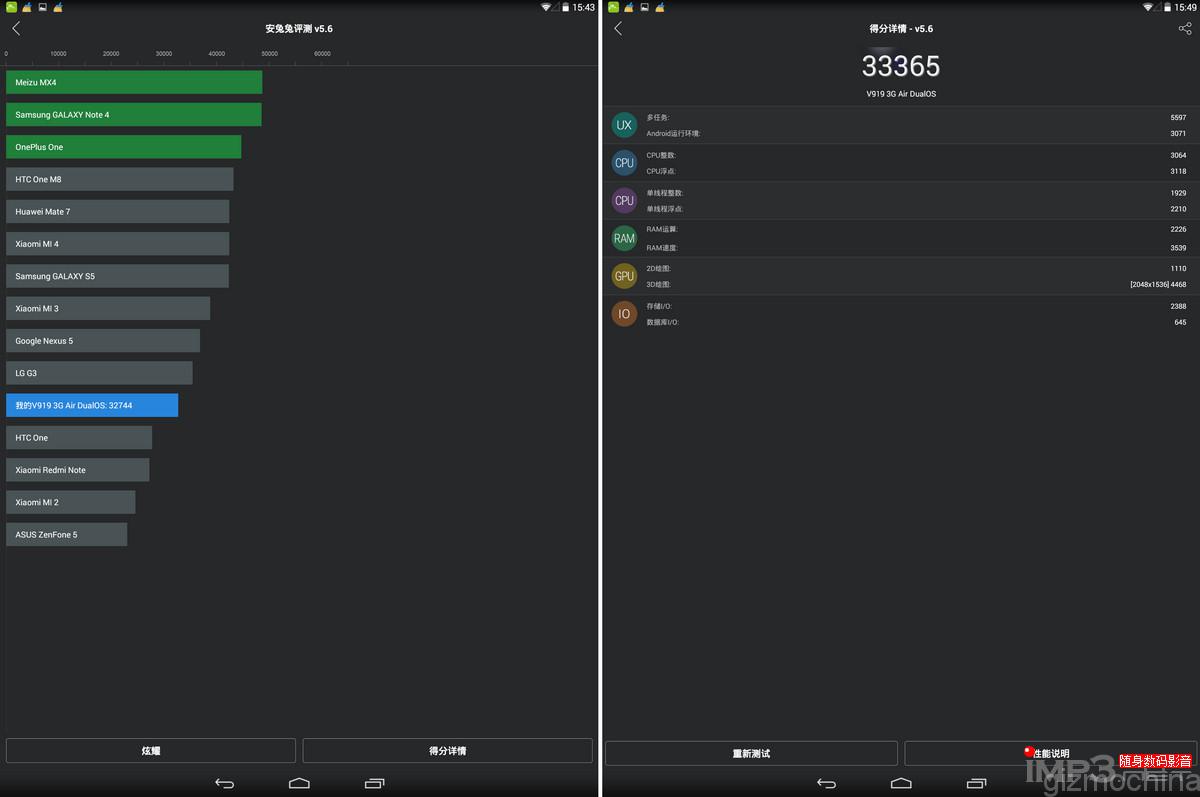 We usually do not judge the devices by its performance on the benchmarking apps, but this time the tablet showed pretty good performance. It is not on par with the latest and greatest flagships, but still it should be enough for day to day tasks, handling video and games.
If you really care about benchmarking and it is important where your device stands in the rankings, here are some more tests we went through:
What we care more is the real life performance. The device comes with a lot of apps pre-installed, which some of them should be considered bloatware. Happily, all the unwanted apps can be uninstalled or blocked via the autostart manager app. Thus, it would help reaching max performance by freeing up some CPU and RAM memory.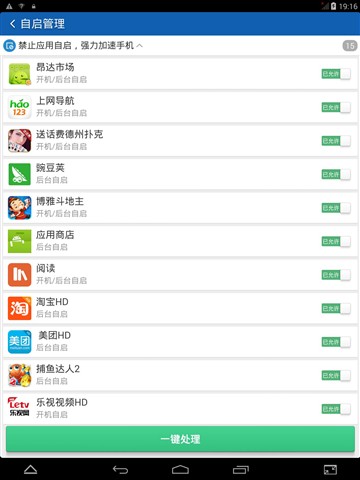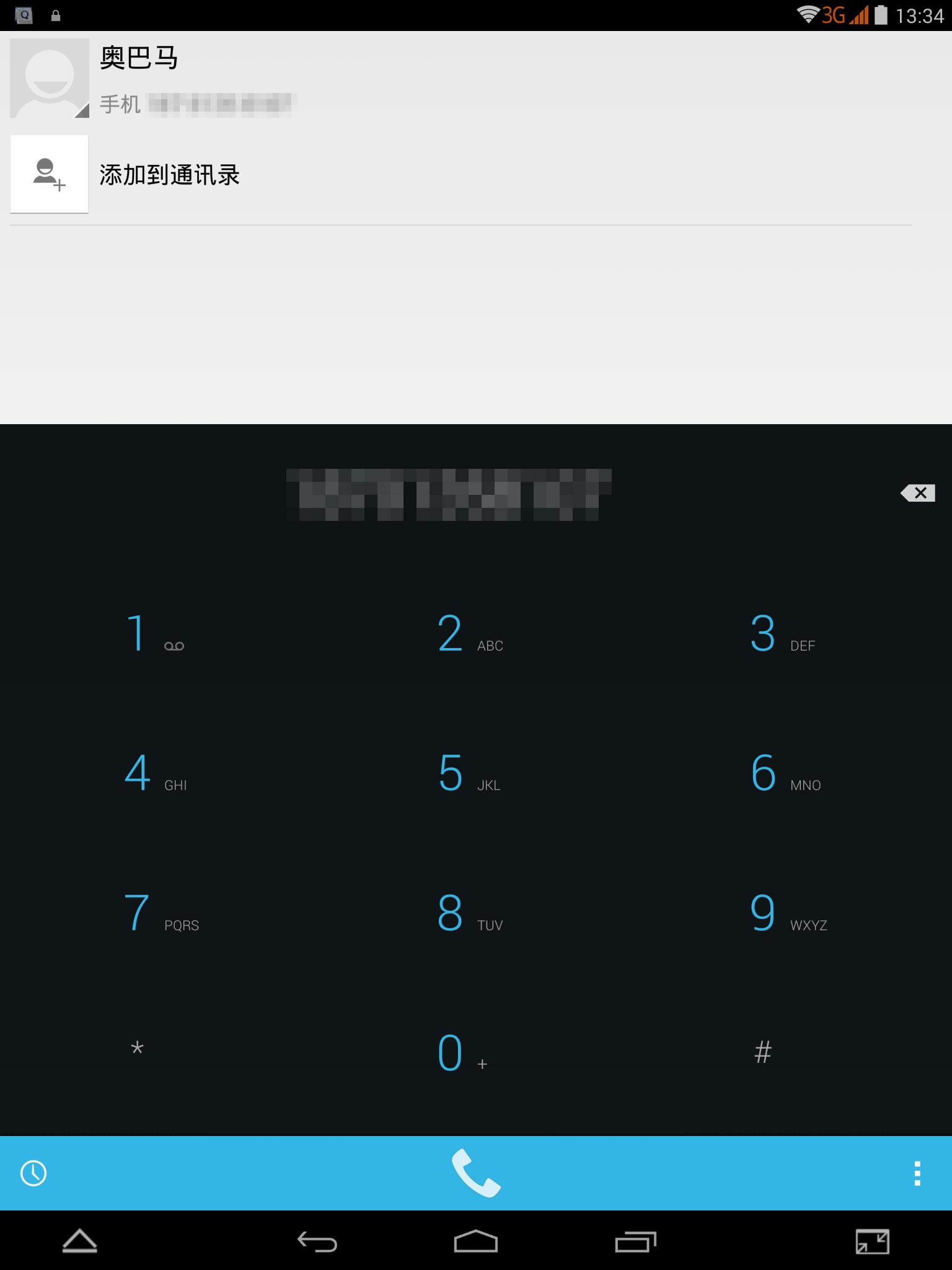 We were really excited to start by checking out the dialler app, which lets you call to the other users using GSM or 3G networks. Honestly, we believe it should be possible to use the calling function on all the tablets that are available the market. Still, the majority of them is not capable of doing that for some mysterious reasons.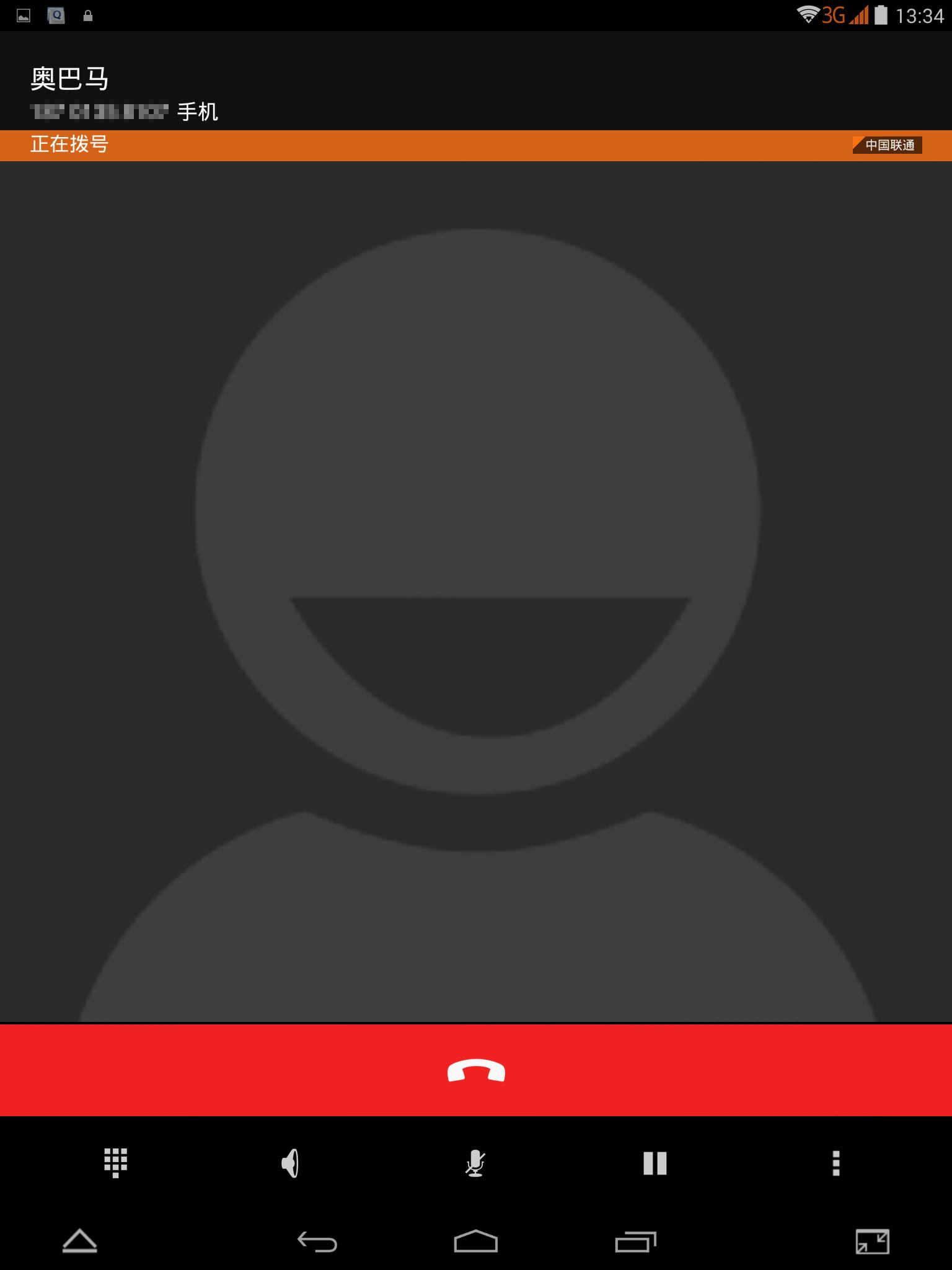 We have to say that calling function works well on the device. Well, kind of. One can look like a a bit crazy putting the 9.7 inches device near the ear, which covers the whole head. Indeed, it is not designed to use it that way. Therefore, we have tested it through the embedded speakerphone function and it worked quite well. Also, it is possible to use it via bluetooth earphones and the call quality including voice clarity were good.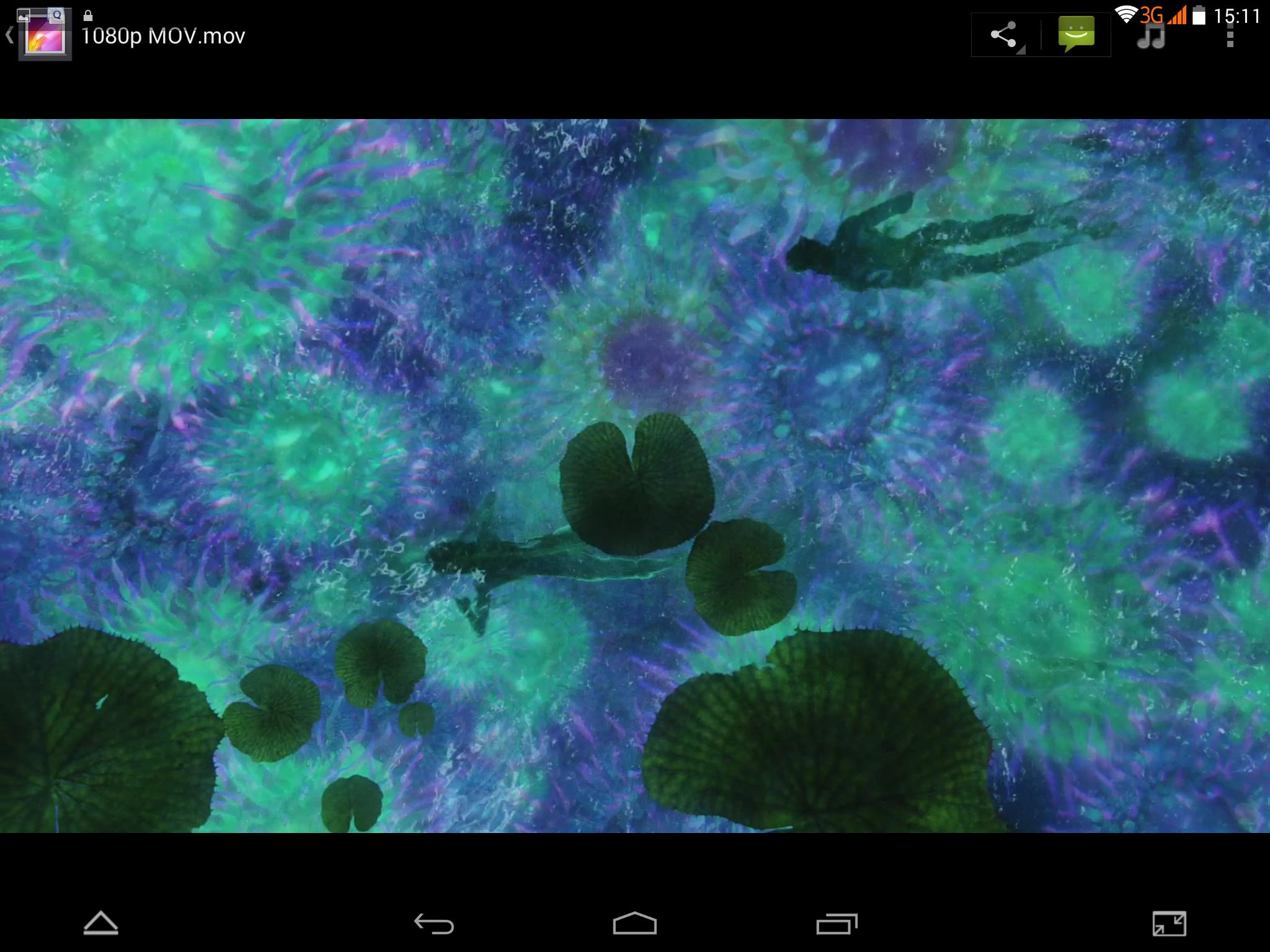 Another thing we have tried out it the 1080p video playback. As expected, the tablet did not have any issues handling that and the playback was silky smooth. Moreover, skipping forward or backward is really easy by just swiping anywhere on the playing movie. This is a great function started by the MX player and then later implemented by other manufacturers, including Onda.
Finally, we tried other tasks like browsing the web, installing apps. One of them was World of Warcraft game. We played it for quite a while and we can say that everything run smoothly. All in all, you should have no issues with its performance whatsoever.
Surface Temperature Test
As devices can handle more and more intensive tasks, most of them tend to heat up after some time. We ran through a test to see how this tablet performs.
What we did in our testing is we ran 1 hour of 1080p video. As you can see, after 1 hour the device didn't even reach the normal temperature of human body, which is quite a great achievement knowing the fact that metal usually gets warm very quickly (as it was with the HTC One M7 and M8). We like what we are seeing here.
Camera
The Onda V919 tablet is equipped with the 5mp camera on the back, which should be enough for the tablet. We never expect tablets to perform as good as smartphones, but still, it is good to have a spare reasonably performing camera around. We took a few camera samples:
During the daylight, the tablet can capture some pretty good looking pics, which have quite a lot of detail. However, the white balance and colour reproduction is definitely not the best we have seen so far. In the end, we are not using a tablet as our main shooter.
Battery
The device has a hefty 7000mAh battery inside, which is said to last you 7 hours of video playing time. Therefore, as we have already made a video playback test, we did it again. Well, we should say that the device shut down itself after about 6.5 hours of playing while the screen brightness was set to 50%. We are quite happy about that.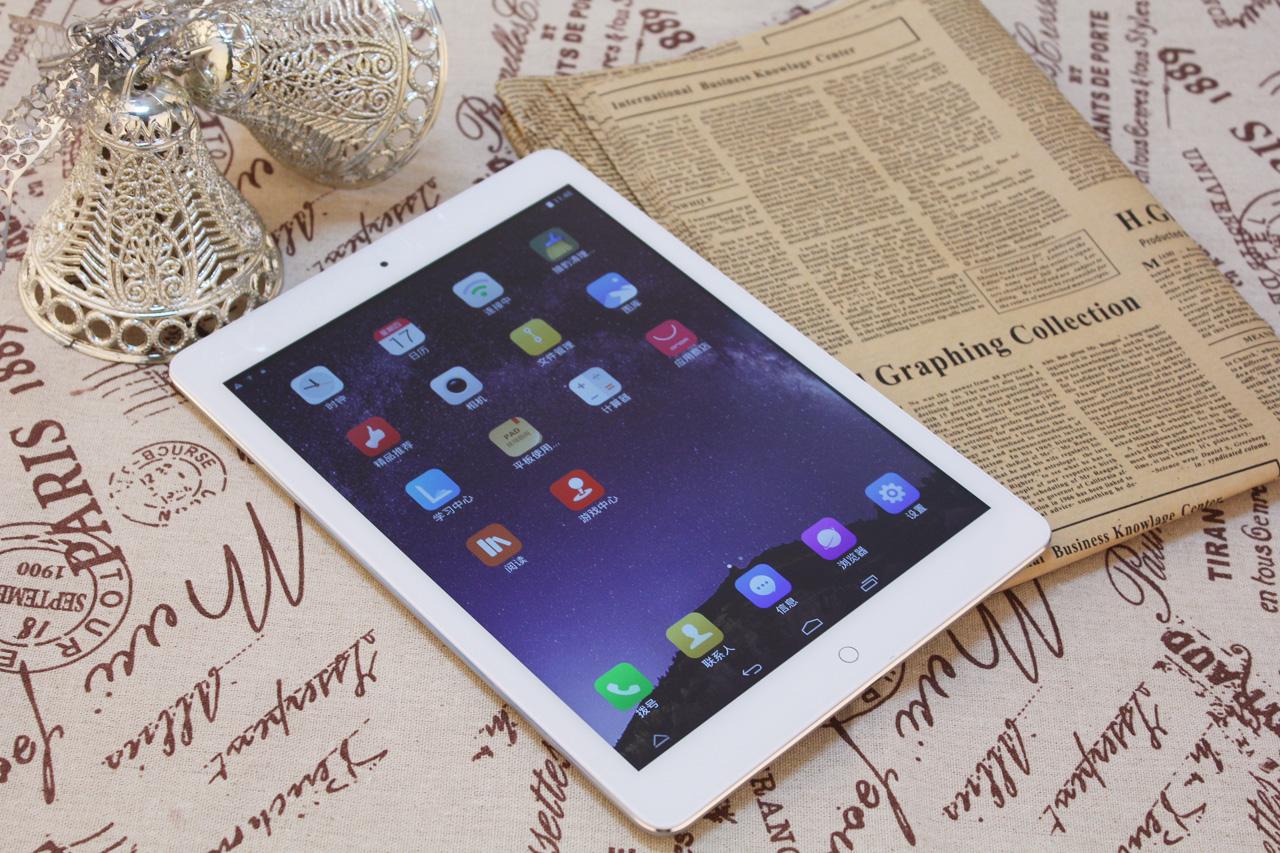 Final Words
In this day and age it is usual that many manufacturers can easily "get" some inspiration from others. We are not judging whether it is right or wrong, but we may say it lacks originality. Still, however, there is a lot to like about this tablet and we say that it is one of the better choices in its price range. What we really liked is a great choice of materials and build quality. We did say that it is on par with Apple's devices. Well, sort of. However, we still believe that Apple has perfected the precision craftsmanship and there is still a room for improvement for other manufacturers. What is more, the specs, which are packed inside this tablet enables it to run everything smoothly and without a hitch. Moreover, we were glad that it does not heat up too much and we were pleased with the camera experience and performance overall. In addition, we were happy about the battery life as the video playback test showed that the real life performance is nearly the same as it has been declared by the company. Finally, what we really like about the Onda V919 tablet is its price point. The tablet falls under the category of $180. If you are interested in this device, you can buy Onda V919 tablet from Gearbest for as low as $177.