Samsung's Exynos 7420 spotted on Geekbench!
Last year, Samsung announced its Exynos 7 series processors which was said to be the company's best offering yet. While the South Korean giant has not yet officially shown off the true power of its upcoming Exynos 7420 SoC, it was spotted on Geekbench earlier today revealing the true power of the processor.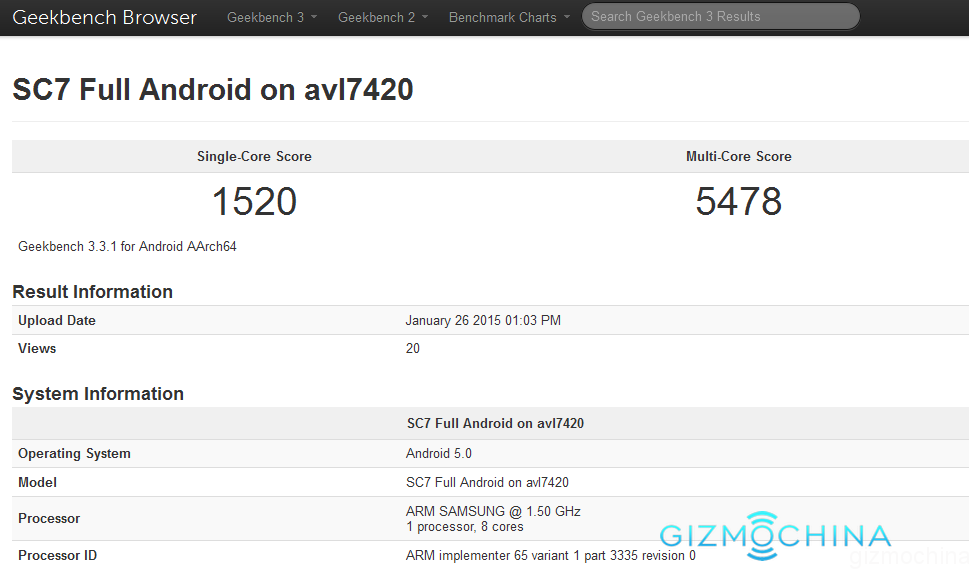 According to the listing on Geekbench, the model "SC7 Full Android on avl7420" which could be the new Galaxy S6, scored extremely high in both single core and multi-core tests. Infact, in the multi-core tests, no Android smartphone came even near to its score of 5478. If this is the true Exynos 7420, then the second powerful SoC in the results page will be an octa-core Exynos 5433 processor clocked at 1.3Ghz. But there's a huge difference between the two, as the 5433 scores only about 4000 (on an average) points which is almost 1500 points below this new 7420.
In the single core test, the Exynos 7420 managed a score of 1520 which is still considered very high. The HTC Nexus 9 still scores 1895, thanks to the NVIDIA Tegra K1's 2.5Ghz cores.
Other than that, the benchmark result page reveals the phone runs on the latest Android 5.0 KitKat OS and comes with 3GB RAM. All these specs are in line with the configuration for Samsung Galaxy S6, so its more than likely that this phone is the S6.
So, what do you think about the results? Is this the Galaxy S6 with the new Exynos 7420?