Meizu M1 Note Mini specs revealed on GFXBench
Nowadays, its quite common for an upcoming smartphone to show off its internal specs on various benchmarking sites like AnTuTu and GFXBench. This is exactly what happened with the Meizu M1 Note Mini. Earlier today, the M1 Note Mini specs were spotted on the GFXBench revealing some of the internal configuration of the phone.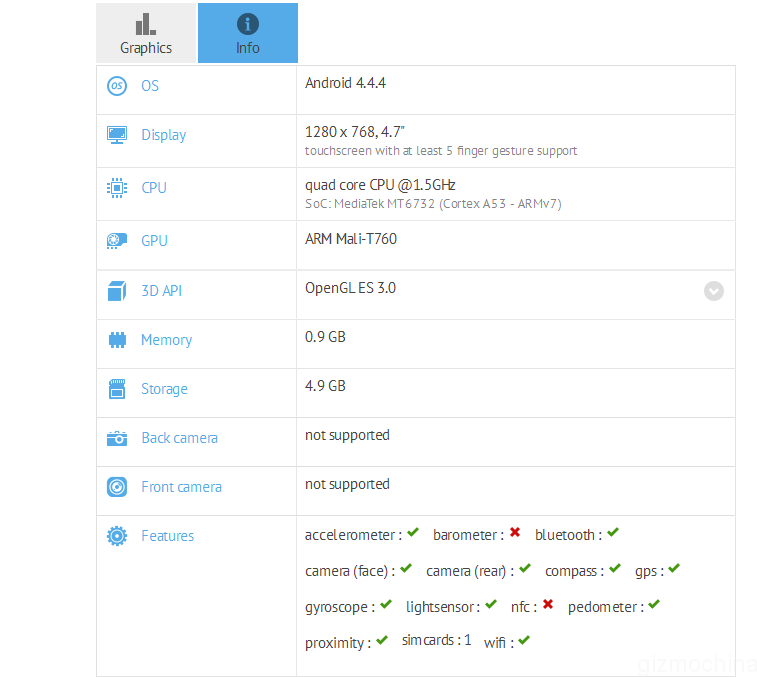 Unlike earlier predictions, which said that the phone will feature a 5-inch 1080p display, the M1 Note Mini will come with a 4.7-inch display with 1280 x 768 pixel resolution. Inside, a 64-bit 1.5GHz Mediatek MT6732 quad-core chipset based on ARM's Cortex A53 architecture will power the device along with Mali-T760 GPU. There will be 1GB RAM onboard and 8GB internal storage. Also, the phone will run on Android 4.4.4 KitKat OS. Unfortunately, the entry doesn't reveal any details about the camera or the battery, so we'll probably have to wait for the official release to get those details.
As you can see, the Meizu M1 Note specs are similar to the recently announced Xiaomi Redmi 2. Both the devices feature 4.7-inch 720p display with a 64-bit quad-core processor based on Cortex A53 architecture. Also, the RAM and the memory configurations are the same.
It looks like the Meizu M1 Note Mini takes some inspiration from the Redmi 2. However, there is one major difference. The Note Mini looks much better than the traditional look of the Redmi 2. We have already seen some leaked pictures of the upcoming device and they look way better than most other smartphones in its price range. So, if the Meizu manages to get the specifications right (we still don't know what camera is used), then Meizu M1 Note Mini will definitely pose a threat to the Redmi 2 budget smartphone.
However, end of the day, the deciding factor will be its price tag. Meizu has not yet revealed any details about this, but given that the original M1 Note retails for somewhere around $160, it won't be surprising if Meizu managed to sell this mini version for a lot less, somewhere around 699 Yuan or $112!
We don't have to wait too long to get more details about this device as Meizu has kept a special event tomorrow evening for its unveiling.
Stay tuned for more updates.