Xiaomi Mi Note sold out within three minutes!
 Xiaomi announced the Mi Note flagship device a few days back and its wasn't surprising to see that both the versions of the phone managed to create a buzz in the market.
The company announced earlier that today at 12 noon in China, the first batch of Xiaomi Mi Note phones would be made available for sale. And just as predicted, all the models were sold out within minutes!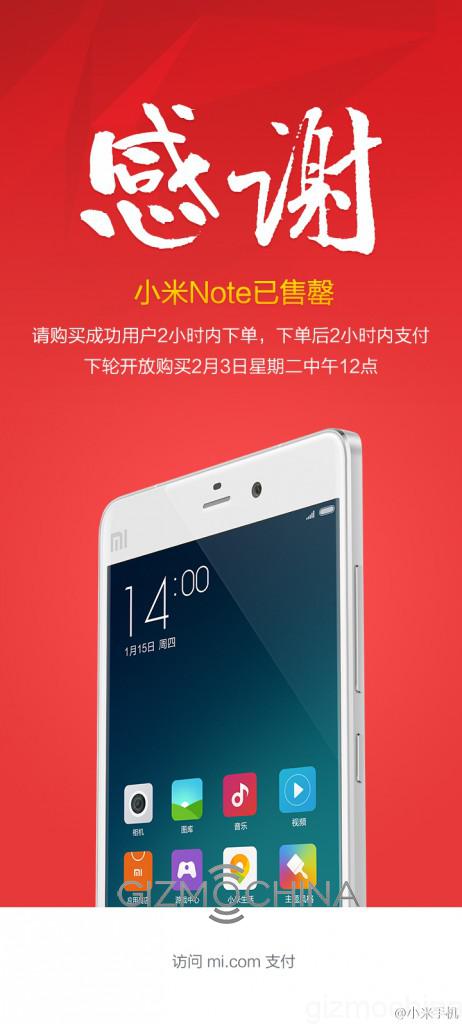 The official Weibo account of the company announced at 12.03 pm i.e. within three minutes into the sale, that the Mi Note got sold out. This is not a new thing for Xiaomi phones as we have seen in the past few months, the company's flash sales don't last for more than a few minutes.
However, like always, Xiaomi did not release the number of units that were made available for sale today. But given the market demand, the company must have brought in a large number of units. Yesterday, the company's Vice President revealed that the reservation for today's sale exceeded 220 million! So, its not at all surprising to see the phone sold out within several minutes.
However, those who couldn't get their hands on one, can try out their luck once again on February 3rd, i.e. exactly one week after today's sale. The company will be selling another batch of Xiaomi Mi Note units on that day.
Remember that this is the regular Mi Note version and not the Xiaomi Mi Note Pro high end model with Snapdragon 810. The Pro version is expected to be available for sale by the end of March 2015.
So, what do you think about the Xiaomi Mi Note? Would you buy this one or the wait for the Pro version till March?