Huawei P8's specs,price and launch date leaked on Weibo
The Weibo account @Ubuntu团队 used to leak the latest information of Meizu, and they just posted a image to show Huawei P8's specs,price and launch date.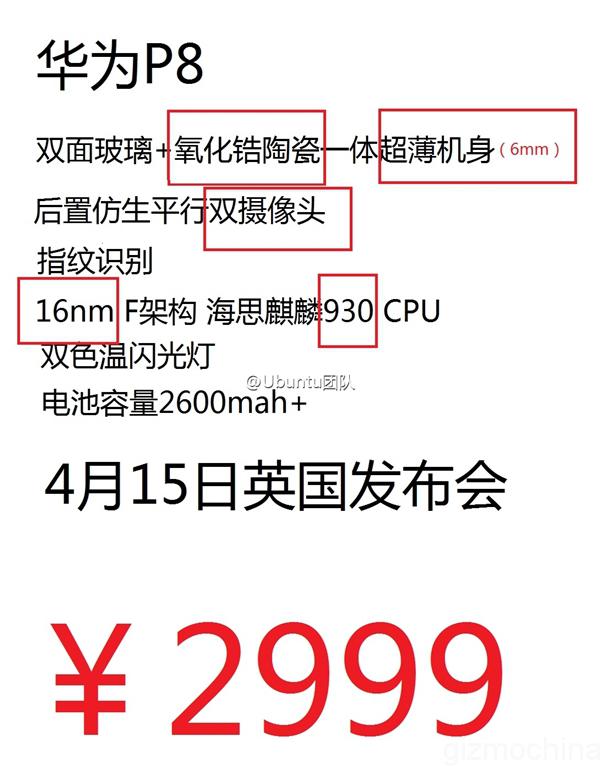 It says Huawei P8 will have zirconium oxide porcelain uni-body design with double sided glass probably with gorilla glass 3 protection. Moreover, it will be quite thin too, much thinner than the iPhone 6 models at just 6mm. The company will incorporate the same dual camera setup that's currently found on the Huawei Honor 6 Plus along with an additional biometric fingerprint sensor.
However, even this amazing design is not going to be highlight of the Huawei P8 flagship as the leak says that the company will put in a powerful Kirin 930 processor which will use the 16nm process. If this does turns out to be true, Kirin 930 will become the first SoC in the market to use this process. The latest Snapdragon 810 or even Apple's A8 processors all use the 20nm process.
The battery is said to be 2600 which frankly will be quite small considering today's high end standards. The same source reveals that the device will be unveiled at a special event in London on 15 April this year for a price tag of 2999 Yuan which comes to around $480. This would be a great price if the upcoming Huawei P8 flagship does feature the above specs.
We are sure, there will more such leaks in the coming few weeks, so stay tuned to the website for latest updates.