Meizu M1 battery capacity reduced to 2500mAh!
According to the latest reports, the recently announced Meizu Blue Charm will ship with a smaller battery of 2500 mAh. During the announcement, the company had said that the phone will come with a 2610 mAh battery pack.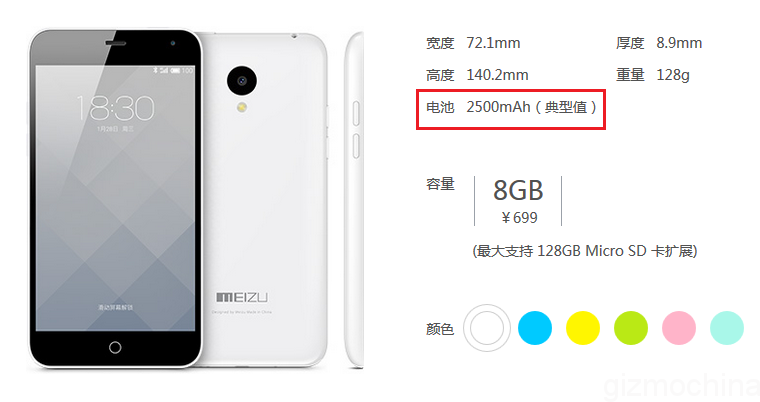 The company said that due to quality control measures, it had to change the battery supplier in its latest smartphone. Meizu decided to go with a new supplier to increase the battery size on its Blue Charm smartphone, however the battery supplier failed to provide quality control measures in the long run, after which the company decided to go with a smaller battery. So, the Meizu M1 battery will be reduced to 2500mAh in all the units that will be shipped. The company has even changed the specifications on its official website to notify the change.
The overall specifications of the phone makes Meizu's smartphone one of the best value for money budget phones in the market. The company made sure that its nearest competitor in the price segment, the Xiaomi Redmi 2 is inferior to its phone in almost every aspect. Meizu's Blue Charm specs are better and even the overall design of the phone is better than the Redmi 2. Even with this change, the Blue Charm will still have a bigger battery than the Xiaomi's 2200 mAh.
The overall specifications of the phone are pretty high end for its price class. The 699 Yuan Meizu M1 comes with a 64-bit quad-core MT6732 processor along with 1GB RAM and 8GB of expandable memory. There is a 5-inch display up front which sports a resolution of 1280 x 768 pixels. There will be a 13MP rear camera and with this change, a 2500 mAh battery. The phone will support high speed 4G LTE networks and will come in a number of color options.
With this slight change in the battery capacity, users might be worried that the battery life of the phone could be affected. However, Meizu has assured that after OS optimizations, the Meizu Blue Charm will offer the same kind of battery life as it did with the 2610 mAh battery.
Anyways, we still haven't got the device for testing, so once this revised model hits the stores, we'll have a better idea how long this 2500 mAh Meizu M1 battery will power the device.