Samsung Announces Mid-Range Samsung Galaxy E7 Smartphone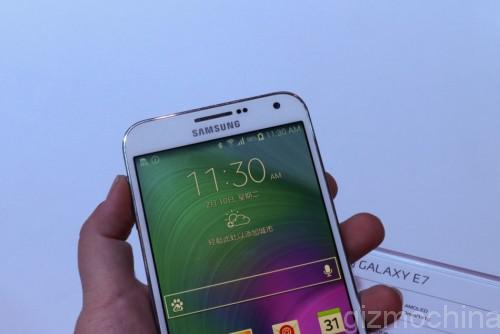 Samsung has officially unveiled a new smartphone called Samsung Galaxy E7 today. The Korean company took the stage at China Samsung Forum 2015 to announce the new phone.
According to Samsung, the new phone in its Galaxy series will be aimed at mid-range smartphone market. In fact, the company is placing the new phone below the recently-released Galaxy A series smartphones. The phone's targeted market will be mostly Asia.
Like most Samsung Galaxy series smartphone, Galaxy E7 has the average Samsung design. It focuses on an ultra-thin design philosophy and the body is more rounded when compared to A series, which is already on sale in the market.
The Samsung Galaxy E7, the first of Galaxy E series, packs a 5.5-inch screen with 720p HD display. Under the hood, it sports Qualcomm Snapdragon 410 quad-core processor with 2 GB RAM and 16 GB internal storage. It has microSD card slot so users can increase the device storage according to their needs.
Galaxy E7 also has a 13 MP camera on the back and 5 MP camera on the front. It runs on Android 4.4 KitKat out-of-the-box, no words on whether it will receive update to the latest version of Android, though.
With a 2950mAh capacity battery, Samsung Galaxy E7 will support dual SIM cards. In addition to that, the phone will work on FDD 4G LTE network and will be priced at around 2000 Yuan (roughtly $320).
Samsung, however, didn't announce the availability of the device at the Hong Kong event.