2GB RAM Xiaomi Redmi 2 on sale between Feb 13 to Feb 25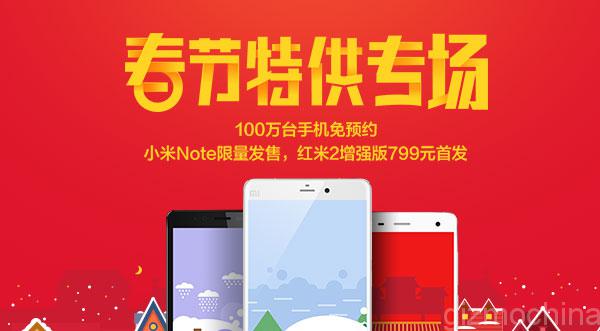 Xiaomi fans were a bit disappointed as its Redmi smartphone had only 1 GB of RAM. Apparently, the company has listened to the user demand and is coming up with a 2GB RAM Xiaomi Redmi 2 today. The 2GB version of Xiaomi Redmi 2 will reportedly go on sale starting February 13.
According to sources, Xiaomi engineers believed that the the second generation of Xiaomi Redmi could do fine with 1 GB of RAM. But in order to avoid disappointing users once again, the Chinese brand chose to upgrade the phone from 1GB RAM to 2GB RAM and 16 GB of internal storage.
Xiaomi might call the new Redmi with 2 GB RAM an Enhanced Edition, and it is set to go on sale for 799 Yuan (about $128). The phone will show up for sale during Xiaomi Spring Festival which is set to take place from February 13 through February 25, just ahead of Chinese New Year.
While Xiaomi expects all shipment to be made in normal schedule, phones purchased on February 18 and 19 might be delayed due to holiday. However, the company says that it will finish delivering all orders before the end of the month.
Xiaomi Redmi will retain all the other specifications from its original model. In case you need a reminder, Xiaomi Redmi packs a Qualcomm Snapdragon MSM8916 quad-core processor clocked at 1.2 GHz which is also a 64-bit processor. It has a 4.7-inch 720p HD display, 8 MP rear and 2 MP front camera.
Fans across the world have expressed their frustration over the fact that Xiaomi Redmi only has 1 GB of RAM. With the new 2GB model of Redmi around, the Chinese manufacturer is likely to see tons of sales during its upcoming Spring Festival.