Gionee may have another flagship worthy product at MWC, the Gionee Elife E8!
We recently came to know that Gionee was going to announce the slimmest smartphone in the market at MWC 2015. The device is said to be the Gionee Elife S7 which would feature a 4.6mm thin body. Now, it looks like the S7 won't be the only smartphone that will be debuting at MWC this year. Along with a range of anticipated flagships like Galaxy S6 and HTC One M9, Gionee will also unveil a new device, the Gionee Elife E8 with high end specs.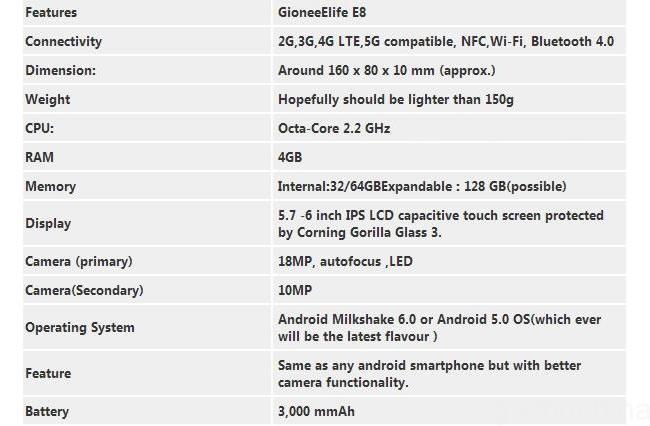 Thanks to a recent leak, we know almost everything about the upcoming smartphone. The specs sheet reveals a powerful 2.2Ghz octa-core processor (probably a Mediatek SoC). The highlight of the device is its 4GB RAM, which should make sure that the phone runs very smoothly. There will be 32GB / 64GB internal storage options along with a MicroSD card slot which can take cards up to 128GB in size.
The screen is rumored to be around 5.7-6 inches in size with Corning's Gorilla Glass 3 protection, making it as large as the Galaxy Note 4. For camera, you can expect powerful 18MP rear snapper and a 10MP front shooter.
Interestingly, the leak shows that the phone could be around 10mm thick which is quite the opposite of what Gionee is trying with its Gionee S7. Other features include Android 5.0 Lollipop, 4G LTE connectivity and 3000 mAh battery.
While the specs look really good, there are some things which doesn't add up. First of all, the thickness is said to be around 10mm and the battery will be just average at 3000 mAh, so why would a large screen phone be so thick? Moreover, Gionee is usually known for its super slim phones and if this is a flagship model, it would be logical to make the phone slim too. So, unless there's like a hidden feature which requires a large body (camera sensor perhaps?), it doesn't make sense for the phone to be so thick.
But even if we decide to believe this info, there's still doubt about the authenticity of the leak. The picture says the phone will be 5G compatible and may also run on Android Milkshake. There's nothing concrete about the leak. So, its best to take this news with a pinch of salt and wait till MWC, which is just a few days away to see what Gionee has in store for us fans at the event.
Stay tuned for more updates.