Huawei Smartwatch Announced : The Best looking Smartwatch Till Now
It's been in a news for a while, and finally, Huawei today will release it's all new smartwatch, and the best part is, This watch actually look like a classic watch somewhat like a Rolex. Huawei has released a video trailer of that watch with some of the Pictures, the watch will be Released in some hours from Now (at the time of writing). The name is yet not announced but they have released the watch, the looks of the watch is phenomenal, Its very Similar to Moto 360 and LG G watch R, with a round display, but with no chin. It has a digital crown on the upper right side of the Watch. Huawei Watch will Run Android Wearable OS, and will have Android lollipop out of the box. China will be the first to have it.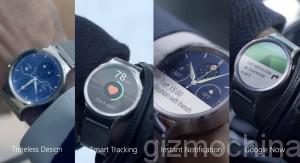 As you can see the Huawei Watch has a glossy metal body, with the classic look. It will be the most sturdy watch till now. The diameter of the screen is 42mm which is one of the general sizes you can find of normal watches. Unfortunately it doesn't has any Screen Protection like gorilla glass but we got a Sapphire glass which is mostly found in Longines and Rolex. It is obviously a luxury Watch but that's not it. You can have different straps including Leather, Rubber, Cloth, Texture and many more. You can change your watch face (the standby screen from which you will see the time) to a number of watch faces available, ranging from Luxury to Sporty. If you want more watch faces, then their are several apps on google play store for changing the watch face.
Specs Announced
Qualcomm 1.2GHz processor
512MB of RAM
4GB of storage
a 6-axis motion sensor
The Video also hints that the watch will be water Resistant. Huawei has not yet reveled a lot, but we are expecting it to be the best watch till now. It will also have a pedometer, gyroscope, heart rate sensor, it would have more but it is still untold.
This would be the first watch from Huawei and maybe the best till now, it would be competing with Mot 360, LG G Watch R, Pebble Time and Apple watch.
See this Video if you want to know more about the watch and it features. The Specs aren't out yet, but still you can have a good view about the watch from this video below.
The Price is still not told but we can expect it from 250$ to 300$.  Do tell us what you think about the watch in the Comment Section Below.