Nokia coming with a new Android Phone – Nokia 1100
After Nokia launched Android tablet , Finland's Nokia is making Android phone again seeing the competition, It will be it its first Android5.0 Phone from Nokia, the Nokia 1100 , the current machine running points lead coming out .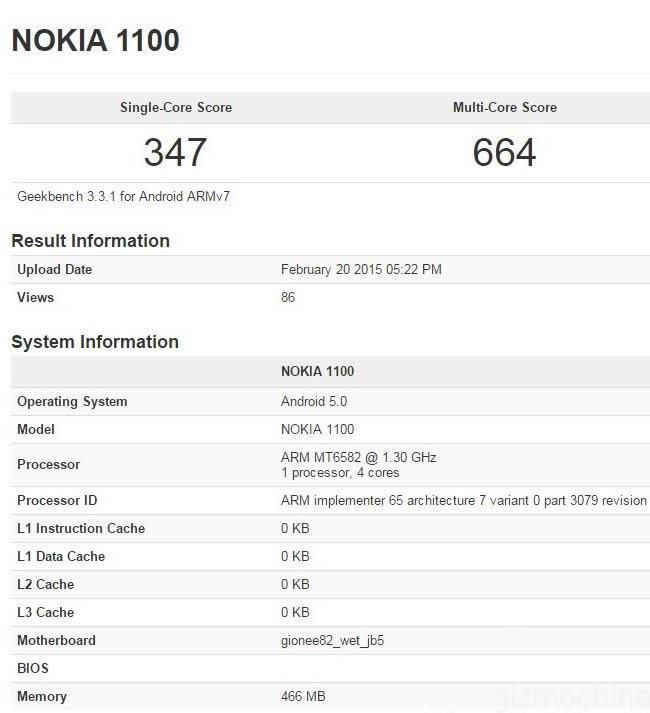 A suspected Nokia's new phone appeared in GeekBench database , which the new code Nokin 1100, Almost everyone would be knowing that historic Nokia 1100, but 1100 is emerging following the N1 genuine Android equipment , the phone is equipped with Android 5.0 system ,the memory is relatively small, estimated to be 512MB but it could be that its just for tesing reasons. It is worth noting that Nokia's new machine uses a MediaTek MT6582 quad-core 1.3GHz processor , the memory on its 512BM form a super low-end configuration , showing the advances of Finland's Nokia MediaTek cheap hand again entered the low-end market intentions. However, A big question arises that can a phone with 512MB can run android 5.0? Well if we think of past even the phones like Sasumng galaxy y used to have lollipop but now it runs kitkat smoothly on a CUstom kernel. Nokia is trying to enter the budget segment with this phone, It would also be a hit, but 512MB RAM is just too low seeing today world. The phone would arrive early next year. Seeing the Specs, the phone should be around 75$ – 100$ or even less.
Do let us know what you think about this phone in the comment section below.