How to recover Lost Data from Android smartphone using Coolmuster Lab.Fone for Android
There have been plenty of instances where data on an Android phone is lost. Most of the times, it is just accidental deletion, and a few other times formatting. Whatever the reason may be, there will be times when you have realized that an important file or folder on your device is now gone. While its natural to panic in such a situation, you have to realize that just because the data is not available on your smartphone doesn't mean its lost for ever.
When you accidentally delete a file, the file is not really erased from your device. Most of the time, you can recover lost data without much hassle. This is where the Coolmuster Lab.Fone for Android comes to your rescue. This particular desktop application scans your Android smartphone for any recoverable files and then gives you the option to recover each file, one by one. This desktop application is ideal for someone who has lost an important message, contact, or even file on the device and they need it urgently.
Since recovering lost data is not an easy task, its always better to root your device before using Lab.Fone. Root access grants the app extra permissions to make sure that everything that's recoverable can be found on your phone.
Interestingly, the company has given a guide to root your device before you use their app and hence, you can check out their guide if you have not already rooted your device.
Anyways, here's how you recover your deleted files on your smartphone / tablet.
1. Connect your phone / tablet to the computer.
2. Install and launch the Android Data Recovery Software.
3. Select USB Debugging mode on your device.
4. Now you'll see a pop up window where you should click on Allow. This will give the app necessary permissions to scan your phone for any recoverable files.
5. Once the scan is completed, you will see a number of files available for recovery in different categories like contacts, text messages, videos etc. You can go to each category and select a file to recover.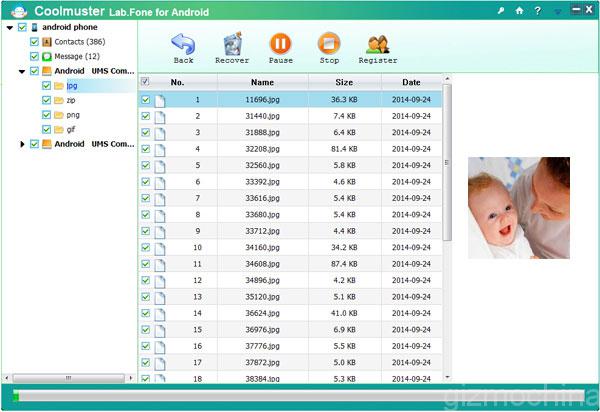 6. Once you have found the files that needs to be recovered, just click on the RECOVER button on top. This will undelete the file and transfer it to your computer.
See, its as easy as it sounds. You can check out more details on how to recover data from Android via the given link. And if you are just want to recover messages from Android phone, they have a separate guide for that too.
This is one of the easiest ways to recover lost data. So, now you don't have to worry if you accidentally delete a file as this software will help you find it back.