Xiaomi CEO showed their phone's prototypes
It seems that Xiaomi's CEO Lei Jun is quite happy about its company's products and he is sure that the so called Apple of China is producing very high quality products.
Lei Jun said that Xiaomi is very concerned about the experience and the quality of each model, so the company usually makes at least 5 or 6 prototype devices until they reach the perfection.
Lei Jun posted on his Weibo about the Research and Development for the MI5, he posted a picture with Xiaomi phones, Mi2S / Mi3 / Mi4 / Mi Note and all the Redmi Series in their prototype state. He Posted-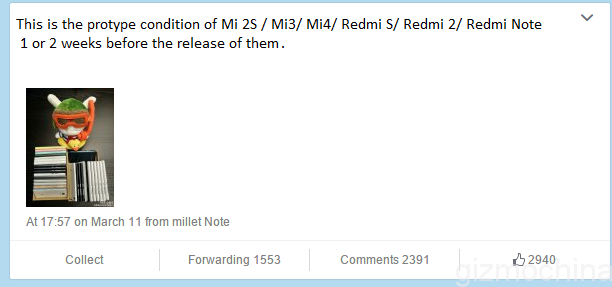 Lei Jun said that they are very concerned for the user experience and the quality of each model they produce, a model tend to have five or six versions of the project to verify the perfect machine. 
At the Mi4 conference, Lei Jun has said that its R & D process up to 18 months, the project has gone through six generations machine .
According to the time inference, Mi5 design is almost finalized at present, but there is a long distance from the official release time. Previously, analysts @ Pan Jiutang just broke the news on the Weibo that Mi5 will be released in fourth quarter of this year in order to meet us .