Times Have Changed Apple, Letv is Coming!
We have already heard all the buzz about something spectacular coming from the newcomer to the smartphone's industry – Letv. One of reasons that keeps us waiting for the April 14th, when company's event will be held, is that they may announce the mysterious bezel less "super phone".
It seems that the company is not shy at all to strike directly at Apple as some posts by Chairman and CEO Jia Yueting suggest.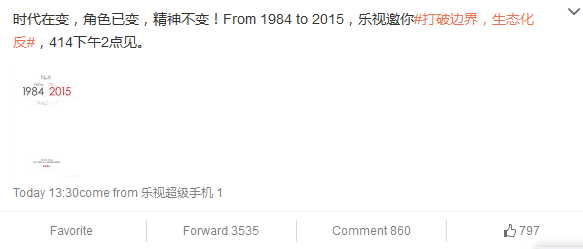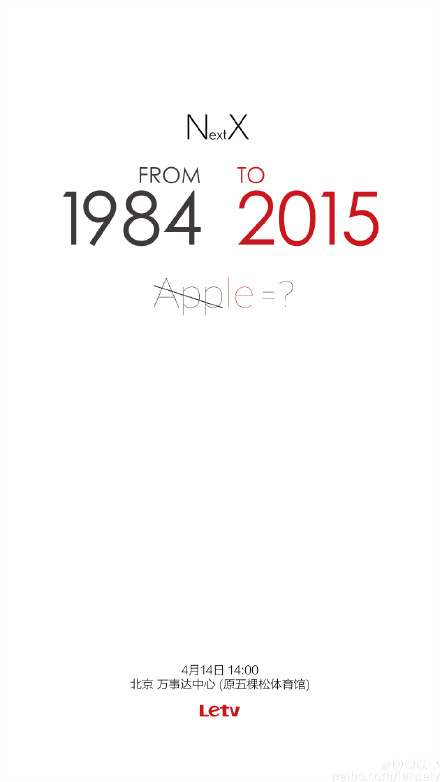 This teaser seems to be a poster of the conference, where company tries to prove that their time has come to replace Apple. The post on Weibo sounds like "the times are changing, the role has changed, the same spirit! From 1984 to 2015 the Letv invites you to break boundaries". The poster also confirms the launch date, which will be April 14, 14.00.
According to some previous reports, the Letv may even launch two "super phones", one being a high-end, another being a lower-end version.
The year of 1984, which is mentioned in the poster is the year when Apple introduced the Macintosh, which managed to change the computer industry. As the poster further suggests, Letv is ready to change the smartphone (or maybe even some other?) industry in 2015. Pretty brave move we would say. Well, we just have to wait and see for will happen on April 14th if the products that will be released are worth all the buzz.