Apple Watch inspired Zeaplus Watch G3 specs and picture revealed
Zeaplus is known for their affordable devices like the Zeaplus M4 and the Zeaplus G2 smartwatch. The company revealed recently that it was working on a new smartwatch which will be inspired from Apple's own wearable. Now, it looks like Zeaplus is all set to release the device around the same time as Apple Watch ships to  its customers.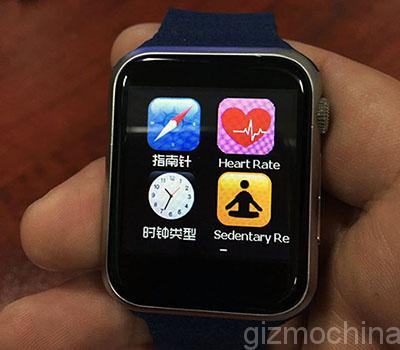 The upcoming Zeaplus Watch G3 aims to bring the same kind of experience as an Apple Watch. Of course, materials and the internals will be a lot different than the Apple Wearable, however, the design will be almost the same.

The watch is said to come in an aluminum body, which should keep the weight down. It will feature an independent MicroSIM card slot which will allow it to make and receive calls directly. The Zeaplus Watch G3 will have a compact 1.54-inch display with 240 x 240 pixel resolution, which is the standard among affordable smartwatches. The watch will be quite compact too with the measurements 47.5mm x 38.5mm x 12.5mm.
The G3 will be powered by the modest MT6261A chipset with SRAM. Unfortunately there won't be a camera. It can connect to other smartphones using Bluetooth 4.0 and comes with a pedometer and 3D G-Sensor too. The smartwatch will feature a 350mAh Lithium-ion Polymer battery which can be charged using the MicroUSB port on it. The watch will run on the Nucleus operating system which is still being tweaked for the device. Finally, interested customers will be able to purchase the G3 in silver, grey and gold colors.
Unfortunately, Zeaplus has not yet revealed the pricing of the smartwatch, but according to the previous gadgets from the company, expect it to be very affordable.
You can read and talk more about the Zeaplus Watch G3 on the official company forums.
Full tech specs of the device are as given below:
Hardware
Product Model : Zeaplus Watch G3
Dimensions: 47.5mm x 38.5mm x 12.5mm
Screen Size: 1.54″
Display Resolution: 240*240
Touch Module: Multi-touch panel
Waterproof: N/A
Color: Silver/Gray/Gold
Shell material: metal
Watch strap: 22.00mmuniversal
Battery Type: Lithium-ion polymer battery
Battery Capacity: 3.7V/350mAh
CPU: MediaTek MT6261A
RAM: SRAM
ROM: NOR Flash
Camera: N/A
Speaker: 0815BOX
Vibration: Yes
MIC : Yes
G-sensor : 3D G-Sensor
GPS: N/A
Track Step: Yes
Sleep monitoring: Yes
Bluetooth: 4.0
GSM: Yes
Interface
External memory: NO
Data transfer: Micro USB
Music output: NO
Charging: Micro USB
Tack Switch: The switch machine key
Software
Operation System: Nucleus
Phone Book: 1000+
Phone Call: GSM+Support (Speaker and Receiver Mode)
SMS: GSM+Support (need APP)
MMS: GSM+Push Icon (need APP)
Time Sync: . Support
Call History: Support access and call
Music Player: Support
Set Time/Date: User-defined
Alarm: Support Three Set
Stopwatch: Support
Language: Default English (Multi language support)
Information notifcation: Gmail, CNN APP, ZAKER, LINE, Facebook, Instugrate,Facebook Message
Standy Current (BT Sync and LCD Off) 0.9mA
Standy Current (BT OFF and LCD Off) 0.3mA
Voice Call (Maxim Volume) Avery 60mA