Mid-Range Xiaomi Mi4i spotted: Could be unveiled at April 23 India Event!
It looks like Xiaomi has yet another product that will be unveiled pretty soon. The company revealed a teaser recently on its Xiaomi India page, saying "i is coming". Many predicted that the teaser was for the global launch of the Xiaomi Mi Note flagship series which was announced back in January. But it looks like the company was teasing another product for launch in India.

A new variant Xiaomi Mi4 was spotted on the Singapore IDA database and later on the GeekBench3 website. The device was called as the Xiaomi Mi4i and is probably the low-end version of the company's flagship Mi4 smartphone.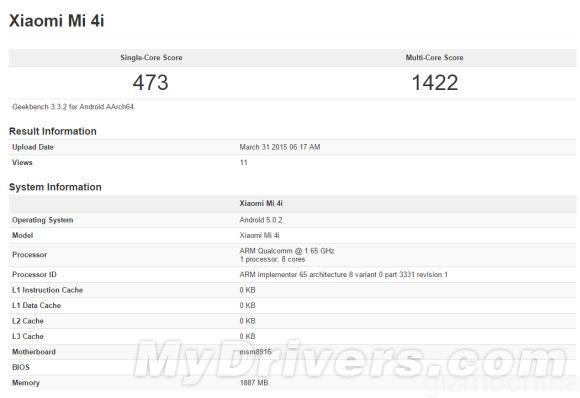 Thanks to the GeekBench3, we have some of the tech specs of the device. The Xiaomi Mi4 will use a 1.6GHz octa-core Qualcomm processor, which we guess is none other than the Snapdragon 615. It will come with 2GB RAM on board and Android 5.0.2 OS version. Other specs are still not clear.
This leak answers at least some of our questions. The reason why Xiaomi's teaser stressed so much on "i is coming" is probably because the low-end Xiaomi Mi4i is launching that day. Given the downgraded specs, we expect the pricing to be around 1599 Yuan, or even lower.
So, what do you think about Xiaomi's move to release a new Mi4i version for a slightly lower price tag?