This amazing news for P6000 users has so far gone pretty much under the radar, the guts over on the Elephone forum have been working on a custom CM12 rom based on Android Lollipop 5.1 and the results so far are looking promising.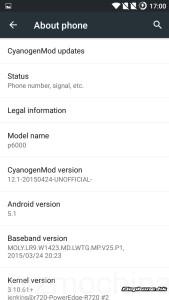 Pretty much everything is working as it should including the camera which has had issues on stock roms.
So far the only bugs listed are FM, Bluetooth, and 4G not working.
If you can make do with 3g calling whilst they work on getting 4G sorted and don't need bluetooth, then this could be used as a daily driver (if you are a bit adventurous and can handle the odd FC or two!).
Check out the video below to see it in action and then head on over to the Elephone forum to get the D/L link and start enjoying the CM12 goodness on your P6000.