Teaser Confirms Honor 7 Launch On June 8
Huawei was said to release its update to the Honor series this month. And looks like the rumors were bang on target as earlier today, Huawei unveiled a brand new teaser for the launch of a new Honor product on June 8. Given that its almost a year since we saw the Huawei Honor 6 smartphone, its more than likely that we will see the successor of the popular Honor 6, namely, the Honor 7 on that day.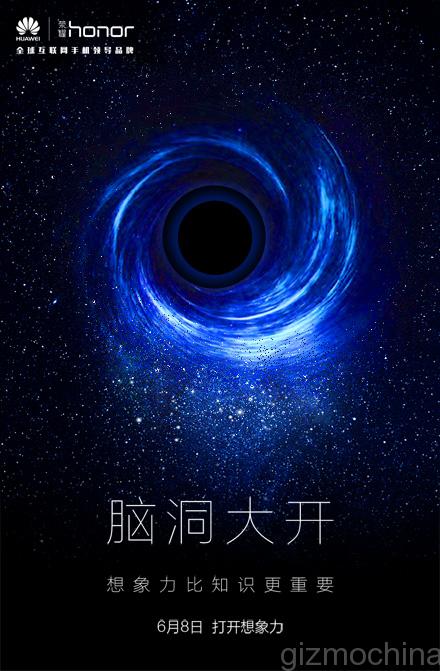 The teaser comes with a famous quote from Albert Einstein, "Imagination is Everything". Unfortunately, apart from the blue spiral shaped image and the above mentioned tagline, the company has not yet revealed anything about the features of the device.
However, like always, we have already seen possible specs and images of the device, thanks to the numerous leaks online. Recent leaks have revealed that Honor 7 will feature a 5-inch full HD display with Kirin 935 processor. There will be two different versions of the device, one high-end and the other low-end.
Both feature Kirin 935 chipset but will differ in terms of memory capacity. The high-end version comes with 4GB RAM and 64GB internal storage while the low-end model features 3GB RAM and 16GB storage. Other possible specs include a 3280mAh battery, 13MP camera with OIS, and Android 5.1 Lollipop version. There could be fingerprint sensor too, but at the moment, we are not sure of that.
As for the built, the Honor 7 is expected to come with a metal body similar to the Mate 7 design. This will be a deviation from the traditional plastic design of the Honor series flagships.
Anyways, we expect a lot more information to come up in the next few days, so stay tuned!