Unboxing and Review of Elephone G6
by Shine Wong Jun 25, 2015 5:29 am0
During the past year, chinese based smartphone company Elephone managed to stand out as a budget manufacturer with a low to middle class of everyday smartphones using the current MTK based SoC processor.
At the start of this Elephone G6 article I would just like to point out a more than solid manufacturer and user community on the manufacturer web site with a support forum on which for all models can be found the latest official ROM (also custom ones from user community) and official/unofficial technical support.
Today an indepth test of a model Elephone G6 is on the itinerary, so for starters the official specifications (by the manufacturer):
CPU/GPU/Storage
CPU: MediaTek MT6592 clocked at 1.7GHz Octa-core
GPU:Mali-450mp (700 Mhz)
Storage: RAM=1GB / ROM=8GB
*Supports Micro SD (T-Flash) upto 64G
Display
IPS, 5.0inch 1280*720 pixels PPI:293
Battery
Standard battery content:2250mAh (removable)
Positioning
GPS A-GPS
Operating system
Android 4.4.2
Sensors
Gravity sensor;Distance sensor;Gesture sensor;E-compass;Acceleration sensor
Features
Fingerprint ID:support
OTG:support
FM:support
Bluetooth:4.0
Gesture Recognition:support
Connectivity
USB: Micro 5pin interface
Wireless&Networks Frequency
WiFi:802.11n wireless
WCDMA:850/1900/2100 (HSDPA)
GSM:850/900/1800/1900
Dual SIM/Dual standby (regular/small)
Camera
Rear:13MP front:2MP
Elephone G6 is powered by upto 3G supported (no LTE speed) MTK6592 Cortex A7 CPU clocked at full speed with 1.7 Ghz with octa-core design (System on a Chip) which is more than capable for most of today 2D/3D games and any other system demanding graphic applications like image processing or video viewing/editing. Antutu score on several tests results even over 30000+. High demand gaming although can heat up the phone after prolonged usage, but not as serious as quad-core models.
Although a phone with installed 50+ games/apps (and some of them remaining in memory) losses its razorblade bechmarking touch. 🙂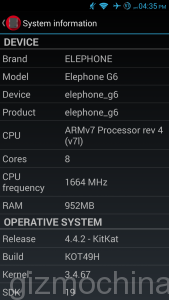 The phone uses a 1 Gb of RAM and is ROM of 8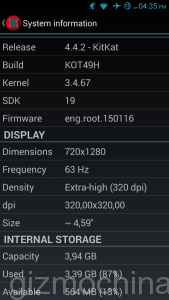 Gb total (to user is available just over 5 Gb-EMMC) with a supported capacity for MicroSD/TF cards of 64 Gb (somewhere 32 Gb noted) so a test for both will be done soon (current 16 Gb).
Display (HD-720P) offers an middle to upper class IPS display with a high DPI of 293 with a display angle of approx. 180° (horrizontally/vertically) with 24 bit color which offers sharp and crisp images indoors and outdoors with a higly clear image even in direct sunlight. Colors are correct and vivid with a correct saturation. The screen is of course capacitive and multi-touch (5 points) with proximity and ambient light sensor. The screen is protected with first generation Corning gorilla glass protection.
Battery of 2250 mAh is sufficient for a standard everyday user with talk time of 4,5 h on 3G (8-9 hours on 2G), music play of 8,5-9 hours and video play of approximate of 4 hours as the 5 inch display uses the most of the voltage as the CPU/GPU combination offer a low power consumption. Battery is removable so if the cells deteriorate there is always a possibility a replacement somewhere online.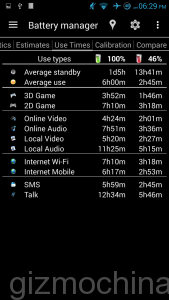 Location positioning is regular for most of today's smartphone models, GPS with A-GPS support (EPO). First positioning can take a while (up to 30 seconds) in crowded urban area but every latter attempt will result in a few second tops positioning with at least 7 satellites (for example Google Maps will position within one second).
Elephone G6 is running an AOSP version of Kitkat (Android 4.4.2) with a MIUI like main home launcher (support app drawer).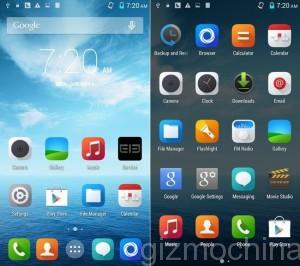 Android version is more-less a standardized version but with a couple of notable features which are: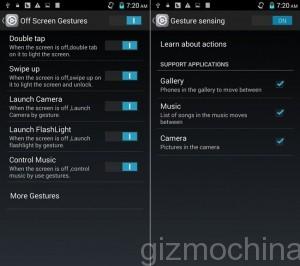 -gesture sensing (Camera/Gallery)
-off screen gestures (kernel supported double tap to wake, etc.) with selection of predefined gestures for application shortcuts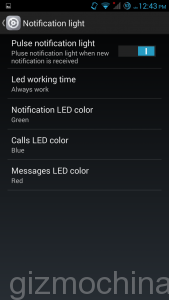 -LED notification light support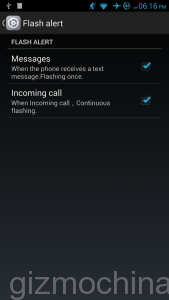 -Flash alert (calls/messages)
-Fingerprint scanner (the lowest price smartphone with an active scanner), can be somewhat stubborn until you get the hang of the position and the speed for setting up but is functional and a more than praised worthy feature. The phone can come pre-rooted or if not the rooting process can be done by several solutions (example Kingroot).
During the test no force-closes or undescribed lags occured and Google Play managed to find and install any application/game requested, both on the phone and on Google play website (which recognized the phone correctly).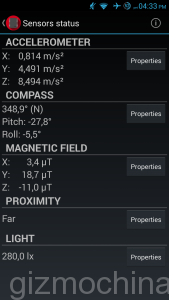 Phone supports gravity, light, gesture sensor, acceleration sensor and a function compass (unlike previous MTK SoC generations). Distance sensor is also included which surprises due to the smartphone price.
The connection is through a standard 5pin micro USB port with a 1A charger and a USB OTG support (through an adapter, which can be easily acquired for example on eBay for 1$) .
The Phone is capable for 2G/3G GSM speeds (HSDPA, at least 7,2 Mbps) with WiFi capabilites 802.11 (a/g/n) which offers a more than solid connection and signal coverage (50 meters from router base upto 60 % signal). Bluetooth 4.0 revision is supported with speeds upto 25 Mbps.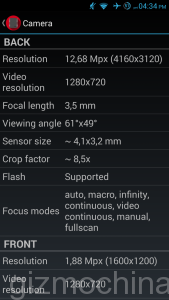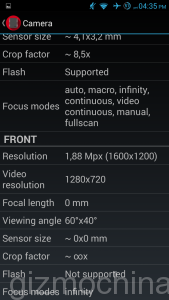 Elephone G6 has a dual-camera support with a symbolic 2Mp front one with a VGA recording support and a back camera of 13 Mp (information regarding sensor and manufacturer are unclear) with f/2.2 aperture, which most likely is OVT OV8865 (8 Mp sensor) so it could be that the camera picture is interpolated. Nonetheless the outside picture quality on both cameras is more that satisfying for the price range with a more than adequate night picture (with usage of LED flash).
Noticeable the back camera supports smile detection, 4x digital zoom, autofocus and an object traceable focus (touch/follow) which is more-less successfull 🙂 .
Back camera supports HD video recording at 1920×1080 with video stabilization. Maximum camera driver supported bitrate at test was 8Mbps with 30 FPS, so the recorded video can easy replace a standard camera/photo device with 8/12 Mpx.
Phone is offering an excellent weight of only 125 grams with a leaflike thickness of only 7.7 mm so on the aesthetic side (including a modern logo design) the phone gives an impression of a more-costly smartphone model with a fluid silhouette.
Taking in consideration the current price range (below 130 $) and included configuration of the smartphone this is a middle to high-end capable smarthphone with a good clear outer speaker on which movies and music play is almost a joy with high output volume. FM radio with headphone antenna is a regular feature on this phone type.
Screen and the overall speed is fluent with no delay in tasks like application start/switch between active applications and accompanied with a good camera the phone is surely recommended.
Also a brand image and continuity on the market will add to the Elephone image which also will accompany for an easier accesory buying online. 🙂 Good job.