OnePlus Two Confirmed To Come With 4GB LPDDR4 RAM
For the past couple of weeks, OnePlus has been teasing some of the features of its upcoming OnePlus Two flagship smartphone. Thanks to these teasers, we already know a lot about the device. And it looks like the company will continue teasing us till the phone is officially launched on July 28.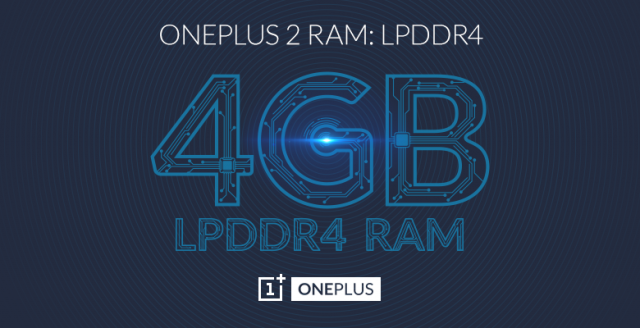 In the latest teaser, the company has confirmed that the OnePlus Two will feature LPDDR4 4GB RAM. This will be an upgrade from the 3GB RAM that was found on the current generation flagship, the OnePlus One. What's more, with the kind of features that we are going to see on the new device, coupled with the affordable pricing, the OnePlus Two is once again turning out to be a flagship killer.
The company has already revealed that it will feature the Snapdragon 810 v2.1 octa-core 64-bit chip which will make sure that the phone will run smoothly especially with 4GB RAM on board. Further, the company will have an efficient fingerprint ID tech on the device, which is reportedly faster than Apple's touch ID. Other confirmed features include USB Type-C port, an all metal body and a price tag of under $450.
Recent rumors have suggested that we may see two different versions of the flagship. The high-end model will reportedly come with 4GB RAM, 5.5-inch 2K and 2499 price tag, while the standard version is expected to come with 3GB RAM, 5.5-inch 1080p display and 1999 price tag.
Overall, the specs turn out to be pretty high-end. We hope to see more such teasers in the coming days until July 27, when the flagship is unveiled.