Xiaomi has an event on July 16, could it be for Mi5?
Xiaomi has just sent out invites for its special event to be held on July 16. While the teaser image fails to explain what to expect from the company, it could be for the Xiaomi Mi5 flagship. Earlier reports have said that the phone could be unveiled sometime in September, but the company could have brought the date ahead to July.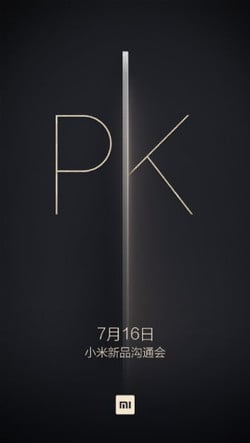 Xiaomi aims to sell around 100 million smartphones by the end of this year. However, according to the recent report, the company managed to sell only about 34.7 million in the first half of 2015. Which is why it won't be surprising if we see a major smartphone release like the Mi5 at the event.
Another possibility is the rumored launch of the Xiaomi Redmi Note 2 mid-range flagship. This would make much more sense given that Mi5 is expected to come with Snapdragon 820 and theres still time for the chip to hit the market.
Anyways, we will keep a close eye on the company in the coming days. So stay tuned.