Mlais M9 Plus 5 inches, 1 GB of RAM and eight cores for $89
Mlais M9 Plus, a good low-cost smartphone
Not everything was going to be a great power and features at last. There are many times when we do not need the latest smartphone from the market. With those moments, you just take a look to realize that there are extremely cheap and with enviable features smartphones. If you do not ask a lot, not a bad idea to get one of these phones. In fact, lower-middle range is very popular in recent days, with promotions that we should not miss.
The Mlais M9 Plus enters the sector just as discussed. A smartphone from lower-middle range, not being the best in its field, it does allows for an excellent value. It is a phone with 5-inch screen IPS , MTK6592M octa-core processor at 1.4 GHz, 1 GB of RAM and 8GB ROM , and two cameras, a rear 8-megapixel and 5 megapixel front camera. And not to mention support of GPS, 3G networks and Dual SIM and Micro SIM, allowing us to have two SIM cards in one phone. It also has Android 5.0 Lollipop and 2100 mAh battery to complete a terminal with good performance. As you can see, the phone is not anything special, but it is very interesting if you want to carry over as much, or do not want spendest a fortune on a smartphone.
A design without any pretensions than to serve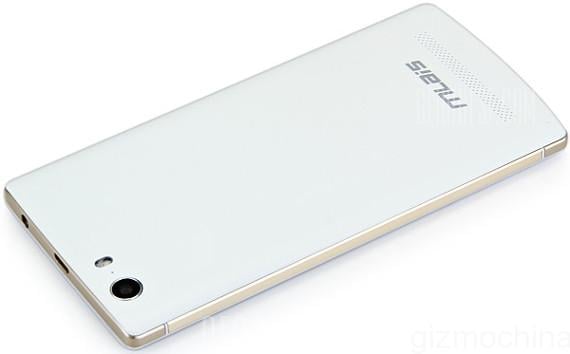 The design of this Mlais M9 Plus is interesting, but you should not expect much from it. It is only available in 2 colors, black and white . The body is also nothing remarkable: the frames are saved, which are made ​​of metal for a more durable look. Otherwise, you will find materials, in most cases, plastic. Durable if not give strong shock . Regarding the situation of the buttons , there are not many surprises: the front has the touch of home, back and menu, while the sides are reserved for on / off and volume. Rounding out the design weighing 100 grams and dimensions of 14.1 x 7.1 x 0.75 cm . Ideally you can carry it with one hand and without much problems. If you want a device to perform its tasks well and not give problems, this Mlais M9 Plus might be a good option. Always remember its price: $89 . In case you want something more powerful, you have to increase the budget.