ZTE Axon Fingerprint Model Review: A Superb Phone
ZTE, one of the largest smartphone makers on the planet, needs no further introduction when it comes to the smartphone game. We usually talk about the ZTE's sub-brand Nubia and its smartphones but this time around we are looking at the just announced ZTE Axon Chinese model, meaning that it has a fingerprint scanner and some other minor differences than the international variant.
We wanted to say thanks for GIZTOP.com for sending the ZTE Axon for a review.
ZTE Axon Fingerprint Model Review: VIDEO
ZTE Axon Fingerprint Model Review: SPECS
| | |
| --- | --- |
| Display | 5.5″ 1080p, Corning Gorilla Glass 3 with the antimicrobial coating |
| Processor | Snapdragon 810, 2.5GHz, octa-core, 64-bit |
| RAM | 3GB |
| Camera | 8MP Front/13MP and 2MP (duo camera setup) back |
| Connectivity | Bluetooth, 3G, 4G, GPS, WIFI, NFC, GSM,EDGE, GPRS, UMTS, HSPA, HSPA+ |
| Battery | 3.000 mAh (non-removable) |
| Dimensions | 154.5 x 75.3 x 9.7 mm/ 168g |
| OS | Android 5.0.2 |
| Storage | 32GB (expandable via microSD card slot up to 200GB) |
ZTE Axon Fingerprint Model Review: UNBOXING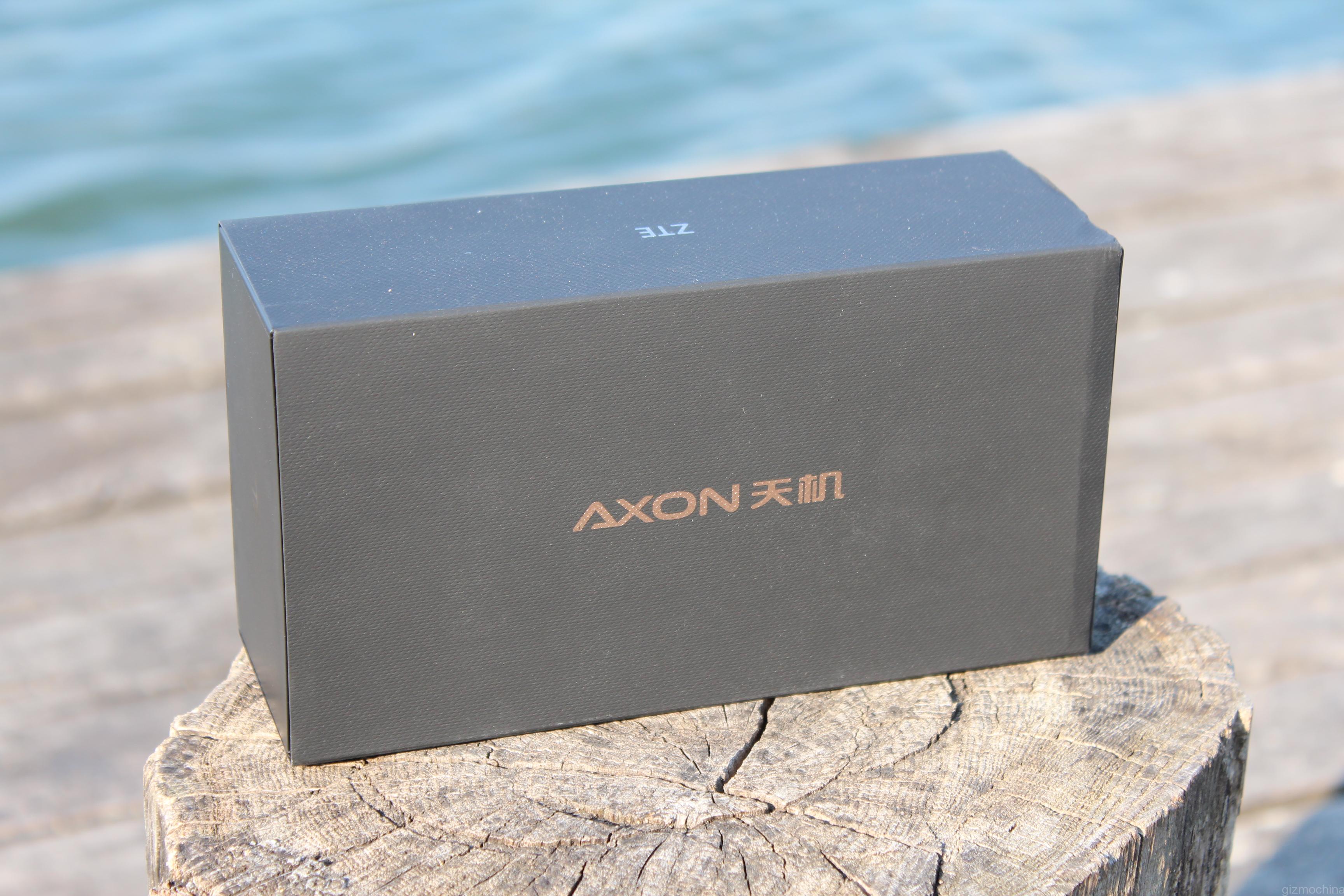 Usually I don't really care about the packaging but this one is worth looking at as this Chinese version of the Axon phone comes in a really premium looking box.
All the items are packed in a plastic box and I have to say that ZTE has made a real flagship-grade presentation here as everything is packed very nicely and neatly.
Overall, the presentation looks nothing but premium.
On the top side there is what may look like a speaker grill but it turns out that it is just a design element. Inside of it you can find just an earpiece, which is located on the right side.
The back plate is made of champagne gold aluminium material but the top and bottom parts are made of plastic. These parts sport a somewhat leather-like finish (well, it is plastic) with some fake stitching. Nevertheless, the top and bottom parts don't look cheap by any means and I really like the look and feel of them.
Just below the duo camera setup you can find a fingerprint scanner. Well, we've seen a lot of Chinese phones with this type of security option coming out lately and you may wonder how the one found on the ZTE's flagship performs in real life.
First of all, some people may say that the placement is terrible since you have to reach the sensor on its back. However, I think differently. Since the phone has a huge footprint, it is actually more convenient as you don't lose the grip of the phone and you are not taking a risk of dropping it.
You may think that the fingerprint security is not a big deal since there are plenty of cheap phones, which have it. However, I can clearly see the difference in a cheap scanner and the premium scanner as the former one is lagging behind in terms of speed and accuracy.
On the bottom side there is just the ZTE logo with some certification info.
The 1080P footage looks quite good but I would love to see some more details in it. Also, the video could sharper overall if we compare it to some other top-shelf phones.
The 4K video looks sharper and has more details than the 1080p one. Overall, you may get some nice and sharp looking footage at the 4K resolution.
All the connectivity options like GPS, Bluetooth, Wifi and NFC work great. Also, the call quality is stellar as the earpiece is loud and the sound is very clear. Finally, the reception quality is very good on each of the nano SIM card slot.
The battery life on the ZTE Axon is good but not great. It will most likely get you through the day as you can get just below 4 hours of screen on-time if you consume a lot of multimedia, use a lot camera and play some games.
The screen-on times may increase up to 4.5 or even 5 hours if you are not doing a lot of demanding tasks.
If it happens so that you need to recharge your battery in the middle of the day, the Qualcomm's Quick Charge 2.0 comes handy.