Huawei Mate S vs Samsung Galaxy S6: Detailed Specs Comparison
Huawei announced its Mate S flagship on Wednesday. The phone came with powerful specs, enough to compete with market leaders such as the Samsung Galaxy S6 and the LG G4. The company has repeatedly stressed that the Mate lineup is targeted at the premium segment where a handful of manufacturers have been successful, like Apple and Samsung. So, we decided to compare the specs of Mate S and Galaxy S6 to see if the former is really worth paying $730. On the other hand, if you can find good deals, the S6 can be bought for around $600.
MATE S VS GALAXY S6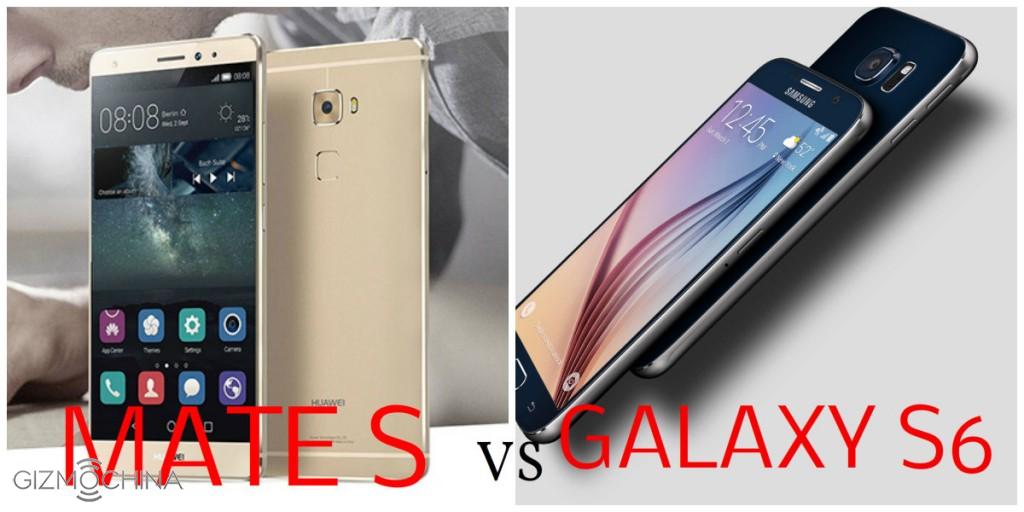 So, this really makes us wonder if the Mate S is worth paying so much. Check out this comparison to see if it is…
DISPLAY:
We start off with the display on both the devices. The new generation Huawei Mate S features a 5.5-inch full HD 1080p AMOLED display with curved edges to give you bezelless look. This kind of distinguishes itself from the 5.1-inch Galaxy S6 which features a much better 2K resolution display. Of course, this means more pixels per inch on the S6 (577ppi) instead of the Mate S (401 ppi). However what makes the Mate S unique is its Force Touch. Its the first smartphone to be available in the market with this technology which definitely gives it an edge.
So, its actually not easy to determine which one has a better display. On one hand, we have the S6 with a better resolution display, but on the other side is the Mate S with a lower resolution screen but with Force Touch. Here, we would leave it up to you to decide which one's better. But in my personal opinion, I would prefer the Mate S's display given that 1080p resolution is more than enough for me and the Force Touch is something I would want to experiment with.
WINNER: TIE
CPU, MEMORY & STORAGE:
Here, its not hard to decide which one comes out as the winner. The Galaxy S6 features the powerful Exynos 7420 octa-core chip clocked at 2.1GHz with Mali-760 MP8 GPU. On the other hand, the Huawei Mate S comes with a less powerful octa-core Kirin 935 chipset clocked at 2.2GHz. The Kirin chipset is noway near the Exynos 7420 in terms of performance, so we will have to give this category to S6 without doubt.
Both feature 3GB RAM on board with 32GB storage (base variant). However, the S6 lacks a MicroSD card slot, which is a big drawback for many. If you are using the 32GB version, you might fall short of storage, which is why Mate S triumphs this category with MicroSD support.
WINNER: CPU – S6 | MEMORY – TIE | STORAGE – MATE S
CAMERA:
This is where things get hard. On paper, the Galaxy S6 has the better camera with a 16MP rear sensor as compared to the 13MP shooter on the Mate S. Both feature OIS, Auto-Focus, & LED Flash (Mate S has dual tone flash). However, from our experience we know that specs aren't the only thing that decides which one has the better camera. While S6 may have a larger resolution sensor, the Mate S could take better shots. So, we will have to wait for our review to decide which ones the best in this category.
When it comes to the front camera department, the Huawei Mate S triumphs. Because, the phone not only features the better resolution 8MP shooter as compared to the 5MP one on the Galaxy S6, but it also features a soft lighting flash besides the front camera. Selfie lovers will be happy to get the Mate S, thanks to its soft flash on the front as well as beauty mode which improves skin tone, eyes and your overall face in real time.
WINNER: REAR CAM – Can't Say (Probably S6) | Front CAM – MATE S
DIMENSIONS & WEIGHT:
Both have fairly decent dimensions according to their display sizes. The Galaxy S6 is a bit more compact measuring 143.4x 70.5x 6.8mm while the Mate S featuers a 149.8 x 75.3 x 7.2mm body. As you can see, Galaxy S6 is thinner than the Mate S, but the latter compensates that by a slightly larger battery.
Even in the weights department, both are quite lightweight for their categories. The S6 weighs just 138 grams while the Mate S weighs 156 grams. So, you can't really judge based on this information. Even design wise, both are fairly good looking smartphones. However, the new slightly curved back on the Mate S along with the curved edges on the display might please most smartphone lovers.
In case you are wondering about the screen to body ratio, here also there's not much difference. The Mate S fetures a slightly better ratio with the screen covering 73.9% of the body while the S6's display screen covers just 70.7%.
So, we leave it up to you to decide which one you prefer in terms of size, screen to body ratio and weight.
WINNER: TIE
BATTERY:
The S6 features a 2550mAh battery while the Mate S comes with a slightly better 2700mAh battery. Both should provide up to a day's battery life. While the Cortex-A53 powered Kirin 935 should definitely be less power consuming, the Exynos 7420 is built using the 14nm FinFET process making it efficient. So, we expect both to feature decent battery life. Both feature fast charge!
WINNER: MATE S (Just based on Battery Size)
SOFTWARE & OTHER FEATURES:
Huawei is not really known for its EMUI, but then, even Samsung's TouchWiz isn't the best. Both run on Android 5.1.1 OS with their respective skins on top. Both the models feature a fingerprint sensor, Mate S has it at the back, while the S6 has it incorporated into the home button.
What we like about the Mate S is that it comes with Knuckle Control 2.0, which provides new features in addition to the ones we saw on the Huawei P8. Its a handy feature to speed up things like taking screenshots, opening up apps etc improving the overall user experience.
On the other hand, the Galaxy S6 does come with its own set of additional features. First of all, it supports Wireless Charging. Secondly, it features additional sensors like heart rate and SpO2. And finally, if you love giving Voice Commands, the S-Voice on the S6 is at your disposal.
WINNER: S6
CONCLUSION:
Well, we have covered most aspects of the Galaxy S6 vs Mate S comparison. As you can see from the comparison, its really hard to decide which one comes out as the winner. With a better resolution display, faster CPU and better resolution rear camera, the S6 does look like the winner here, but then, the Mate S has its own set of features which makes it unique.
It really depends on what you are looking in your smartphone to decide which ones better. However, in terms of pricing, the Galaxy S6 does have an edge. Retailers like Amazon are selling the device for as low as $600. On the other hand, right now, you will have to spend as much as $750 for a Mate S.
To justify such a big difference in the price, we would have wanted a faster CPU (Kirin 950 where are you?) and probably larger battery.
At least, this is what we think. We would like to know which one would you choose between the two devices? Do you think its really worth buying the Mate S for such a premium price tag?