Handset Review Elephone Trunk
Its been about two weeks since I first received my Elephone Trunk and whilst it would have been easy to jump right in and do a review after a couple of days, I wanted to give Elephone some time to work on a new firmware that was due to be released to fix a some problems.
The Elephone Trunk is aimed at the budget end of the market costing just $120 (£79), its time to take a look and see just what  $120 will get you.
Screen
One of the first things that you will notice when you turn on the Elephone Trunk is the bright and vibrant 5″ 720p OGS display.
Its nice to see manufacturers releasing 5″ phones, for some people with smaller hands it is the sweet spot, whilst others prefer the 5.5″ screens found on many other Elephone handsets.
Given the screen size of 5″ the 720p resolution coming in around 250ppi gives enough detail to be pleasing to the eye, the screen size and lower resolution also help to keep the power usage lower and improve performance.
Processor and GPU
Elephone have always been avid supporters of Mediatek SOC's using them for their entire range of phones, this time round for the Elephone Trunk they have chosen to include a Qualcomm Snapdragon 410 quad core GPU (MSM8916) clocked at 1.2GHz with Adreno 306 GPU
The Elephone Trunk feels snappy in every day use, with the Adreno 360 handling menus and most apps at decent fluidity and speed, surprisingly considering the CPU/GPU combination gaming performance is not bad.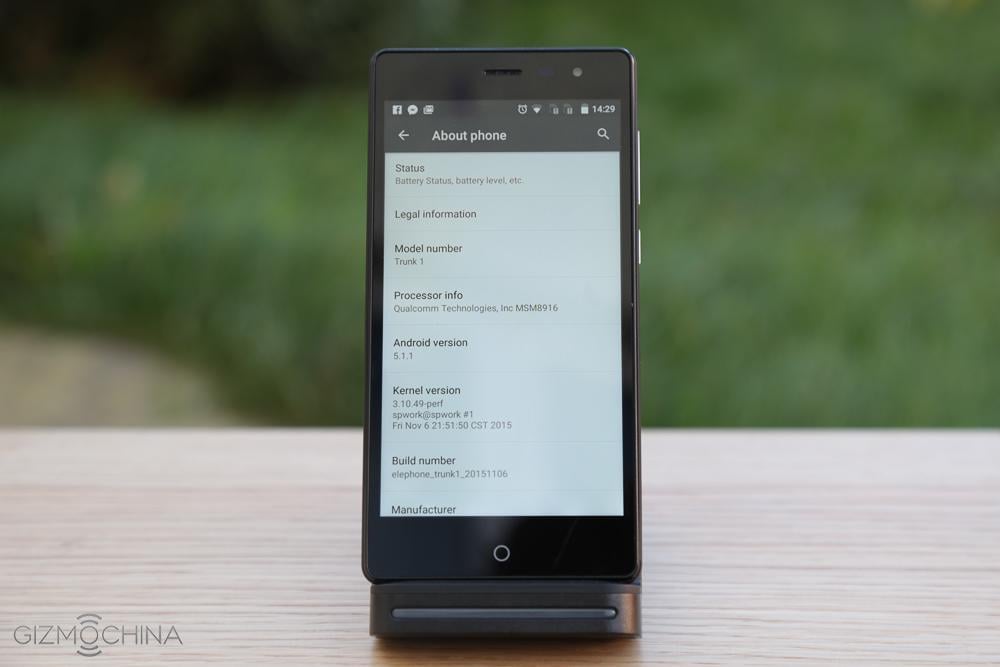 Storage ROM/RAM
The Elephone Trunk comes with 16GB Rom and 2 gb of Ram, storage can be upgraded via micro SD card.
Battery
The battery on the Elephone Trunk is a 2100mAh removable battery, the lower power usage from the combination of
cSnapdragon 410 CPU and 720p screen help keep battery usage down.
A full day of usage is possible between charges, if you are not pushing the phone to hard with lots of browsing, gaming or video playback.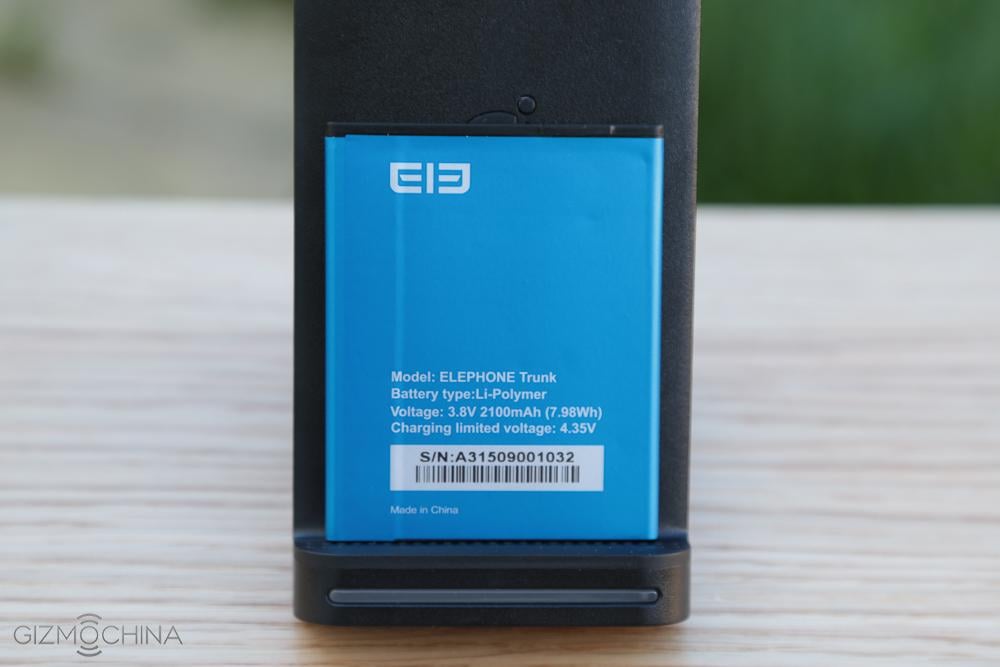 Antutu Benchmarks*
1st Run – 22848
2nd Run – 22624
3rd Run – 21890
Average – 22,454
You can see the Elephone Trunk Antutu benchmarks in the following video (Video is sped up to save time).
Gaming performance**
The Elephone Trunk is budget a phone, not really something that you would choose specifically for gaming, however all things considered it is capable of providing adequate levels of gameplay.
The video below shows Asphalt 8 running on the Elephone Trunk, gameplay is smooth and playable and would be enough to keep you entertained if you were stuck on a train.
Cameras
The Elephone trunk comes with two cameras upfront you will find a 2mp selfie camera, which is adequate but nothing special.
Looking to the back of the phone you will find an 8mp rear facing camera that uses interpolation to bring it up to 13mp a single LED flash is there to help when lighting is not at its best.
As mentioned above when the Elephone Trunk first arrived there were a couple of minor niggles and one fairly major one, the camera performance was to say the least not great.
The problem was that the sensor could not achieve an accurate focus lock even in good lighting, with the camera continually hunted for a lock.
Quite often the Elephone Trunk would appear to achieve a clear picture and then as you pressed to take the picture un-focus and take a blurred image.
I spoke with a contact at Elephone who said that they were aware of the problem and had an updated firmware in the works that would fix the camera issue.
The updated firmware arrived last week via an OTA update (which installed without any issues), once installed I fired up the Trunk and took the camera out for some testing.
Thankfully the update has really helped to resolve the issue, I can now pick a focus point on the screen and the camera will achieve lock and take a decently focused picture, the focus and capture times are a little slow compared to newer more expensive handsets, perhaps these times will improve with further updates.
What it will not do however is give you the most detailed image in the world, this is not a class leading sensor by any means, however it is more than adequate and for a phone of this price not much more should be expected really.
The camera is not quite perfect and in my opinion still needs some tweaking, capture speed, low light imagery as well as colour balance could be better.
Firmware development
The Elephone Trunk features the Qualcomm MSM8916 Snapdragon 410 quad core cpu, which unlike Mediatek CPU's has a decent developer comunity following (mainly due to Mediatek's choice of not releasing the required developer files as open source).
The Elephone Trunk really benefits from this active developer community, there are a couple of teams on the Russian site 4pda.ru  and devs on XDA forums working on custom roms.
The Elephone Trunk (or as the Russians know it the Arc Benefit A3), is getting custom roms such as CyanogenMod 12.1 and even CyanogenMod 13 running well on the $120 handset.
Design
Elephone have done a really nice job with with the Elephone trunk handset, a rubberised texture on the rear leaves it feeling really comfortable to hold and also makes it feel secure with less fear of dropping.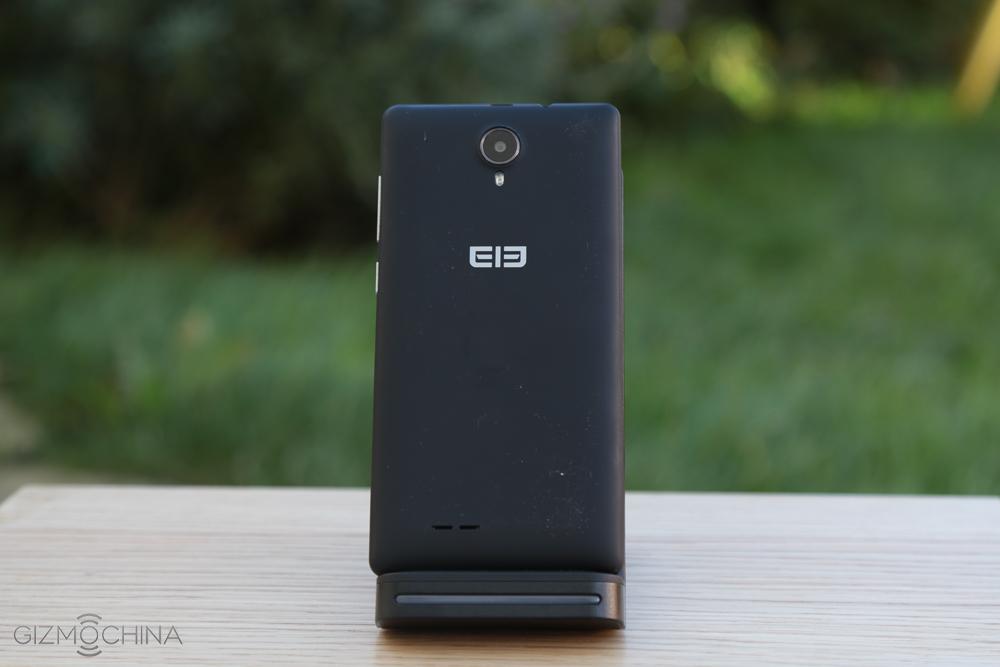 The front of the phone is mostly filled by the 5″ OGS panel (with black boarders approximately 2.5mm wide), the lower chin has  three capacitive buttons, the centre is is a circular home button, as yet Elephone have not given the option to use this for notification, but with luck they or one of the other devs will manage to implement this feature in the future.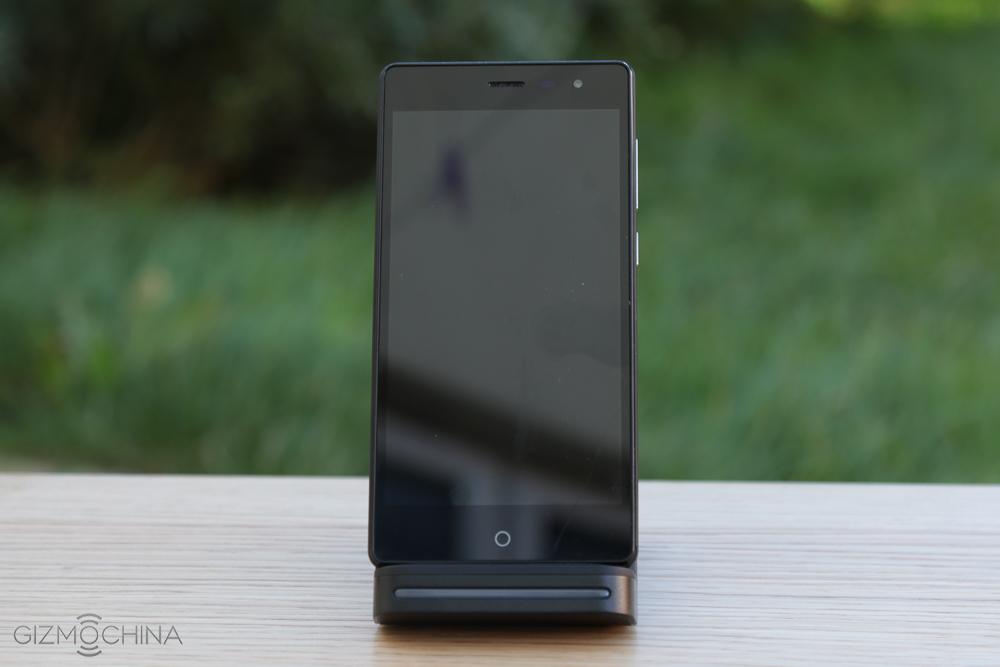 The top chin is where you will find the ear piece, proximity sensor and 2mp selfie camera, the rear casing of the Trunk has a matte rubberised coating giving it a nice tactile feel, the finish is reminiscent of the earlier Apple Macbooks finish before they went to unibody aluminum construction.
The coating provides great grip and works well with the curved contours of the phones rear.
On the rear of the trunk you will find the Elephone logo and 8mp rear camera with single LED flash, towards the bottom is the built in speaker which is output through to small slots providing fairly decent audio output levels.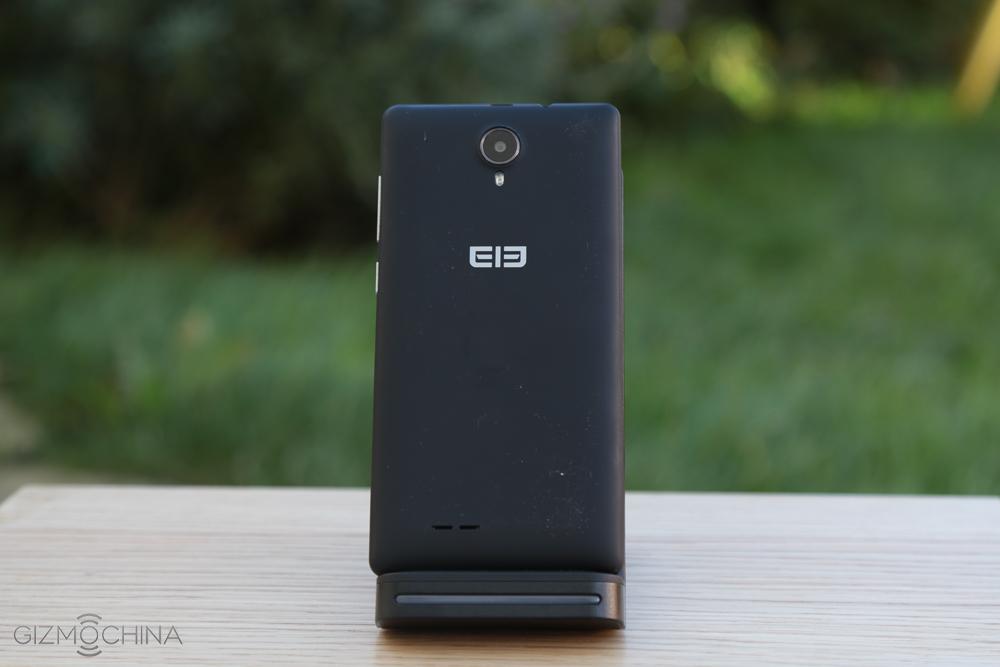 The right hand side of the phone is home to the power button and volume rocker, these are chromed plastic and feel fairly nice to operate.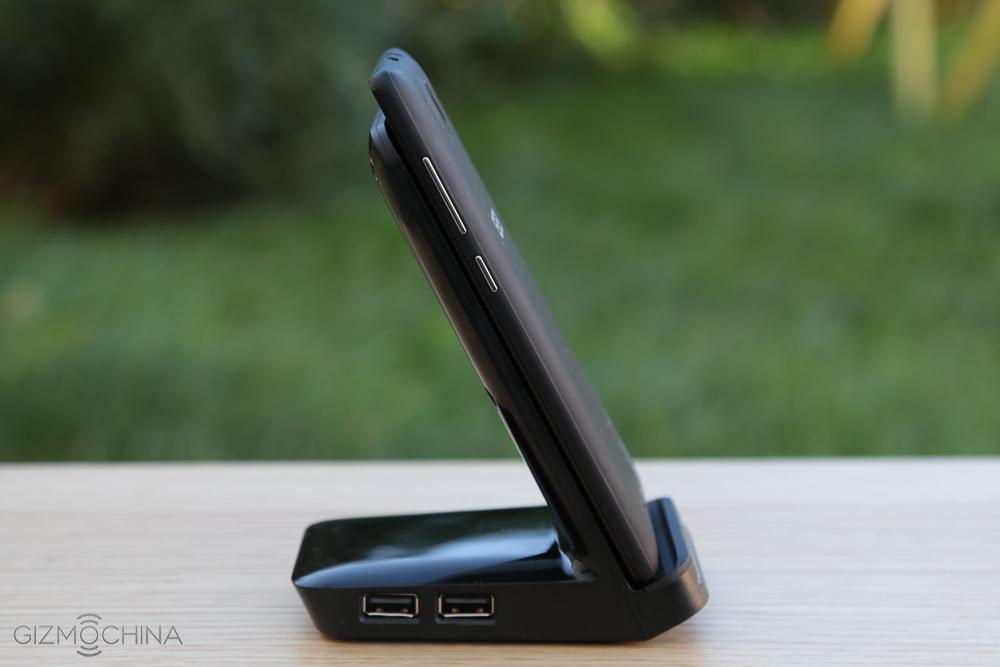 There are no buttons on the left hand side of the phone.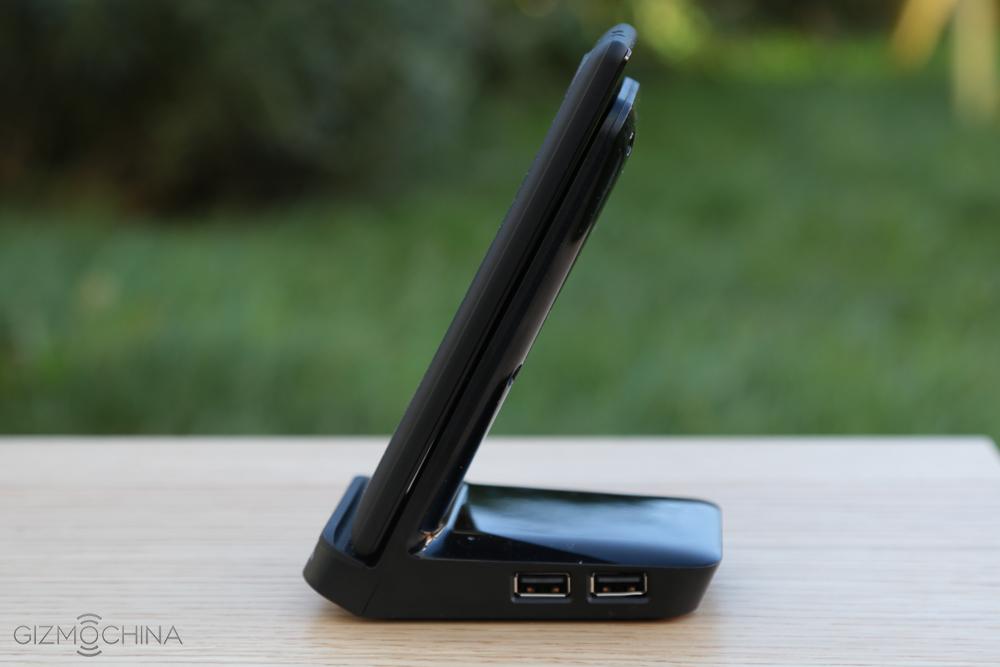 On the top of the phone you will find a standard micro usb port as well as 3.5mm headphone jack.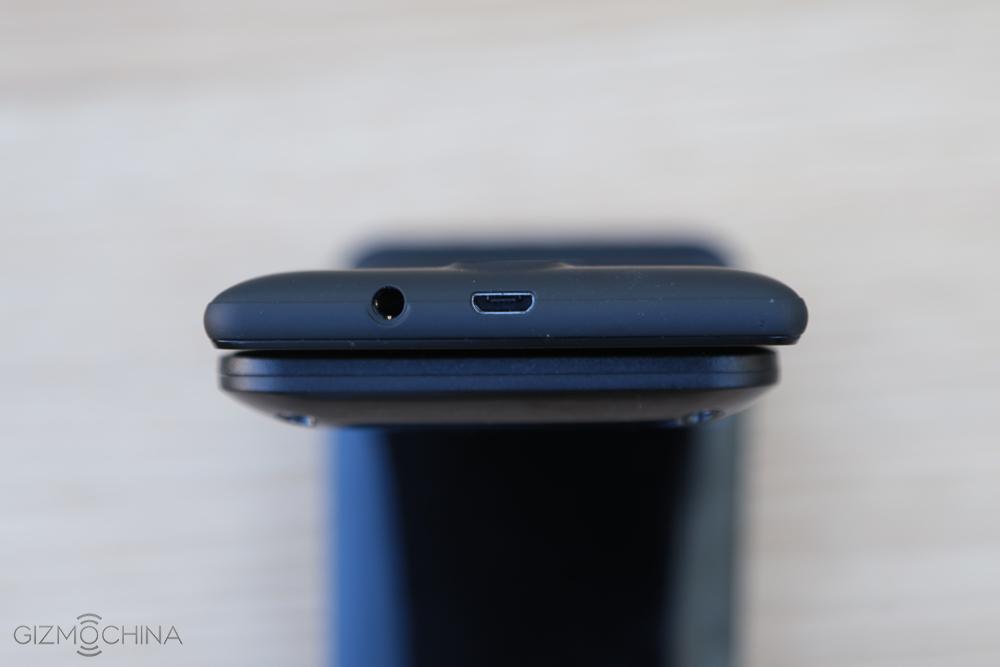 Connectivity
The Elephone Trunk supports Bluetooth 4.0 and Dual sim slots with support for the following networks
2G: GSM 850/900/1800/1900MHz
3G: WCDMA 850/900/2100MHz
4G: FDD-LTE 800/1800/2100/2600MHz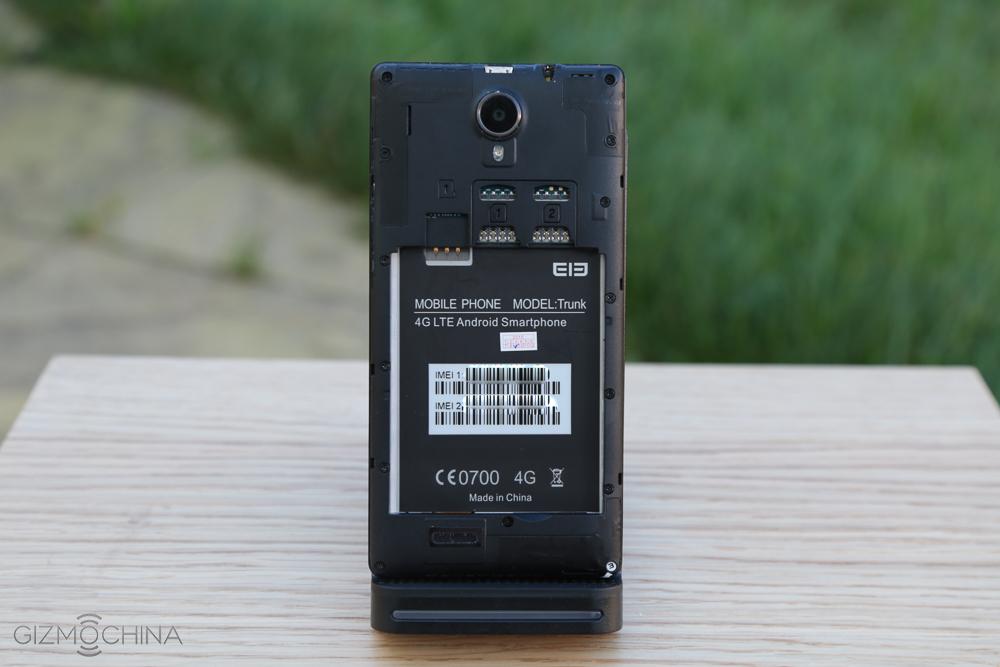 Battery
The Elephone Trunk's removable battery is a 2100mAh Li-polymer unit, this is not particularly large but should see you through a day of normal usage.
The 5″ 720p screen and CPU combination help to get the most from the battery, neither of them sucking too much juice.
If you intend to do a lot of browsing, gaming and other intensive tasks on the Trunk I would advise purchasing a spare battery or power bank to keep handy just in case.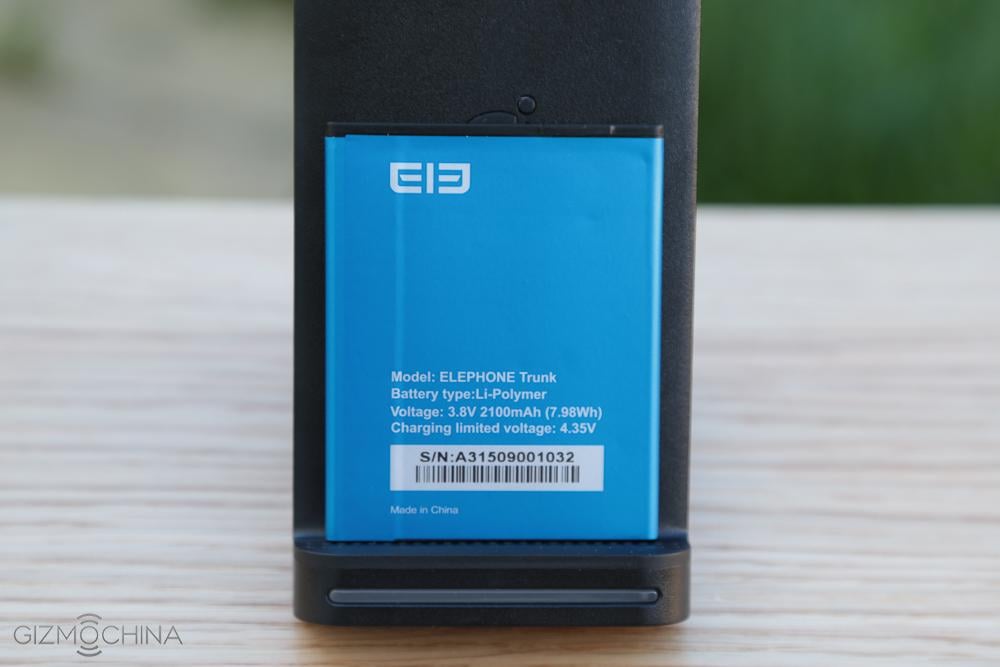 Final thoughts
The Elephone Trunk is a decent little phone, whilst not for everyone, it does fit into a niche that has been somewhat ignored by a lot of manufactures recently.
Its small form factor and decent real world performance make it a good option for non power users who are happy with 'good enough performance'  and just want a phone that fits easily in a pocket and does what its supposed to do.
It's premium feel and appearance give it the look of a phone costing much more than the $120 price tag would suggest.
The phone would rank a lot higher if it were not for the camera niggles.
But what it does have going for it, is third party rom support, this alone could be a reason to buy as it should see frequent updates and new functionality and tweaks (check out the forums linked above to see some of the great work being done on the Elephone Trunk).
Hopefully with ongoing support for this little phone Elephone and the other Devs will iron out the bugs and make this little phone even better.
For me this phone makes me reminissant of what it was that got me hooked on android, allowing my inner geek to tweak and flash new roms, whilst for non power users and children it offers a good set of functions and quality at a price that will not break the bank this Christmas.
Please feel free to leave comments and questions below
kind regards Shanos
The Elephone Trunk can be purchased here 
Original article posted on Gadgetz.tv
*Antutu Benchmarks are provided to give a comparative view of handsets performance.
Whilst they do give an indication of a handsets overall potential. they do not fully take in to account hardware and software optimisation.
Manufacturers have also been known to include cheat software built in to handsets, to deliberately make handsets operate faster in tests than they might otherwise in real world usage.
Antutu benchmarks on gadgetz.tv are run 3 times in close succession to see if any throttling occurs due to heavy CPU/GPU usage.
**Gaming videos are recorded using AZ Screen Recorder