Mediatek Denies Helio X20 Overheating issues
Yesterday, a new rumor cropped up on the internet saying that Mediatek's upcoming chipset, Helio X20 has overheating issues. Because of this, the source added that many top manufacturers like Xiaomi, Lenovo and HTC have abandoned Helio X20 based projects. Many major media outlets, both in China as well as internationally posted this news, which has forced Mediatek to comment on the rumor (which usually manufacturers avoid). Earlier today, Mediatek via its official Weibo page stated that it's upcoming Helio X20 chipset does not overheat.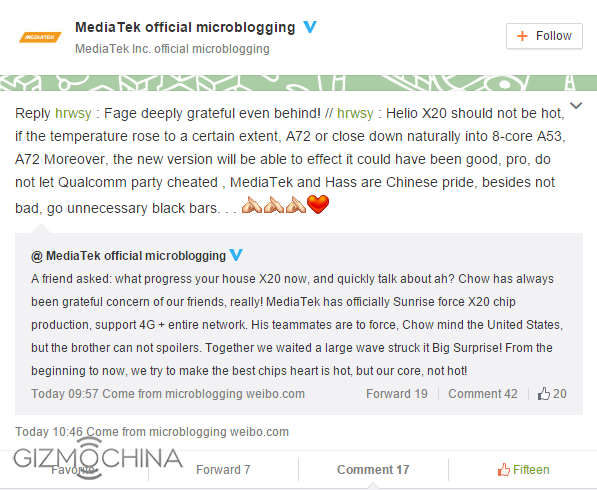 The company further added that Helio X20 overheating issues shouldn't be a concern given that in the case of an increase in temperature, the chip will use only eight Cortex A53 based cores. The two Cortex A72 cores will be shut down. Mediatek said that the new Cortex A72 cores are quite energy efficient as well. The mass production of the chipset has already started and hence, we should be seeing the first X20 powered smartphones real soon.
To recap, Helio X20 is the world's first 10-core chipset with a tri-cluster design. It features 2x Cortex-A72 @ 2.5GHz, 4x Cortex-A53 @ 2.0GHz and 4x Cortex-A53 @ 1.4GHz. The chip supports LPDDR3 RAM and Cat. 6 4G LTE networks.
The Helio X20 is an important chip for the company, which is probably why it was quick to refute claims about overheating. Remember last year, it was around the same time that rumors about Snapdragon 810 being super hot surfaced online. Even Qualcomm denied the rumors, but later it turned out to be true. But hopefully, since the chip uses the much more efficient Cortex A72 and A53 cores, we won't have to see such an issue with Helio X20.
What do you think? Will the Helio X20 overheat?