OPPO R9 Teaser Reveals A Thin, Gold Colored Metallic Handset
OPPO's first flagship smartphone for 2016 will meet us on March 17, but it's not what we expected. As reported yesterday, the company has confirmed that it will launch the OPPO R9 flagship later this month. So, there's still no sign of the rumored OPPO Find 9 flagship yet.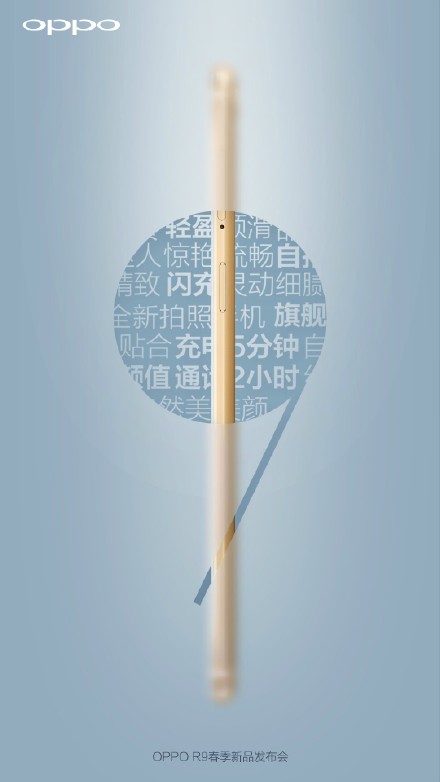 As for the OPPO R9, the company has started teasing the device via its official weibo page. The latest teaser gives us a glimpse of the upcoming smartphone for the first time. The image confirms that the phone will come with a smooth design in gold. You will find the power button on the right side along with a MicroSD / SIM card slots just above it.
The image also kind of confirms that the phone is going to be slim. The previous generation OPPO R7 was quite thin, measuring just 6.3mm and the R5 even thinner with a 4.9mm frame. So, it's quite likely that the upcoming OPPO R9 continues with the lineup's tradition of offering a slim metallic body.
As for the specs, it's still too early to say anything about the device. Traditionally, the OPPO R series have been mid-range offerings with a great design. However, this could change with the OPPO R9, given the amount of focus the lineup has started getting. Rumors state that the phone could end up as a powerful device, featuring the best SoC right now namely the Snapdragon 820. However, the company is yet to confirm the internal specs of the device.
What we can be almost sure of is the presence of the company fast charging VOOC technology on the device. Given that the R9 is rumored to feature powerful specs, is it that OPPO replaced the Find series with the R series?
We haven't heard anything concrete about the mighty OPPO Find 9 in the past few weeks and the company sure isn't giving out any indications that the lineup is still alive.
Let's hope that the company clears out these doubts in the next few weeks.