Xiaomi Mi 4S First Day Sales Figures Are Out, And Its Impressive
Along with the Xiaomi Mi 5, its less powerful brother, the Xiaomi Mi 4S also went on sale yesterday. Despite being overshadowed by the Mi 5, this particular model, which is supposed to be an upgrade to the 2014 Xiaomi Mi 4 flagship, did pretty well in its first ever sale.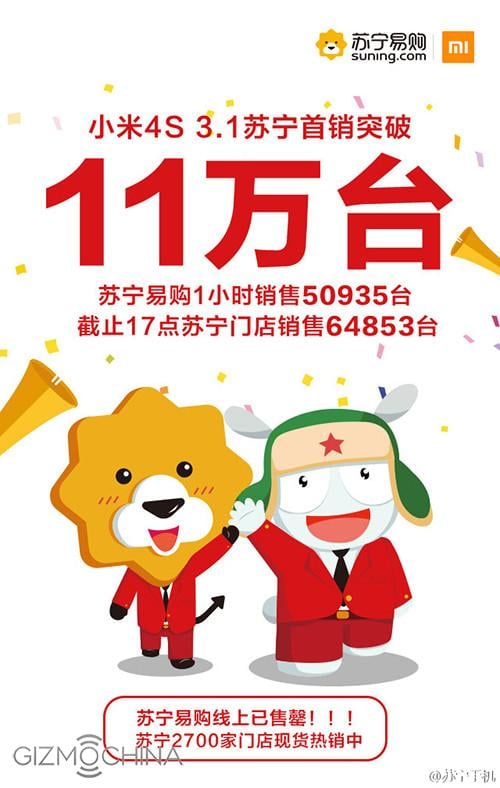 According to the data from Suning, a famous retailer in China, it sold over 110,000 units of the new Xiaomi Mi 4S in the first sale day of the device. The retailer is said to have sold 50,935 units via its online website. The retailer further added 64,853 units before the end of the day via its offline stores in the country.
Now considering that Suning wasn't the only retailer selling the new Mi 4S, as Xiaomi's official website was also selling the device, we can expect the total Mi 4S sales to be quite impressive for its first day. The total Mi 4S sales for the first day could have crossed 200K units as speculated by Chinese media, but Xiaomi is yet to release its sales figure for the Mi 4S.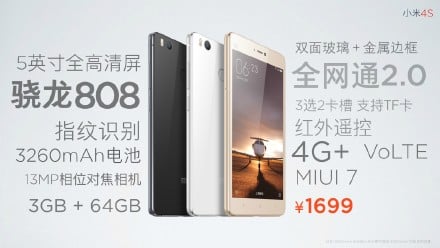 The demand for the Xiaomi Mi 4S is not that surprising given that Xiaomi's products are highly popular in the country. The phone features a compact 5-inch display with the hexa-core Snapdragon 808 under the hood, 3GB of RAM and 64GB of internal storage, further expandable via MicroSD. These are pretty impressive specs for a device that retails for just 1699 Yuan ($260).
Further, you have a 3260mAh battery with Quick Charge 2.0 on board with a 13MP camera at the back, and 5MP front shooter. There's a fingerprint sensor at the back as well. So, overall the phone seems to be well balanced in terms of its specs and pricing which is why it's turning out to be quite popular in the country.
So, are you surprised with these figures?