OnePlus 3 Specs Leaked, Will Unveil On April 7? (UPDATED)
by Shine Wong Mar 24, 2016 8:28 pm2
UPDATE: Oneplus has confirmed that the event on April 7 is not for the release of the OnePlus 3. The event is for the Chinese market, so it could be for the release of the new HydrogenOS version. Stay tuned for more details.
Oneplus is young brand in smartphone field, but the Oneplus one is attracted lots of buyers, but the Oneplus 2 is not as good as our expectation. So how about the coming Oneplus 3? The fans wait for the next flagship phone killer for a long time. Today, the Oneplus 3 Specication is leaked on Antutu.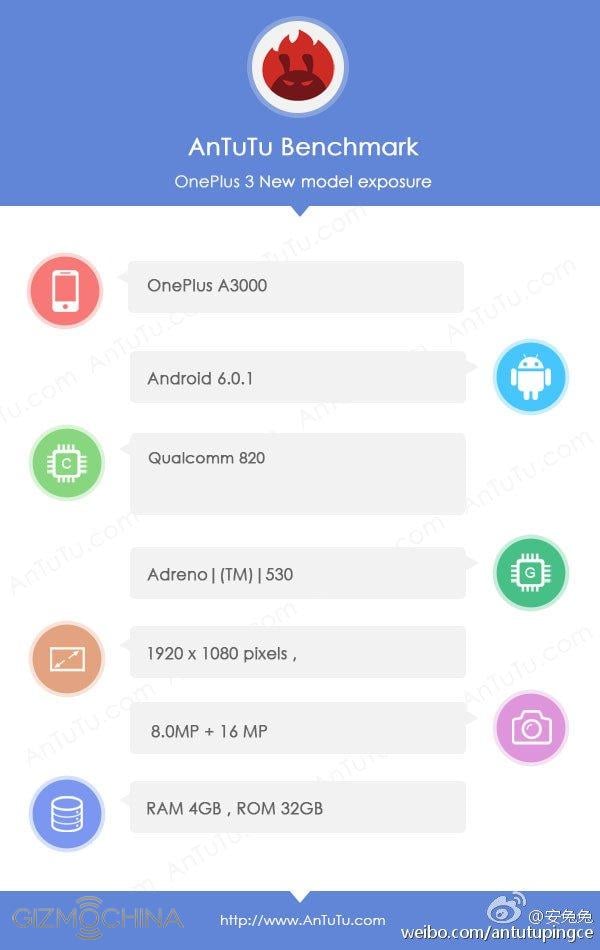 The Oneplus 3 model name is Oneplus A3000, it powered the latest Qualcomm Snapdragon 820 processor, along with 4GB RAM and 32GB storage, 16MP rear camera and 8MP front camera. This phone will be pre-installed customized Oxygeo OS based on Android 6.0. The screen is still 5.5 inch with 1080P display. We don't know if release at April 7th in Beijing event. Anyway, it's a exciting time for some new things out at that day.