Xiaomi unveils Redmi 3 Pro With 3GB RAM & Fingerprint Scanner For $138
If you ever thought that you wanted a fingerprint scanner on a budget smartphone, Xiaomi has just the answer for you. The company has just released the Redmi 3 Pro model, which is an updated version of the existing Redmi 3. Given that the phone comes with a bump up in specs as well as price, this won't be a replacement, but rather it will sell alongside the existing Redmi 3.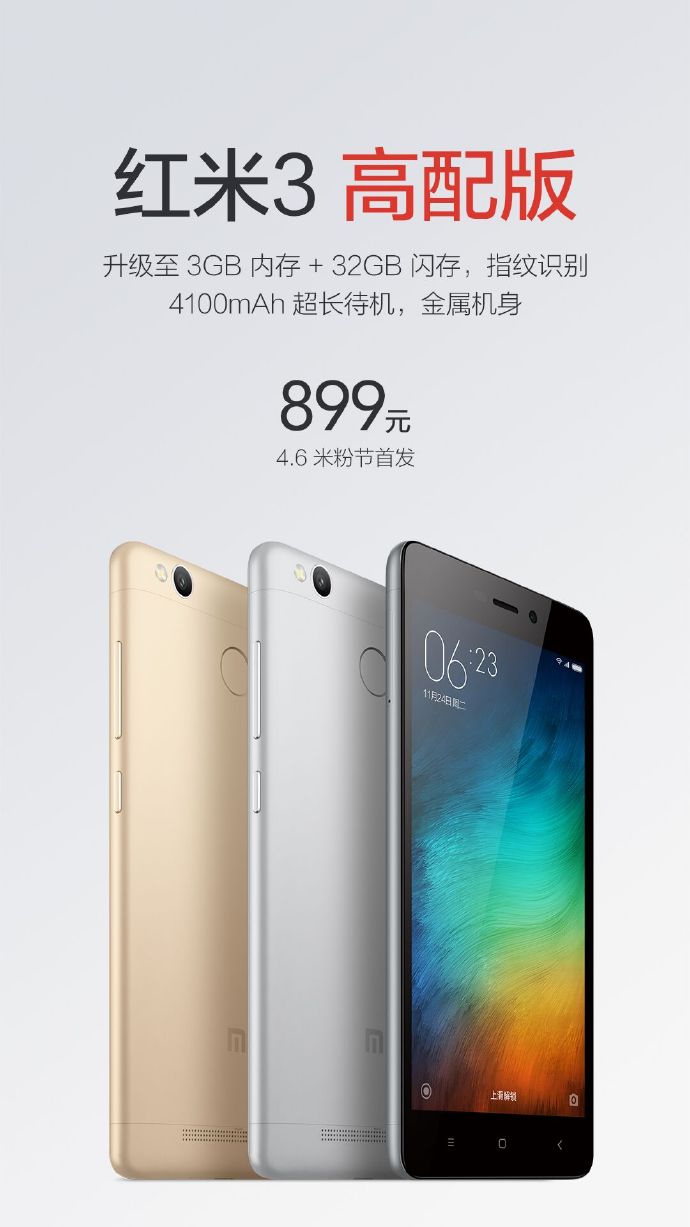 So, what's new in the Redmi 3 Pro? Well, first up, the company has integrated a fingerprint sensor at the back of the phone. It's similar to the one we saw on the Redmi Note 3 model. The second major upgrade is the RAM and the storage. Xiaomi has increased the RAM from 2GB to 3GB and doubled the storage from 16GB to 32GB. Further, you still get MicroSD card slot on the device for storage expansion. So, you don't have to worry about memory on your device (supports 128GB MicroSD cards).
Rest of the specs have remained unchanged. So, you get the same 5-inch 720p screen, with Snapdragon 616 octa-core chip, Adreno 405 GPU, 13MP rear camera, 5MP front-facing camera, 4G LTE support, dual-SIM dual standby and a large 4100mAh battery. There are four different colors for the Redmi 3 Pro, namely gold, grey, white and rose gold.
While it doesn't replace the Redmi 3, what it does seem to threaten is the Redmi Note 3 2GB RAM version that retails for the same price in China. Apart from the display, which is a 5.5-inch 1080p panel, rest of the specs are quite similar to the Redmi 3 Pro. In fact, RAM and storage are higher on the Redmi3 Pro (3GB + 32GB vs 2GB + 16GB). Other specs of the Note 3 include Helio X10, 13MP camera, dual SIM, and a 4000mAh battery. Screen and RAM seem to be the deciding factor between the two, i.e. whether you want a larger and more beautiful display, or whether you want a larger RAM and storage space.
Anyways, the similarity in the specs and the pricing of the Redmi 3 Pro and Note 3 may not be of as much concern as I think. But what's your take on the new phone?