Meizu M3 Note's Price For 16GB Version Leaked via New Poster
Meizu M3 Note will release alongside the Huawei P9 series on April 6. Despite being just an entry level mid-range smartphone from Meizu, the M3 Note is going to sport an upgraded design with powerful specification to take on competitors like the Xiaomi Mi 4C and the Mi 4S. Now, thanks to a leaked poster, we have the pricing of the device.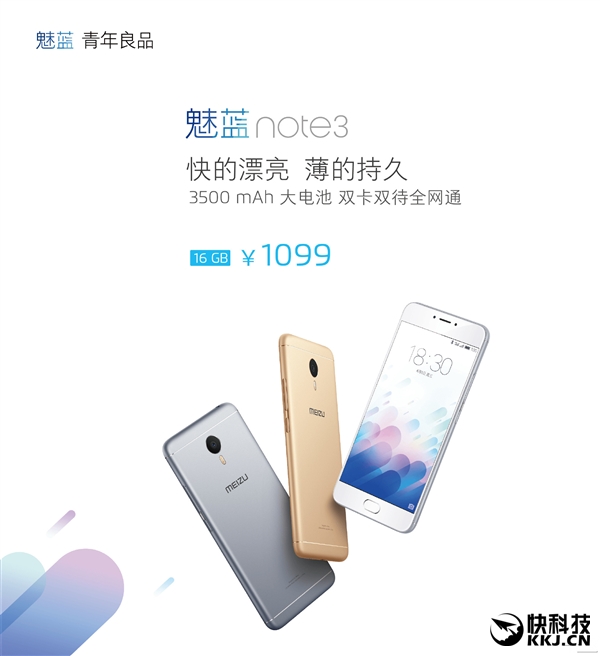 According to a new poster leaked online yesterday, the upcoming Meizu M3 Note will start at 1099 Yuan ($170) for the 16GB version. So, we can expect progressive pricing for larger storage variants like the 32GB and maybe even a 64GB (although unlikely).
When compared to the previous version, namely the Meizu M2 Note, the phone starts at 100 Yuan higher. The M2 Note's 32GB version retailed at 999 Yuan ($154), while this poster shows that the 16GB version will start at a higher price. We still have no idea whether the phone will come with a MicroSD slot, but considering the M2 had one, we can expect a hybrid (SIM2 Slot for MicroSD) on the phone.
So what will you get at this price? According to previous information, the Meizu M3 Note will come with an upgraded all metal body (confirmed via official teaser) abandoning its polycarbonate design. As for the specs, the M3 Note will feature the Helio P10 MT6755M processor with Mali-T860 GPU. There will be two versions, one with 2GB RAM + 16GB storage and the other with 3GB RAM + 32GB storage.
The screen is expected to be of 5.5-inches with 1080p resolution. At the back, there should be a 13MP camera while up front, a 5MP shooter. The phone will come with a 3500mAh battery and fingerprint sensor embedded into its front placed home button. For software, the M3 Note is reportedly coming with Android 5.1 out of the box. And yes, it will feature dual SIM dual standby as confirmed by a previous screenshot. However, it will most likely be a hybrid one (MicroSD / SIM2).
So, for $170, do you think the Meizu M3 Note is a good buy?