ZUK Z2 Pro vs Le Max 2 vs Xiaomi Mi 5: Snapdragon 820 Flagships Compared!
Just when we thought things couldn't get any better, ZUK Z2 Pro came into the picture. Chinese smartphone manufacturers are really trying to beat the competition by offering powerful specs at an affordable price tag that puts other flagships to shame. Le Max 2 was a powerful flagship coming with 6GB of RAM and Snapdragon 820 for just $386. But today, after ZUK Z2 Pro was announced, it looks like an even better deal. It may be slightly costlier than the Max 2, but it comes with so many features inside, that it actually brings a lot of value to the $416 price tag.
So, let's take a look at the three major Chinese Snapdragon 820 powered flagships in the market today.
ZUK Z2 Pro vs Le Max 2 vs Xiaomi Mi 5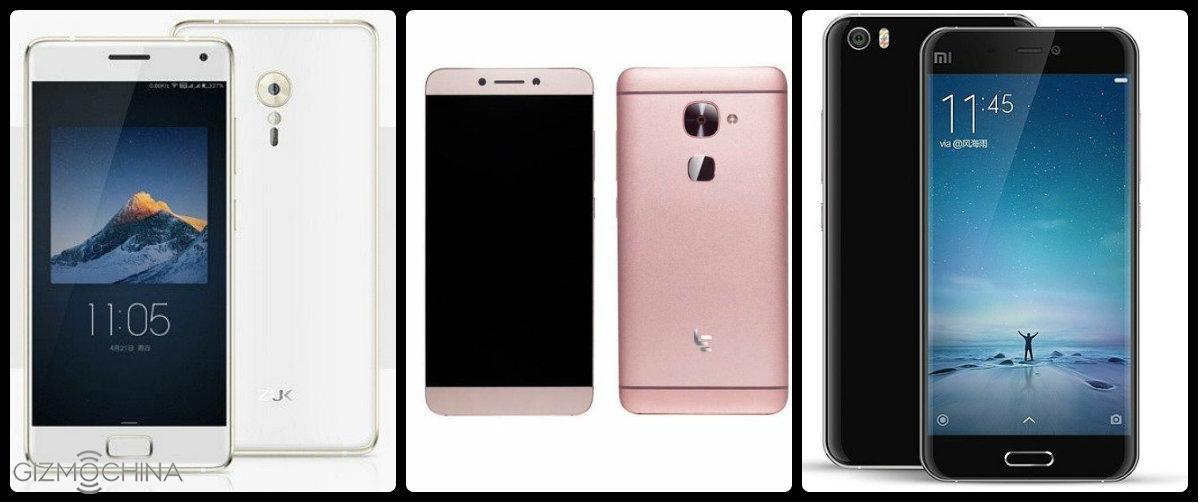 We are not going to take a look at the design of the three phones because that's going to be a personal choice. Some like the Mi 5's design while some like the ZUK Z2 Pro better. So, we leave it up to you to decide which has the best design.
Moving on, let's look at the specs.
SCREEN:
ZUK Z2 Pro and Xiaomi Mi 5 fall in the category of compact flagships. So, if you are in the market for a small sized device, any of these two could be your best bet. Both come with 1080p resolutions. The Z2 Pro has a 5.2-inch screen while the Mi 5 has a 5.15-inch screen. On the other hand, the Le Max 2 is made for phablet lovers coming with a massive 5.7-inch display with 2K resolution.
SPECS:
All three have Snapdragon 820 chipsets under the hood, making the comparison fair. However, I would like to note that ZUK claims that the Z2 Pro comes with the best version of Snapdragon 820, taking its performance to a 100%. While we aren't sure how significant will be the performance difference as compared to the other two, we will have to wait for a good review to reserve our judgement.
Coming to the memory department, let's take a look at the best versions of the three models. The Mi 5 seems a bit left out, coming with just 4GB of RAM on board. So, it has begun, I just said — "just 4GB of RAM"! This is because the other two offer even more, a whopping 6GB of RAM. Both the Z2 Pro and Le Max 2 can make this claim which is really impressive. In the storage department, Mi 5 and Z2 Pro are the real winners with a massive 128GB ROM option. The Le Max 2 comes with a maximum of 64GB, even on the 6GB RAM model.
Now, coming to the camera, the ZUK Z2 Pro features a 13MP rear shooter with f/1.8 aperture lens, 1.34 microns pixel size and pixel isolation tech. You get both OIS and EIS (electronic image stabilization) on the device. Up front, you get an 8MP 1.4micron sensor. As for the Le Max 2, you will find a 21MP Sony IMX230 sensor with OIS and PDAF. Up front, there is an 8MP sensor. Finally, on the Xiaomi Mi 5, you have a 16MP camera, with 4-axis image stabilization tech and PDAF. On the front, it will have a 4MP Ultrapixel camera.
Both the Z2 Pro and Le Max 2 have 3100mAh battery inside. Mi 5 comes with a 3000mAh battery. All three support Quick Charge 3.0 standard, so you can charge your phone in almost an hour. With the larger display and the 2K resolution, the Le Max 2 should be the worst performer of the lot in terms of battery, at least on paper. But let's wait for an actual review to confirm this.
As for the fingerprint sensor, the Mi 5 comes with a traditional one. The Le Max 2 features Qualcomm's Ultrasonic sensor, while the Z2 Pro comes with an FPS sensor which works even with wet hands.
Coming to software, all three run on Android 6 Marshmallow on their respective skins. The MIUI is the most popular one, but the EUI isn't too bad either. What we really want to see is the ZUK 2.0 software on the new flagship as we haven't tested it out yet to see the features of the new UI.
When it comes to the additional features, the ZUK Z2 Pro does have an edge with 10 different professional sensors including blood oxygen, UV ray and heart rate sensor. You can read more about the unique features of the Z2 Pro from here. Another thing to note is that the Le Max 2 doesn't come with a 3.5mm headphone jack, instead uses its USB Type-C port for connecting headphones.
PRICING:
All three are priced very close to each other. The new ZUK Z2 Pro 6GB RAM + 128GB storage variant will go on sale for an amazing $416. On the other hand, the 6GB RAM + 64GB ROM version of the Le Max 2 is even cheaper at $386. The Xiaomi Mi 5 looks like the less value for money option right now, coming with 4GB RAM + 128GB ROM for $417.
So, which one of these are you going to pick? In yesterday's comparison poll, the Le Max 2 was winning quite easily, but I have a feeling that's going to change after Z2 Pro's entry.
Pick you favorite from down below.