Oppo and Vivo Surpass Xiaomi and Lenovo in the Global Smartphone Sales For Q1 2016
by Jitendra Soni Apr 28, 2016 1:54 am0
According to the IDC Worldwide Quarterly Mobile Phone Tracker for the first quarter of 2016, Oppo and Vivo have tipped off Xiaomi and Lenovo from the top 5 smartphone vendors in Q1 2016. Samsung, Apple, and Huawei remain at the top 3 positions. Overall, there were 334.9 million smartphones shipped worldwide in the first quarter of 2016, IDC said.

Samsung's smartphone shipments declined 0.6 percent. Galaxy S7 and S7 edge and J-series were the focus areas for Samsung. While Apple's smartphone volumes slipped to 51.2 million units, down 16.3 percent, a first in 13 years.
Huawei has on the other hand gained from the likes of P9, Mate Series, and Nexus 6, along with entry level devices from its Honor brand. Huawei shipped 27.5 million devices with a growth of over 58 percent!
OPPO registered a growth of staggering 153.2 percent and shipped 18.5 million smartphones. OPPO's growth has been the strongest among the top 5 smartphone makers in the world. Although OPPO is a very unfamiliar name in western countries, it derives 20 percent of its sales from overseas markets.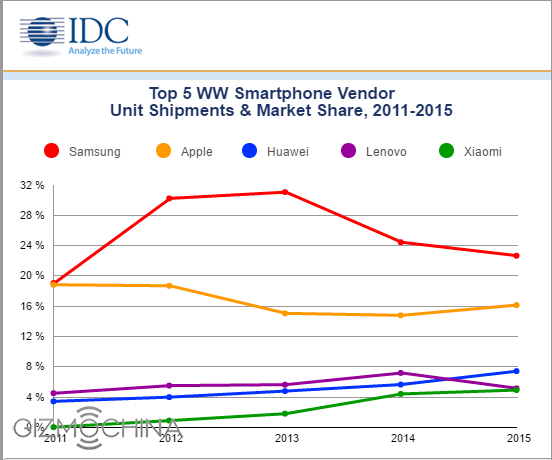 Vivo, which clocked 123.8 percent growth has less than 10 percent of its overall sales from markets outside China. The company shipped 14.3 million units during this time.
"Lenovo benefited with ASPs below US$150 in 2013, and Xiaomi picked up the mantle with ASPs below $200 in 2014 and 2015. Now Huawei, OPPO, and vivo, which play mainly in the sub-$250 range, are positioned for a strong 2016," said Melissa Chau, senior research manager with IDC's Worldwide Quarterly Mobile Phone Tracker.
Apple also has faced a steep decline of approximately 25 percent, still it is at number 2 with an overall market share of 15 percent globally. While, Samsung's numbers were roughly the same for the quarter of global smartphone sales.