UMi Super works with SHARP for an ultra-high color saturation Sunlight screen
by Shine Wong May 10, 2016 7:16 pm0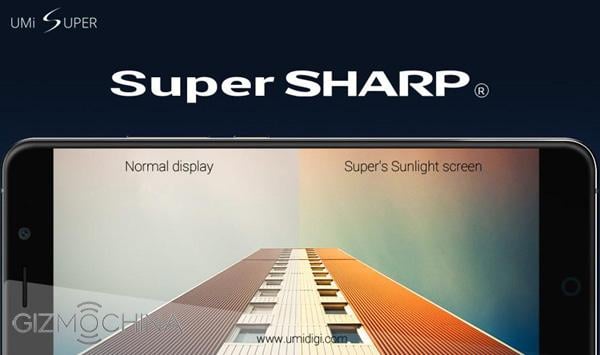 Another leak showed from UMi forum. This time UMi revealed that Super will go with SHARP supplier to pursuit an ultra-high color saturation Sunlight screen.
What does Sunlight screen mean? We've seen this function used on some model of Xiaomi and Meizu claiming it is feature to have 17% better overall color saturation for a richer viewing experience. The great thing to have sunlight screen is that you will not have problem reading your phone in the sun.
Not to mention Super display will has 95% NTSC gamut which enhanced from "vivid colors" based, according to UMi.
Whether you're looking at photos, watching videos, or using exciting apps, Super delivers intense vivid colors.
Unlike other brands using different component in one model, UMi says that Super will use only SHARP display in order to bring out the richest and consistent user experience.
I guess this is why they call it Super – super suppliers
If you're interested in UMi Super then you should go hurry and subscribe this $70 coupon here before it's too late.