Cheerson CX-10W, a quadcopter drone affordable and suitable for everyone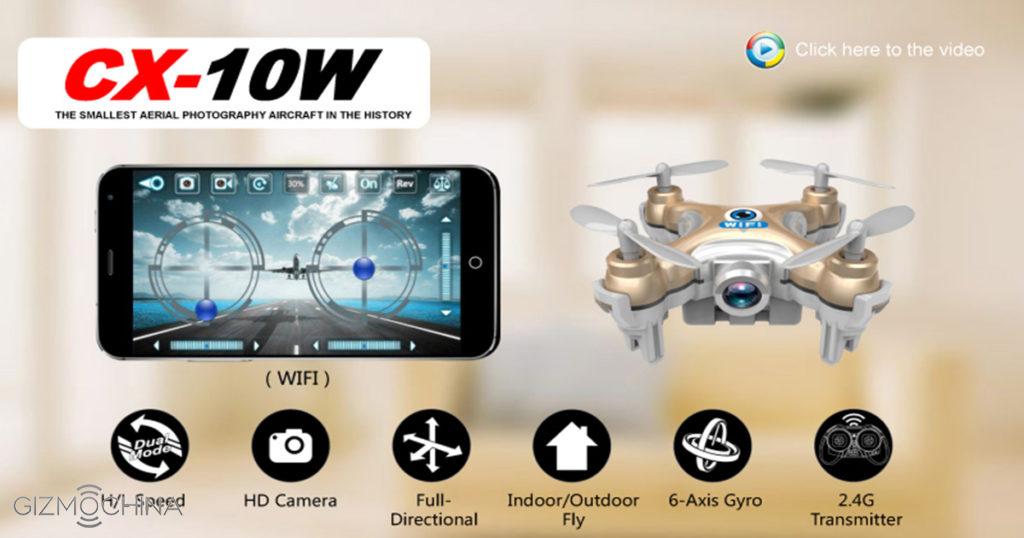 Overview
Currently the market for drones is rising at a considerable rhythm, more and more personal UAVs are showing up every day because a wide variety of brands have taken interest in this field and have no intentions to leave anytime soon, but keep in mind that this is a whole new market, therefore, entails some risks and owning an remotely controlled aircraft means a great responsibility and probably a hard hit to your wallet. But this is not the case for the CX-10W by Cheerson, a basic and affordable drone suitable for beginners that might end up getting you into drones.
The CX-10 is the perfect starter pack for newcomers and enthusiasts that offers a decent quality for a low price alongside some nice features such as the 0.3 MP video camera. This tiny drone that looks like a small toy it's more than you can imagine, to be precise we are talking about a Quad-copter mini drone that provides you the opportunity to learn and develop the skills needed to fly a larger or more complex UAV, so you can consider this device as some kind of tutorial or firsts steps into a hobby with practical and also entertaining applications.
Design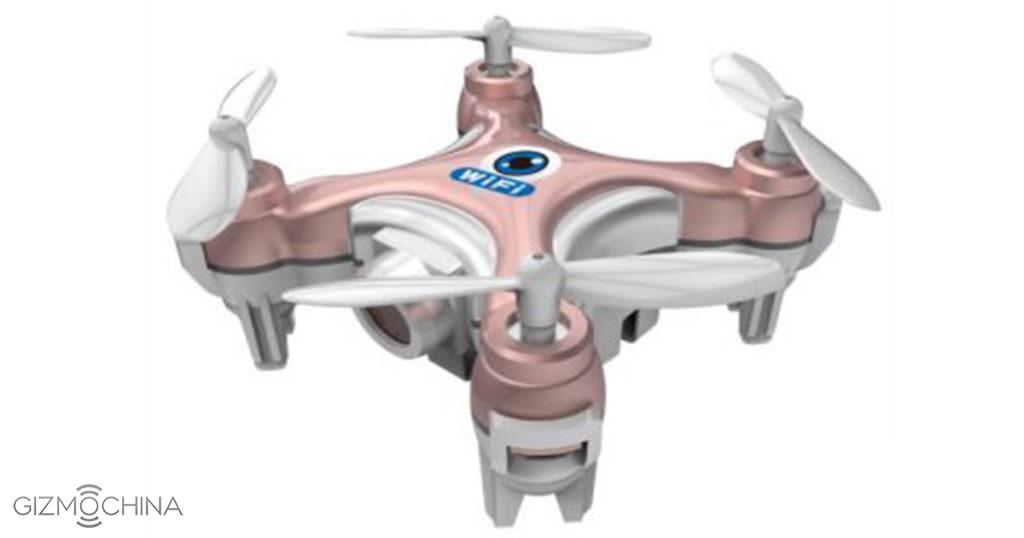 The CX-10 is quite simple, it falls into the category of quad copter and has a dimension size of 62*62*20 mm, with a diameter from blade to blade of barely 30 mm and a weight of just 15 gr. The four blades that lift the body can be found on each side where also 4 led lights are located just a few millimeters below. It features a 0.3 MP camera in the middle of the body facing towards the front.
The material of which is made is known as ABS material, a highly-resistant plastic used for air crafts, cars, tools and toys. The CX-10 drone can take a few hits and falls without breaking, which is sign of a solid build and also has spare propellers in case that something wrong happens to the originals.
It comes in three color presentations: golden, rosy red and dark gray. Besides that, there is nothing more remarkable about this entry level drone.
Usage and flight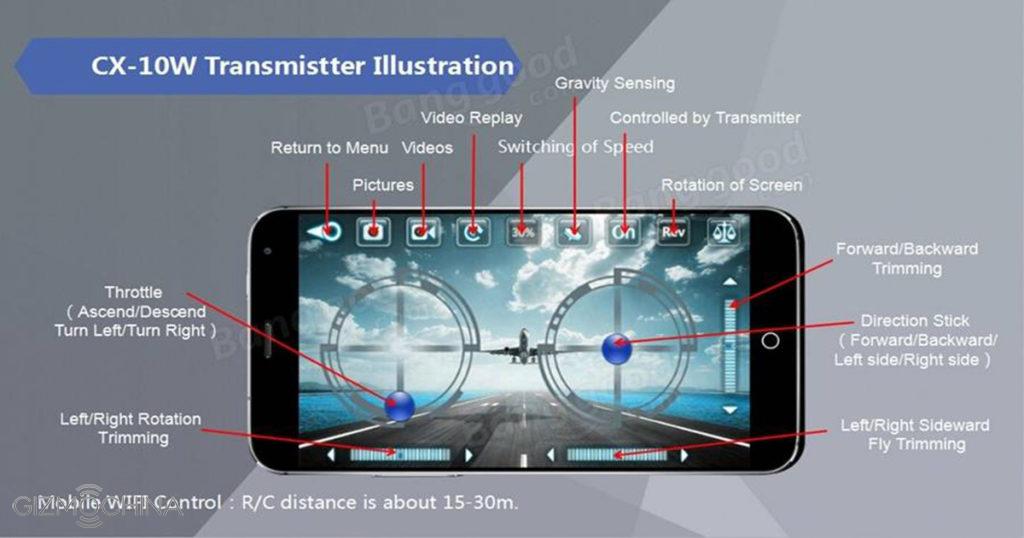 The Cx-10 is easy to set up and easy to use, instead of a remote controller it uses your smartphone as the control device, you can connect them through Wi-Fi once you have downloaded the app that can be easily accessed by scanning the code bars of the box or by getting it through the App store or Google Play store. Once the setup process is ready you can take off for the first time, the control scheme is simple, with the proper actions of flight such as rotation, pitching, ascend, descend or turning displayed on an intuitive UI that looks like a video game HUD, also you can see on screen what the drone is watching  trough the camera.
This tiny drone has a 6-axis gyro that can be calibrated, it can perform flight actions like: ascend, descend, going forward, backward, turn left, turn right, hover etc. The range of control falls pretty short but this is not unexpected, with a distance of 15 M as a maximum. A good feature is the transmission frequencies, which are 8 in total and allow many people to operate their Cx-10 next to each other without problems. Also is ideal for use both outdoors and indoors.
Flight time and battery
This UAV uses a 150 MAH battery that can only deliver 4 minutes of continuous flight and has a charging time of 60 minutes. This is definitely a downside and a clear example of: you get what you pay for; just 4 minutes of flight aren't satisfying enough.
Features and camera
There aren't any special feature about the Cheerson CX-10W besides the 0.3 Mp camera and the 4 led lights, however, the camera saves the videos and photos taken directly to your smartphone, but there is the option of using an SD-card(not included) for this.
Specifications
| | |
| --- | --- |
| Item name: | CX-10W Mobile Control Flying Camera 2.4G 4CH 6 Axis RC Quadcopter |
| Frequency: | 2.4G |
| Channel: | 4CH |
| Gyro: | 6 axis |
| Material: | ABS |
| Quadcopter Size: | Size: 62 x 62 x 20mm |
| Quadcopter Weight: | 15g |
| Color: | Golden, Rosy Red, Dark Grey |
| Blade size: | 30mm |
| Flight time: | about 4 minutes |
| Charging time: | About 60 minutes |
| Control distance: | about 15-30M |
| Flight distance: | About 15-30M |
| Battery for quadcopter: | 3.7V 150mAh |
| Camera: | 0.3MP |
Features
*4 channels with LED lights;
*6-axis gyro with gyro calibration function;
*Ascend, descend, forward, backward, turn left, turn right, hover, Left sideward fly, right sideward fly etc.
*The battery has protective function;
*WIFI mobile control and the R/C distance is about 15m;
*H/L Speed to switch;
*FPV with 3D flip function;
* Has 8 frequency points.
*It has 0.3-megapixel camera to take videos and pictures;
*Memory card and card reader are not included.
What's in the Box?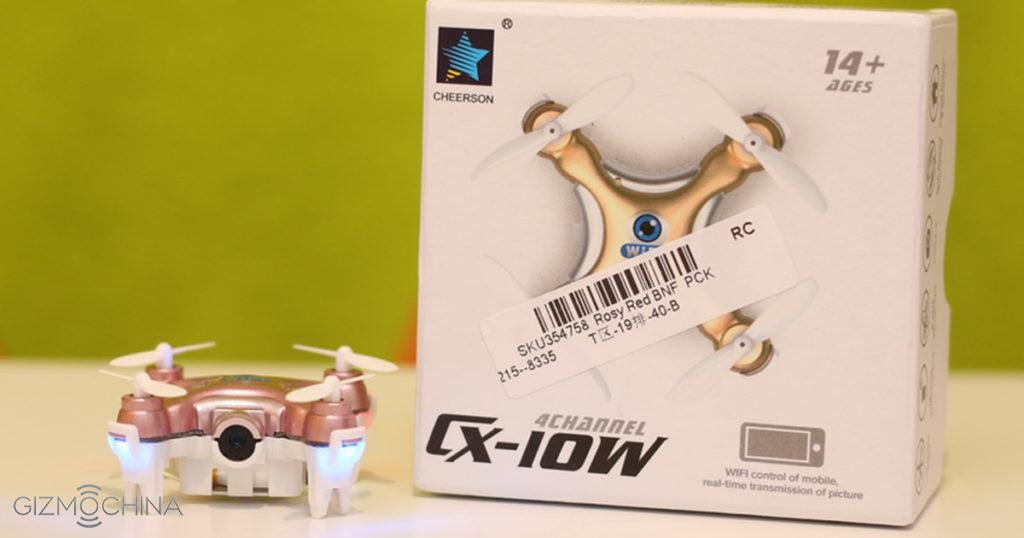 1 x CX-10W Mobile RC Quadcopter.
1 x USB charging cable
4 x Spare Blades
1 x User Manual
Review
In summary, the CX-10 is affordable, easy to use, easy to set up, but is clearly a low-end product, although is not bad at all, just basic and simple, don't look at this as a cheap product, but as a starter-pack or introduction to the complex field of UAVs, which must be operated with skill and responsibility. The control method of using your smartphone as the controller is great, and the drone itself is very responsive and will provide an enjoyable experience. Also, the quality of the materials is acceptable, it won´t break anytime soon if you use it carefully.
In the downside, we can establish that 4 or 5 minutes of use are very short and this will not please everyone, especially when it needs to be charged for an hour. In addition, we think that a 0.3 MP camera falls short. Also is important to remark that strong winds could negatively impact the performance during flight due to the lightweight of the drone.
But if you are looking for a taste of what a drone can do we suggest you get this affordable quadcopter that even a child could use.
If you want to see real pictures of this amazing min-drone, we suggest you visit the full review made by our friends on XiaomiToday clicking here; you will find incredible zoom-in images and what they think about this mini-drone.
Pros
Affordable.
Easy to use.
Easy to set up.
Great for beginners.
Cons
Short flight time.
Low-end camera.
The recharging time is too long.