Six Out Of the Top 10 Smartphones For May 2016 Are From China
Chinese smartphones have come a long way in the past couple of years. This year, we saw at least three new smartphones from China featuring a whopping 6GB of RAM on board along with other powerful specs. And it's no surprise that these smartphones along with other 4GB RAM phones powered by Snapdragon 820 chip dominate the top 10 smartphone list for the month of May released by AnTuTu.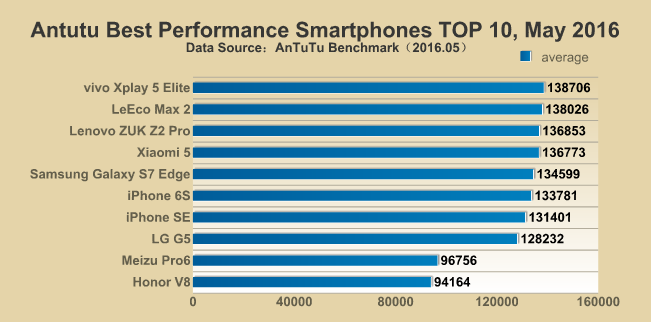 On top lies the Vivo XPlay Lite, which was the first 6GB RAM smartphone in the market. The phone managed to top the list with a score of 138,706 points. Next up lies the Le Max 2 with 138K points and then the ZUK Z2 Pro scoring 136,853 points on average. Like mentioned above, these three phones feature 6GB of RAM on board with the mighty Snapdragon 820 chip. The next two phones, namely the Xiaomi Mi5 and the Galaxy S7 Edge also score well, which isn't surprising given that they have the same Snapdragon 820 chip inside but with 4GB of RAM. We don't see much difference in the performance of 6GB and 4GB RAM phones here, mainly because, AnTuTu gives more importance to the CPU and GPU, rather than RAM.
Then, there are the two iPhone models, the iPhone 6S and iPhone SE, both featuring Apple's top-end A9 chips. Even they manage to score above 130K on the benchmark test, showing the power capability of the chip inside. The last three in the list are LG G5 with Snapdragon 820, Meizu Pro 6 with Helio X25 chip (overclocked Helio X20) and finally, Honor V8 with Kirin 955m. Given that Huawei's device has made it to the list, it shows that Kirin chipsets have finally improved their performance in comparison to its competition.