8 Out Of Top 12 Smartphone Makers For Q1 2016 Were Chinese
We know that Chinese companies are dominating the smartphone market recently, both in China as well as in international markets such as India. While Samsung and Apple still have the lead when it comes to the total number of smartphones shipped in the Q1 2016 and are likely to keep the lead for this year, Chinese companies like Huawei have really stepped up their game in the past couple of years to become the third largest smartphone company.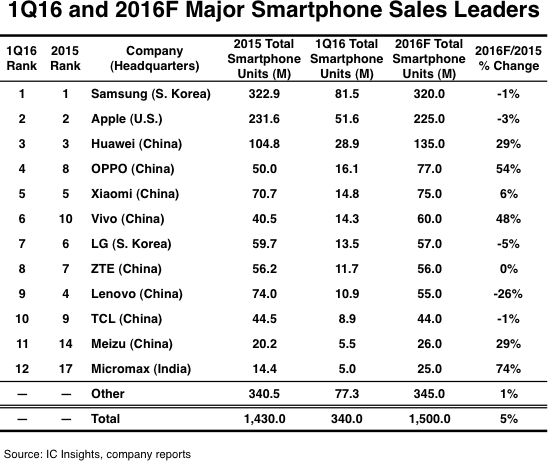 Now, a report from the industry tracker, IC Insights throws some more light on the performance of the top 12 smartphone makers worldwide. Out of the top 12, a total of 8 were Chinese, which clearly shows that these companies are doing quite well in the smartphone industry. In fact, it would have been 9 Chinese phone makers in the list, only if Gionee sold a bit more phones. The report states that Gionee just missed the list as it shipped 4.8 million smartphones in Q1 2016 as compared to the Indian smartphone maker Micromax who shipped 5 million units in the same time period.
RELATED: Top Smartphones In May Are Mostly Chinese
The report also gives us insight on the possible total shipments of the company by the end of 2016. Interestingly, 6 out of the 12 smartphone makers are going to report a growth of 6% or less (year on year). Then there's Lenovo whose shipment is expected to fall significantly from 74 million in 2015 to 55 million in 2016, possibly registering a growth of -26%!. The rest of the five companies, which includes four Chinese and one Indian company are expected to grow at a rate of 29% or more. OPPO and Vivo are especially going to be big gainers this year, with an expected growth rate of 54% and 48% respectively. India's Micromax is expected to grow at 74% this year, but still the total shipments would amount to around 25 million. Compared to 2015's list, Sony, Microsoft and Coolpad are out, since they sold only 3.4 million, 2.3 million and 4 million smartphones respectively in the Q1 2016.
As for the total smartphone shipments, it is expected to grow from 1430 million to 1500 million in 2016, at 5% growth rate.
We personally expect another Chinese company to make it to the list in the coming years, namely LeEco who is slowly gaining market share in large markets such as China as well as India.
(Source)