LeEco Cool1 Dual vs Redmi Pro: Why LeEco's New Phone Is the Redmi Pro Killer! (Almost)
First, there were single camera smartphones. As smartphone cameras progressed, the MegaPixel count increased, as did the aperture size. Then came the craze for dual camera phones. The craze died down for a while and this year, all thanks to a few companies like Huawei and LG, dual cameras are back in action. But looks like this time, dual cameras are here to revolutionize the smartphone camera segment as almost all major smartphone companies are reportedly working on a dual camera phone this year.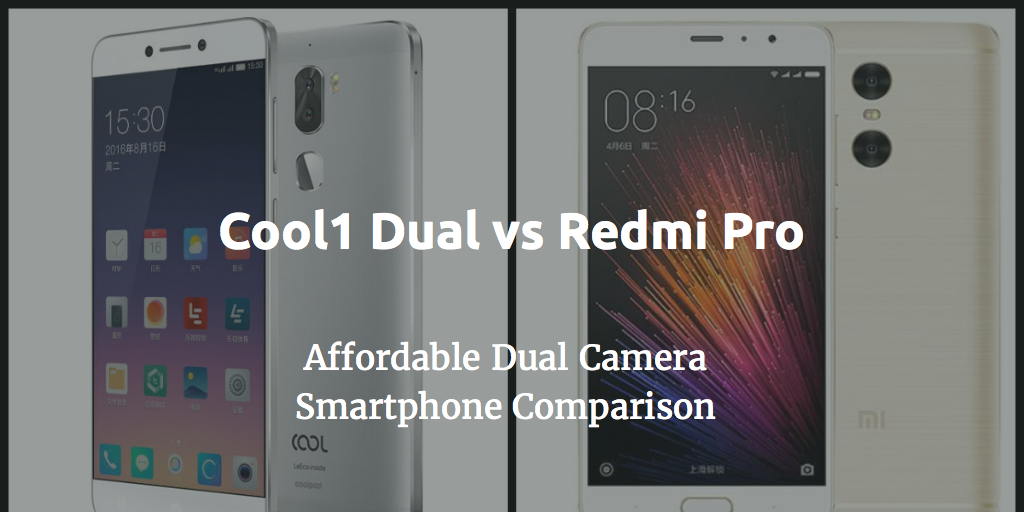 Xiaomi unveiled its first ever dual camera smartphone, the Redmi Pro, a few days back and like always, the phone brings tremendous value for your money. But LeEco was very quick to fight back, and now, we have an even cheaper dual camera device, the Cool1 Dual, released by LeEco in collaboration with Coolpad. We know both LeEco and Xiaomi are top notch Chinese companies and they have changed the way we look at budget smartphones.
Now that you have two dual camera smartphones available in the mid-range price segment, it's quite hard to choose between the Cool1 Dual vs Redmi Pro. This is where the article comes into the picture, as today we compare the key specs and features of the Cool1 Dual vs Redmi Pro to see whether any particular model has an edge over the other. Turns out, there are a few key differences and some major ones which could affect your buying decision.
Cool1 Dual vs Redmi Pro: DESIGN
As always, design is going to be something that's based on your personal preference. Both are pretty good looking smartphones and there will be some who prefer the Xiaomi Redmi Pro's design and some others who like the Cool1 Dual's Design.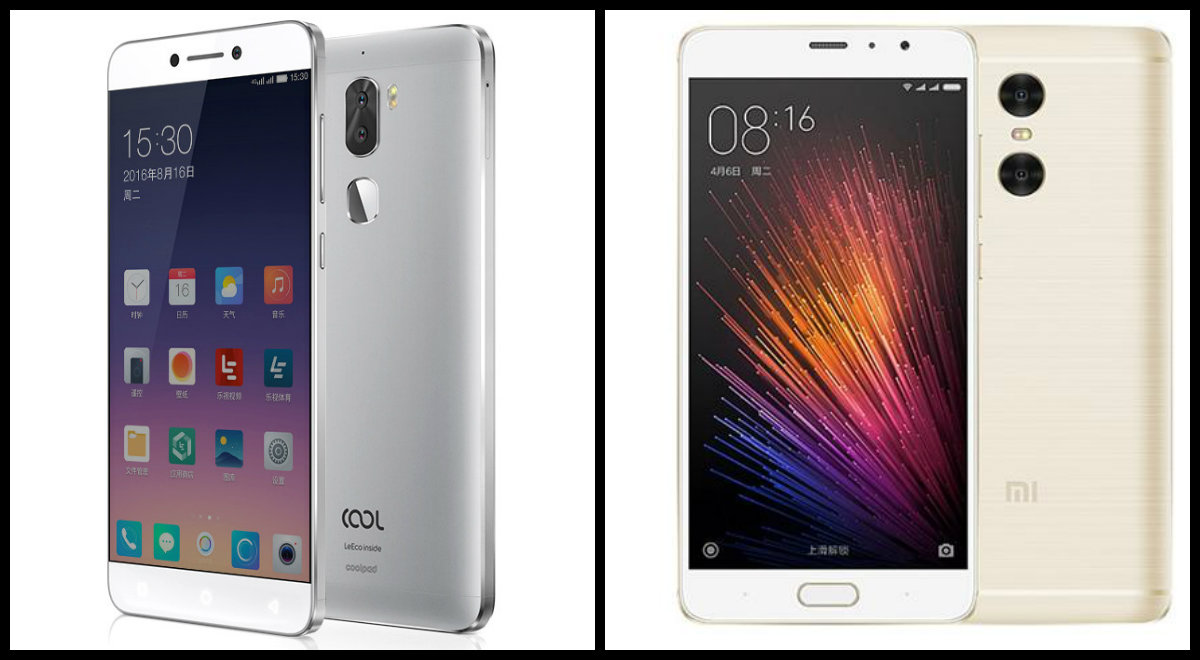 Both feature metal bodies but the LeEco Cool1 Dual comes with a smooth texture. On the other hand, the Redmi Pro has a brushed metal texture. Personally, I like the brushed metal finish on the Pro but I am sure there will be some readers who'll disagree.
There are other differences as well. The Cool1 dual comes with capacitive keys, while the Redmi Pro comes with a home button up front with two capacitive buttons. As you might have guessed, this means that the fingerprint sensor is also on the front of the Redmi Pro. On the other hand, the Cool1 Dual features a fingerprint sensor at the back of the device. The dual cameras are arranged vertically on both the models, but the Cool1 Dual's module is integrated in one single housing, while you will clearly see two separate sensors on the Redmi Pro. Both have USB Type-C port as well.
Cool1 Dual Dimensions: 152 x 74.8 x 8.2mm Weight: 173 grams
Redmi Pro Dimensions: 151.5 x 76.2 x 8.15mm Weight: 174 grams
Considering both are 5.5-inch smartphones, they have very similar dimensions. Even the thickness is almost the same, measuring around 8.2mm. As for the weight, it's once again surprisingly similar, as you can see above.
So, looks like LeEco Cool1 Dual was made for taking on the Redmi Pro from the start. Can't really pick out a winner here, as both have very similar figures.

Cool1 Dual vs Redmi Pro: DISPLAY
These two phones are using very different displays.
The Cool1 Dual comes with a 5.5-inch 1080p IPS display with 72% NTSC and 450 nit brightness. On the other hand, the Redmi Pro comes with a 5.5-inch 1080p OLED display with 100% NTSC color gamut but with a brightness of 350 nits. Redmi's OLED panel should be richer in color but the Cool1 Dual should have a brighter screen.
Cool1 Dual vs Redmi Pro: HARDWARE
Once again, both smartphones have different specs. The Cool1 Dual comes with the Snapdragon 652 octa-core chip (4x Cortex A72 + 4 x Cortex A53) clocked at 1.8GHz. Since we want to level the playing ground, in this comparison, I am going to consider the mid-range variant of the Cool1 Dual that features 4GB RAM and 32GB of internal storage, costing 1499 Yuan, exactly as the Redmi Pro's standard edition.
The Redmi Pro, on the other hand, comes with MediaTek's Helio X20 chip clocked at 2.15GHz (2xA72 + 4xA53 + 4xA53) with 3GB of RAM. Yes, the base variant of the phone, which retails at 1499 Yuan comes with just 3GB of RAM. There's 32GB of internal storage as well.
Now, at this point, the Cool1 Dual really looks like the better smartphone with SD652 and 4GB RAM. However, there's one major flaw in the Cool1. The phone does not have a MicroSD card slot, which is a big disappointment. So, for the two variants (which have just 32GB ROM) of the device, you will be stuck with 32GB of internal storage. On the other hand, the Redmi Pro has an edge in this department, considering it comes with MicroSD card slot (although a hybrid one) expandable up to 128GB.
Now, it comes down to your choice. Either you can opt for a faster processor (better GPU), larger RAM and better third party ROM support (hail Snapdragon!) by choosing the Cool1 Dual (i.e. if you can somehow be satisfied with 32GB internal storage), or you can choose the Redmi Pro, whose Helio X20 is also quite a good performer and comes with expandable storage.
In case you are wondering, both have eMMC 5.1 storages.
Cool1 Dual vs Redmi Pro: Cameras
Now, this is one area which I am sure everyone is interested to see. Once again, the two companies have used different technologies on their respective smartphones. Both have dual cameras and both are aligned vertically, however, the technology is different.
The Redmi Pro as we know comes with two camera sensors, a primary Sony 13MP sensor along with a 5MP sensor from Samsung that acts as a secondary sensor for depth information. The setup is said to take amazing Bokeh images, replicating similar quality as a DSLR.
Other features of the Redmi Pro's camera module include 5P lens, f/2.0 aperture, PDAF, and color temperature flash. The phone is capable of capturing 1080p and 720p videos at 30fps. Slo-motion videos are captured at 720p @ 120fps. Up front, you get a 5MP shooter with f/2.0 and 85-degree wide angle lens.
Coming to the Cool1 Dual, it uses a slightly different setup. There are two 13MP sensors in the module, one RGB sensor and another monochrome sensor. Information from both the sensors are combined to create images, which should technically feature less noise and better clarity, especially in low light conditions.
Other features of this module include 4K and 1080p video support at 30fps, Slo-mo videos at [email protected], f/2.0 aperture, PDAF, 6P lens and color temperature flash. Up front, you get an 8MP f/2.2 aperture sensor with 80-degree wide angle lens.
On paper, the Cool1 Dual seems to have an edge over the Redmi Pro. In fact, during the announcement, LeEco had mentioned that its phone uses dual camera 2.0 technology (RGB + Monochrome setup) as compared to Dual Camera 1.0 tech used by Redmi Pro (Primary cam + Depth sensor). Cool1's ability to take 4K videos is also a big advantage.
So, at least on paper, Cool1 Dual's camera could have an edge. We hope that real life images taken from both the phones will confirm this.
Cool1 Dual vs Redmi Pro: BATTERY
As I mentioned above, it's clear that the company is targeting the Redmi Pro, trying to beat the competition in the segment. So, even in this department, they both have almost identical specs. The Cool1 Dual comes with a 4060mAh battery while the Redmi Pro comes with a 4050mAh battery. Both have fast charging, so it won't take too long to fill the juice up to 100%. Can't really choose a particular model in this department.
Cool1 Dual vs Redmi Pro: CONNECTIVITY
Both have very similar specs, with Bluetooth 4.1, Wi-Fi Direct and Wi-Fi display, Infrared sensor, GPS, AGPS, GLONASS, Beidou, USB Type-C common on the two models. However, the Cool1 Dual comes with 5GHz Wi-Fi ac standard which is faster than the Wi-Fi n standard on the Redmi Pro.
Both have fingerprint sensors, with Redmi Pro having it on the front, embedded into the home button, while the Cool1 having it at the back of the phone.
Both the models come with Android Marshmallow running out of the box. The Cool1 Dual features EUI 5.6 while the Redmi Pro, as tradition comes with MIUI 8.
There are two color options for the Cool1 Dual — Silver and Gold, while there are three colors available for the Redmi Pro — Gray, Silver, and Gold.
Cool1 Dual vs Redmi Pro: PRICING
Cool1 Dual is priced cheaper than the Redmi Pro, starting at 1099 Yuan ($167). There are two other variants, retailing at $226 and $257. On the other hand, the Redmi Pro starts at 1499 Yuan ($226) and goes on till $300.
Cool1 Dual vs Redmi Pro: VERDICT
It's actually easy to pick out a winner in this comparison. The LeEco Cool1 Dual would be a great option if you want a phone which is cheaper, probably with a slightly better camera, 4K video support and Wi-Fi ac.
On the other hand, if you can't live with 32GB storage (a major deal breaker), want a richer OLED display and love MIUI, then Redmi Pro would be a good buy.
If not for the non-expandable storage, the LeEco would have been the ultimate Redmi Pro killer bringing 4K video support, Wi-Fi ac and better graphics performance at a cheaper price tag.
What do you think?