LeEco's Le Pro 3 To Feature 8GB of RAM?
by Habeeb Onawole Sep 13, 2016 1:50 am8
Over the past few weeks, we've been getting leaks of LeEco's upcoming phone, the Le Pro 3 which is said to launch on September 21. While we expect it to come with a Snapdragon 821 chip and 6GB of RAM, it seems LeEco wants to blow our minds by going full force in the RAM department.
An image posted on Baidu earlier today mentions that the Le Pro 3 will have another version with 8GB of RAM!!! Yes, you read that right. LeEco is setting the record. The 8GB version will also feature 256GB of built-in storage, most probably UFS 2.0; dual 13 megapixel cameras on the rear and a 16 megapixel shooter in front.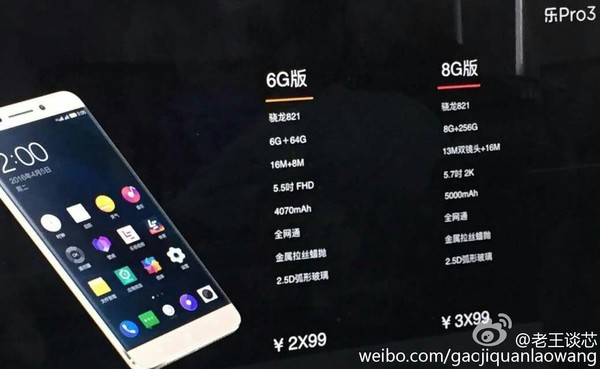 Remember the large battery capacity we talked about here? It's going into the 8GB RAM version, which makes sense as that extra 2GB of RAM will need all the juice it can get. Other features are a 5.7" 2K screen with a 2.5D curve.
The 6GB version will have a 2.5D 5.5" FHD screen, 64GB of ROM, a 16MP rear camera and an 8MP front facing shooter, Snapdragon 821, and a 4070mAh battery.
Le Pro 3 Price
The image also hints at the price range for both versions of the phone. The 8GB version is said to sell for 3x99 Yuan where x can fall between 0 to 9. So depending on the number you replace x with, the phone will cost between $463 – $599. The same method applies to the 6GB RAM version which is said to cost 2x99 Yuan which is between $314 – $449.
READ MORE: Live Renders of Xiaomi Mi Note 2  Surface
Do you think the world is ready for a phone with 8GB of RAM? Do we really need better hardware or better software optimisation?
Let's know what you think in the comment box.