Latest OnePlus Teaser Points at OnePlus 3T Moniker on Expected Device
A Weibo post by OnePlus on its official Weibo page has somewhat confirmed the rumor that the expected OnePlus device would be called OnePlus 3T. All along no word had been gotten on the name that the device, which shares a lot of features with the OnePlus 3, would adopt. The teased post comes with the texts, "Another self, may be better for you. "T", coming soon! # NeverSettle # ", as well as a poster containing an image of a OnePlus 3 standing before the mirror.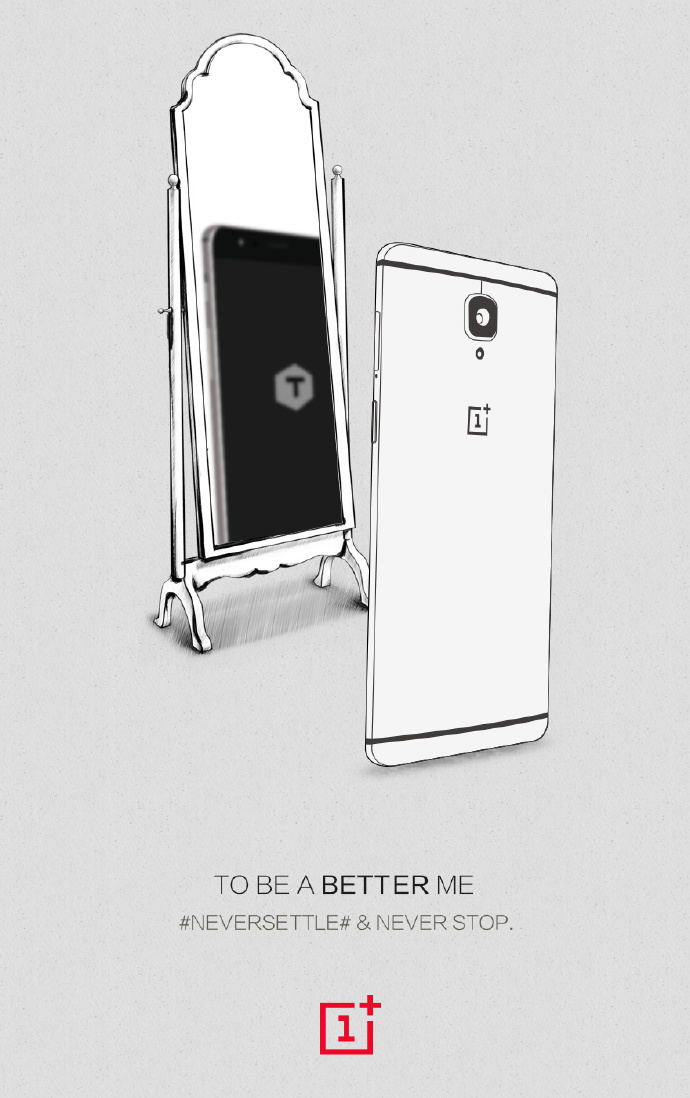 Although the post may not have categorically mentioned the device as OnePlus 3T but it gives us the clue that the device is a T series device. You may say perhaps it could be an entirely new name, perhaps not. The poster contains a OnePlus 3 device standing before the mirror and its reflection on the mirror is that of a device with a "T" inscribed on its display. That is another clue that the expected device is very likely named OnePlus 3T.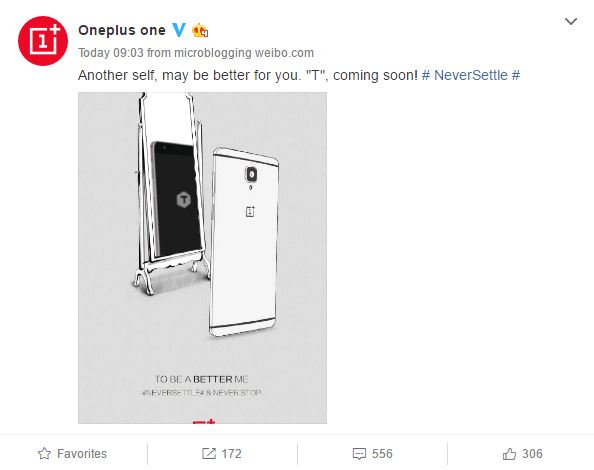 Besides, the expected smartphone is tipped to be an upgraded version of the OnePlus 3, infused with the latest Qualcomm Snapdragon 821 chipset clocked at 2.35GHz. The OnePlus 3T is expected to sport the same 5.5-inch 1080p Optic AMOLED display that was first seen on the OnePlus 3, though new details have emerged that it is likely that the OnePlus 3T would use LCD display due to shortage of AMOLED screen in order to fast track shipment of the device.
Read More: OnePlus 3T Could Feature 8GB of RAM Says New Rumor
In addition, the device is expected to feature two memory versions with 64GB or 128GB of internal storage, but both models are expected to have 6GB of RAM. The major differences from the OnePlus 3 will include an upgrade of the processor to Snapdragon 821, while the rear camera is expected to have the Sony IMX398 sensor that can be found in the OPPO R9s and R9s Plus, as well as an increased 3,300mAh battery capacity. Also unlike the OnePlus 3, the upcoming device is expected to have Android 7.0 Nougat pre-installed. Not forgetting also that the price is said to likely come around $80 higher than the OnePlus 3, placing it around $480. The device is expected to be launched on November 15.