Rumored OnePlus 3T Pricing Info Reveals It'll Be Cheaper In China
by Habeeb Onawole Nov 21, 2016 2:49 am7
The OnePlus 3T was unveiled last week, sporting improved specs and a higher price tag which starts at $439. However, that price will not apply to all regions. If you remember, the OnePlus 3 was priced at $399 in the US but sold for £399 in the UK.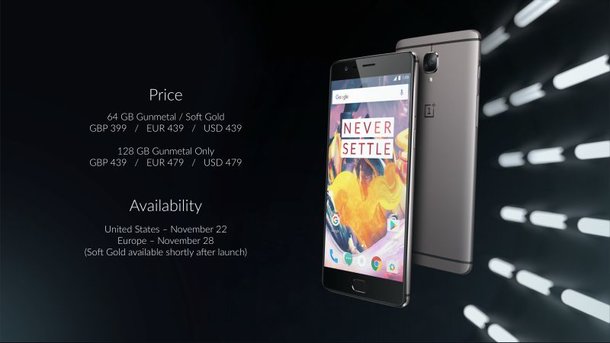 The pricing for the OnePlus 3T has been released and they are as follows:
United Kingdom
OnePlus 3T 64GB Version = £399
OnePlus 3T 128GB Version = £439
Europe
OnePlus 3T 64GB Version = €439
OnePlus 3T 128GB Version = €479
United States
OnePlus 3T 64GB Version = $439
OnePlus 3T 128GB Version = $479
OnePlus 3T China Price
The OP3T is expected to sell for way lesser in China. Although its price has not been made official but an insider says the 64GB version will sell for ¥2799 ($406) and the 128GB version will be priced at ¥3299 ($478) which is roughly the same as that of the US. There is, however, a possibility that the price may be brought down to ¥3199 ($464).
The phone will be available in the United States starting tomorrow and in Europe on the 28th of this month.
It is important to mention that not only will the pricing be different but the bands will also vary according to regions. So if you are thinking of buying from a different region because it is cheaper, you may have to consider this factor unless you do not care about the bands supported.
READ MORE: Droid Battle: OnePlus 3T Versus Google Pixel
The OnePlus 3T has a newer Snapdragon 821 processor but retains the display size, resolution, and screen type as the OnePlus 3. Its front facing camera has been bumped to 16MP and the battery is also bigger at 3400mAh. It also comes with a newer version of Oxygen OS which is still based on Android Marshmallow though, but the company has promised that the phone will get updated to  Android Nougat before the end of the year.
source: Anzhuo