Meizu Splitting the Meizu & Blue Charm Brand Just Like Huawei & Honor?
There are rumors that Meizu is planning to split the Meizu brand from the Blue charm brand, turning both into two separate Meizu sub-brands. Just few days back, the company released two smartphones under both sub-brands, the Meizu X also called Charm Blue X, as well as the Meizu Pro 6 Plus. The company is also expected to announce the Blue Charm Note 5 or M5 Note and M5 Metal on December 6.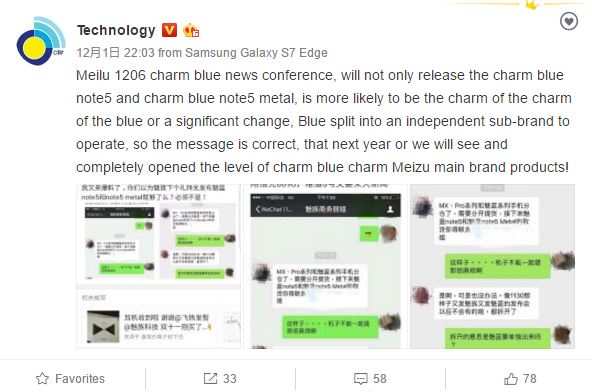 According to  several sources, the December 6 conference will not only see the company releasing the M5 Note and M5 Metal, but also announce the splitting of  the Blue Charm from the Meizu brand. Both would exist as sub-brands and would be independent of each other just the way Huawei separated its elitist Honor sub-brand from the Huawei brand.

Read More: Meizu Pro 6 Plus Official: A True Flagship With Exynos 8890, Quad HD Display & More
In this regard, what is said to be a conversation on WeChat by some of Meizu's officials containing statements that seem to disclose the separation of the brand names. W are just four days away from December 6, so we'll wait to see if there is going to be an official statement or not.