Synaptics Announces Its Own Under-Glass Fingerprint Scanner
by Habeeb Onawole Dec 14, 2016 4:42 am1
Synaptics isn't a new name in the tech industry. Known mainly for building the technology behind the touchpad on your notebook PC, the company also has its hand in other pies. The company recently announced its new under-glass fingerprint scanner which works in a similar way to Qualcomm's Ultrasonic fingerprint scanner present in the Xiaomi Mi 5s.
Synaptics new optical fingerprint sensor called the Fs9100 can scan fingerprints correctly when embedded under cover glass that is at most 1mm thick. Since your finger isn't touching the scanner directly, it won't matter if it is wet. The scanner will also be able to last longer since it is protected from scratches.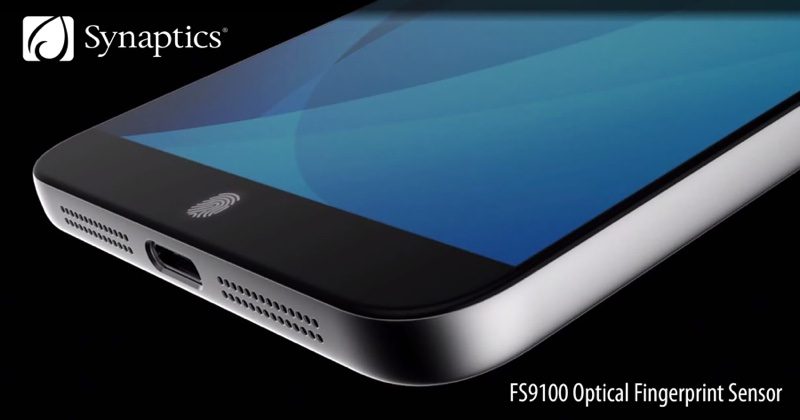 The Synaptics FS9100 sensor like Qualcomm's Ultrasonic scanner does not require cutouts but like Xiaomi demonstrated with the Mi 5s, you might still need a kind of groove to help guide users to the area the fingerprint scanner covers especially when they are using their phone in the dark.
Apple and Samsung are two of the biggest names when it comes to smartphones and based on leaks, their next flagships are rumored to ditch the home button which also serves as the fingerprint scanner. If that happens, they will be settling for a new type of fingerprint sensors that can be hidden under the display. While Apple is probably working on its own technology, we can't rule out the fact that they may look towards Synaptics for the sensors they need since both companies have worked together in the past.
READ MORE: iPhone 8 to Feature Under-Glass Fingerprint Scanner Similar to Xiaomi Mi 5s'
Samsung on the other hand has gotten its supply of fingerprint sensors from Synaptics for a while now. If we are to compare the time of launch of the Galaxy S8 which is expected to be delayed, it should coincide with the time Synaptics says their new sensor will go into mass production. Which means the Galaxy S8 may be the first device to sport the new scanner.