Chinese brands Recorded Historic Figures in Q4 2016 Shipments, Canalys Data Reveals
A recent analytic data by Singapore-based research firm Canalys has again given Huawei the overall lead in total smartphone shipments among the lot in  China. The research data shows Huawei shipped a total of 76.2 million units in 2016, while OPPO  followed with a total estimate record of 73.2 million shipments. Fellow Chinese giant Vivo followed suit, with a total of 63.2 million.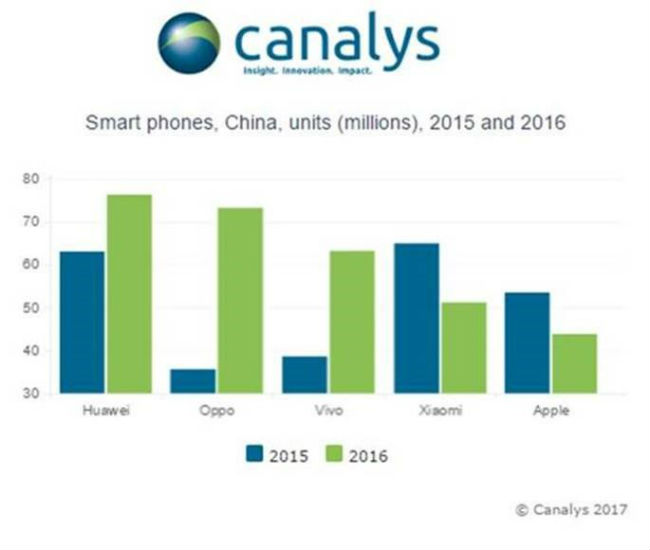 The analytic data also revealed that a record 131.6 million units were shipped in the fourth quarter of last year alone.This figure is the single highest performance in a quarter in the history of the Chinese smartphone market. The Chinese market is shown to have grown at a rate of 11.4% in 2016, gaining a 1.9% increase from 2015 figures. For the entire year, a total shipment of 476.5 million units.
Related: Average Selling Price Of Chinese Smartphones Now Closer To Samsung
On the individual brand performance, Xiaomi saw a decline in its total shipment by 20 % year-on-year . The innovative Chinese startup was only able to manage a total of 51.4 million units, pushing it down the ladder to number 4. Apple and Samsung are also revealed to be struggling in the China market like Xiaomi and the decline is expected to continue this year. Apple could record low sales as consumers wait for the 10th anniversary iPhone 8 which is touted as coming with lots of innovative features.