Nubia Z17 Mini Review – A Mid-Range Camera Champion 
by Jelena Lucic May 9, 2017 5:55 pm17
Recently ZTE released Nubia Z17 Mini and it might be one of the most significant mid-range releases in the year 2017. I have to highlight it has an amazing dual and selfie camera that belong only to the camera champions in the market.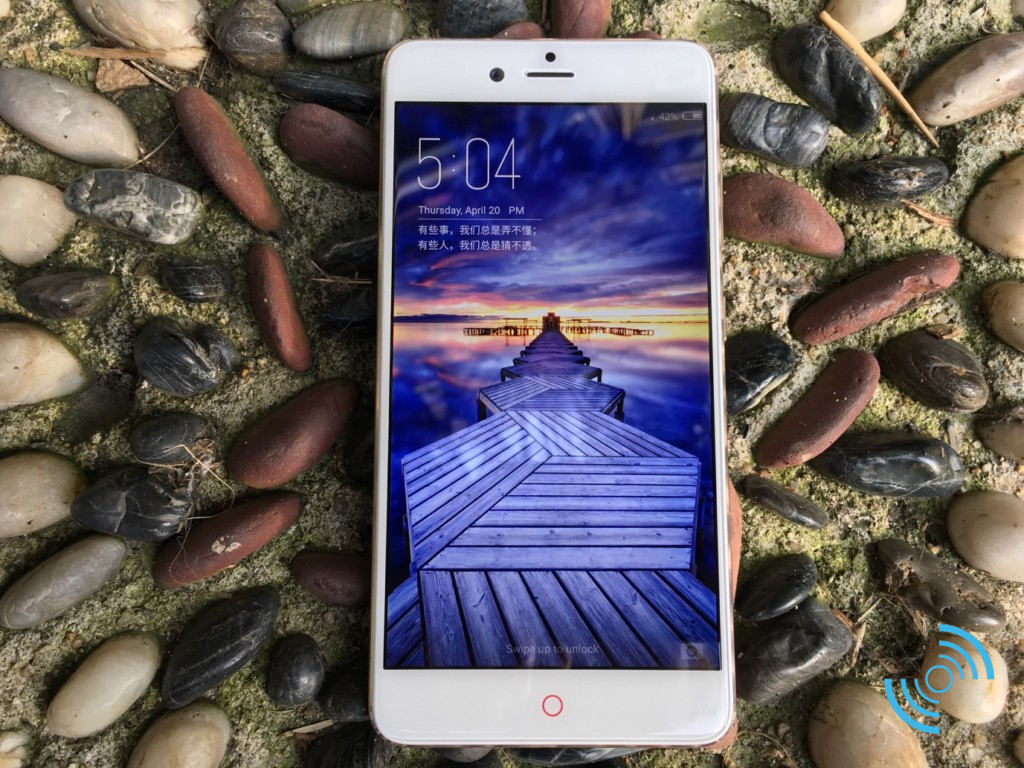 When a middle range phone is released from a Chinese brand, it is wise to be careful before making the buying decision. There are many potential drawbacks, but that's why we'll size and measure all the pros and cons before cutting. ZTE has proved in the past that they know to make a sexy phone with some great features and astonishing performance. Considering that Cristiano Ronaldo is posing on the ad of Nubia Z17 Mini, you can bet that ZTE has big expectations from this model. And what should your expectations be? Let's roll it.
Top-level Nubia Z17 Specification
Cards Slots: Dual Nano-SIM or SIM + memory card up to 200GB
Display: LTPS IPS LCD, 5.2 inches, 1080 x 1920 res (424ppi), Gorilla Glass
Nubia UI v4.0 runs on Android 6 (Marshmallow)
Standard edition: CPU Octa-core Snapdragon 652 (4 x 1.8GHz plus 4 x 1.4GHz); Memory: 4GB / 64GB; GPU: Adreno 510
High edition: CPU Octa-core Snapdragon 653 (4 x 1.95GHz plus 4 x 1.4GHz); Memory: 6GB / 64GB; GPU: Adreno 510
Rear Camera – Dual 13MP
Selfie Camera – 16MP
Video: 4k
Battery: 2950 mAh
Nubia Z17 Mini Review: Design, the feel, and the hardware
I remember back in 2015 when Nubia Z9 got launched. It was a big shift for ZTE and it attracted the attention of many right away. Even some designers were happy to see a 'fresh face', and those guys are usually picky. With Z17 Mini, Nubia follows this stylish design. It is very hard to accurately rate design because of personal preferences, but this model deserves high marks for it. The phone feels sturdy and sits well in the hand.
It comes in four colour combinations: 1) Elegant Black (my personal favorite); 2) Gold Black; 3) Champagne Gold; and 4) Red. It has red as a part of their branding and the phones feature great camera features that symbolically means that photography is user's passion.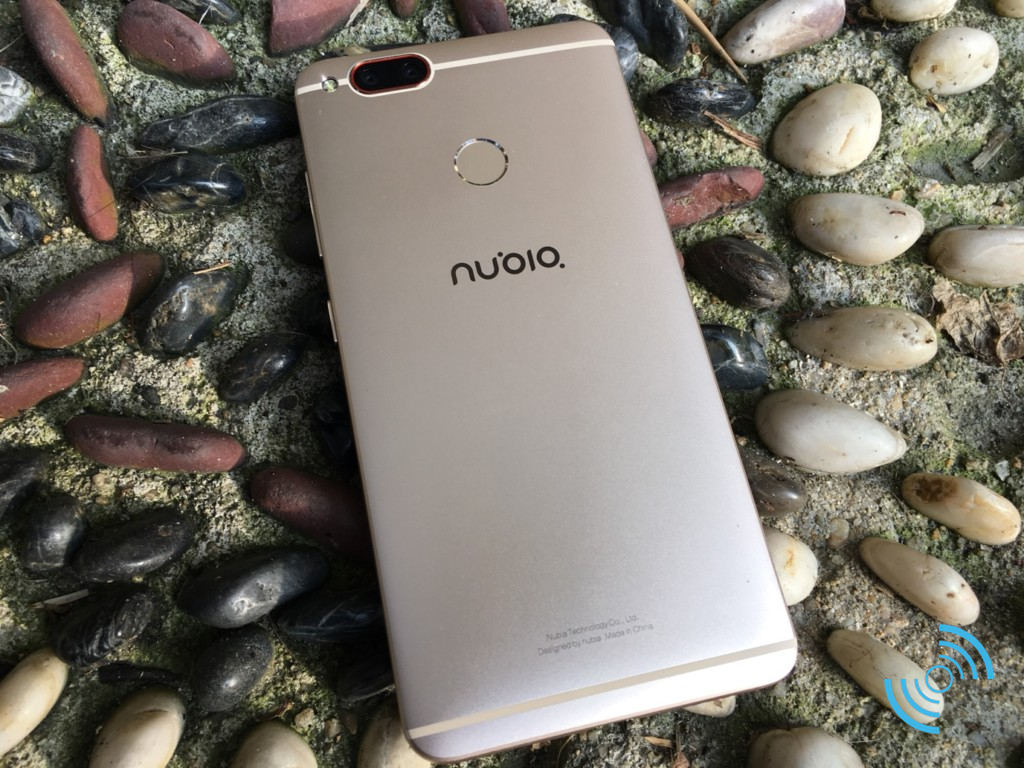 Interestingly, 97% of Z17 Mini's body is made of aluminum, which gives a premium feel. It's worth mentioning the curves on the edges are not fully rounded. Instead, a part of the curve is cut and that gives the phone a bit different feel in hands and a better grip. Although, it feels a bit slippery in the beginning. Adding to it weight of 155 gr,  the general feel of Z17 Mini is convincing in a way that you are holding a premium handset. With its dimensions (146.7 x 72.5 x 7.5 mm (5.78 x 2.85 x 0.30 in)), the phone feels compact enough.
Many phone makers nowadays put the fingerprint sensor on the back of the phone, and to be honest, this place isn't very useful for me personally, as I prefer the scanner on the side. But if you see what Samsung has done with the position of the fingerprint sensor on the new Galaxy 8, then I can't complain much about Nubia's decision.
The home button is a nice stylish red circle below the screen, while Back and Recent buttons are just small dots. In fact, this follows Nubia's elegant design. On the bottom edge, there are holes for two speakers but when I played some music and covered the right one, the music got muted, which means there is no stereo speakers. The other one is an oversized microphone hole, which is fair enough decision for the pure aesthetics.
Nubia Z17 Mini Review: Display, connectivity, & battery
Z17 Mini is equipped with LTPS IPS LCD display. Speaking with no abbreviations, that's a standard for mid-range phones. The viewing angle is very wide. The only thing that could behave better on this phone is brightness and contrast on the daylight. But, in this class with such performances that Z17 Mini offers, you can't expect a much better screen as they are quite expensive. The screen is a higher number of 424 ppi (1080 x 1920 pixels) and the screen size is 5.2 inches – I really don't know why it's called "Mini". The screen is sharp, crisp and has good colour contrasts. It is scratch protected with Gorilla Glass that is curved on the edges (2.5D). However, from the experience, never take it for granted and protect your screen with a foil, tempered glass or a case.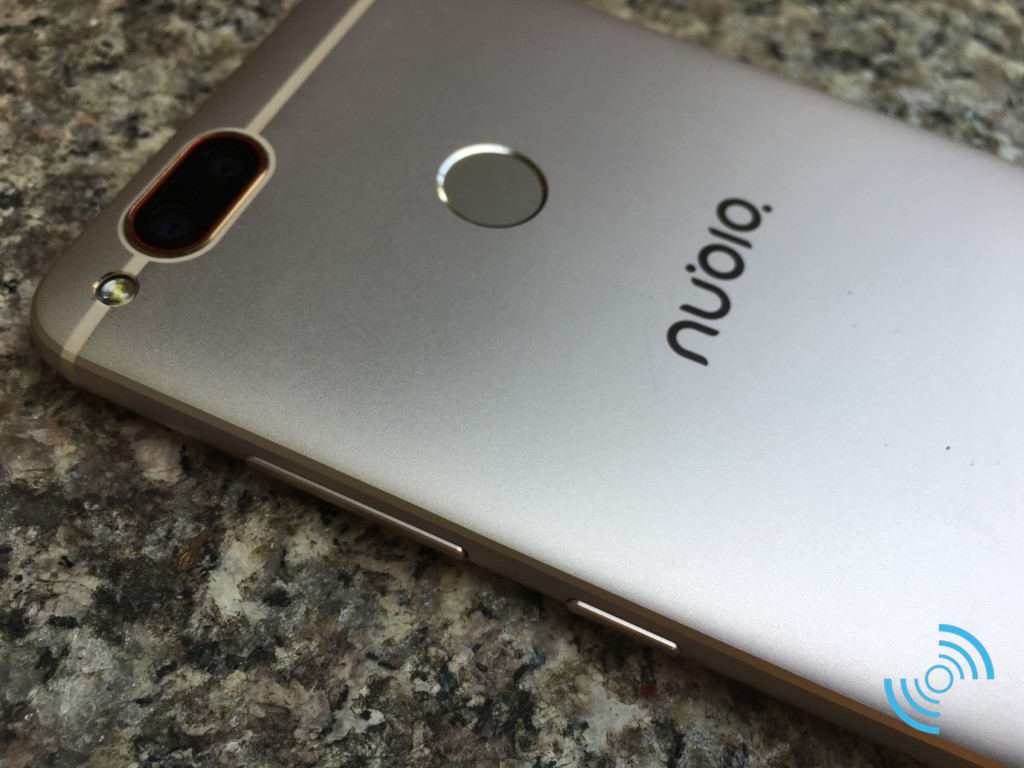 While I was testing Nubia Z17 Mini for this review, WiFi worked well, LTE and 3G network also exchanged data in a nice fashion. If that is particularly important to you, look for a handset that packs Snapdragon 820, 821 or the latest 835. Networking chips are integrated into processor's module and that's the most important when it comes to the quality of the network. iPhone also does a great job here, but we all know its price and limitations of iOS. There is one drawback for connectivity for now –Bluetooth has issues. My unit had a hard time making Bluetooth connections, and I hope it's probably an issue fixable by a ROM upgrade.
Battery lasts for a day without a problem in a heavy usage regime. Of course, there is no a phone out there which you wouldn't run out of juice if you really wanted so. That also depends on apps you use and how often you manage those working in background. Overall, the battery isn't a hero, but it's good enough, so you shouldn't worry about it.
Nubia Z17 Mini Review: UI, Gestures & Apps
No matter how good specifications are, it is important that the core of UI is also well designed and that offers useful options. In terms of that, Nubia UI does a good job. When it comes to the design of the whole thing and sometimes UX of its apps, there are a few drawbacks. Worth mentioning that the Nubia 4.0 ROM reminds of MIUI a lot. Even some widgets are copied directly from there. For example, one tap to clean up RAM. However, there is also a nice widget "Lock screen" that allows you to lock the screen with just one tap. Usually, you can download it from Google Play, but software is always better to come as a part of the OS.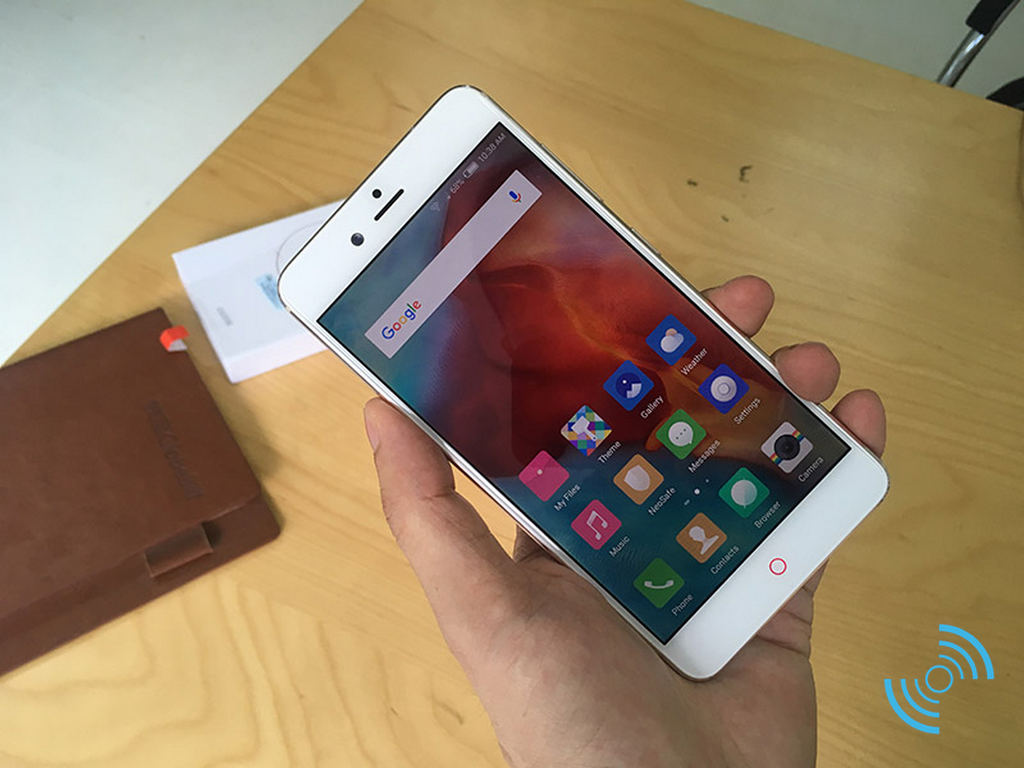 A very good thing about Nubia is its Theme market where you can find and download tons of free themes, and some of them are very cool. Unfortunately, the themes names and a lot of other text is in Chinese only. It is visual enough and it doesn't stop you from using the app. But, in general, there are many parts of the system that are not translated in English. And those that are translated, usually are not written in a spirit of English language, so sometimes you need to stop and think what that means. It's what we expats living in China call – Chinglish – a combo of English and Chinese mixed up. Also, there are some typos. All of these don't really stop you to use all the features that Nubia offers, but it ruins UX a bit. Or makes you laugh depending on your spirit.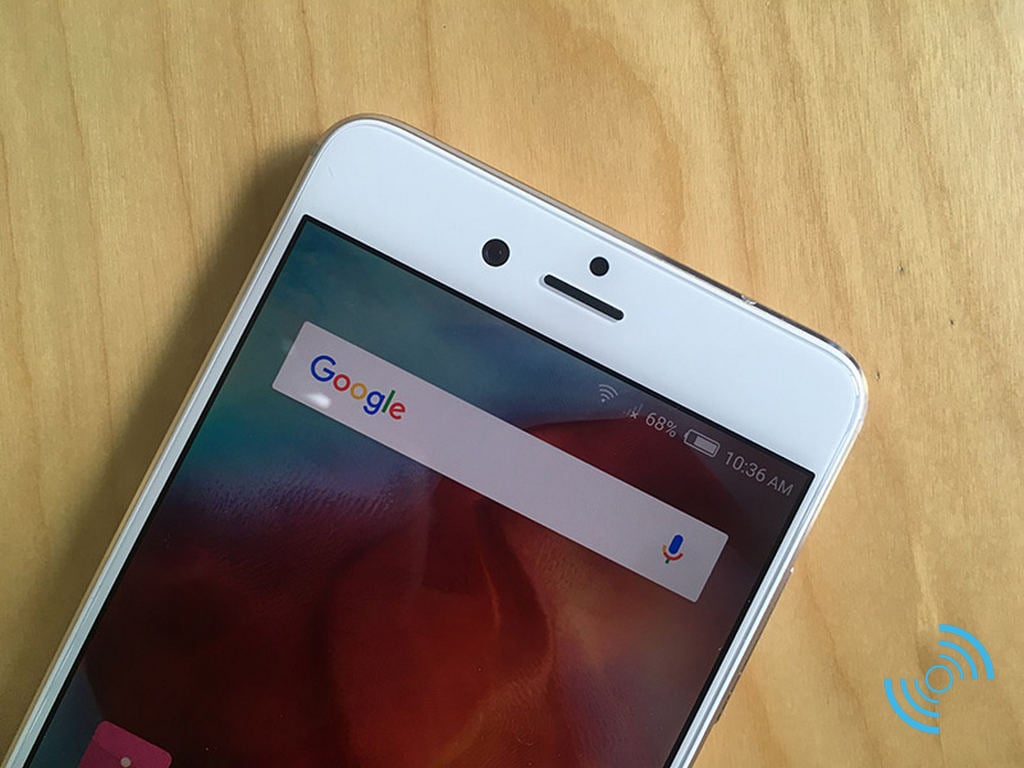 And good news regarding it. It seems that Z17 Mini will go internationally, including India and Europe (source to this leak). I assume it means that translations will be additionally polished and improved. Also, you can bet that the price in Europe and India will be significantly higher than here.
One of the reasons why you should consider getting Nubia Z17 is Edge Gestures. There are plenty of gestures that utilizes the side of the screen. On top of that, there are animations on how exactly to make the move and explanations of what they do.
Also, inside of the phone Settings, there is an Options Menu with various features. You can split-up the screen and easily adjust the size of each split which is sometimes a very useful option. One-handed mode – you can reduce the size of the active screen so that you can reach everything by using one hand. What I liked very much is that you can customize left and right button key. So, based on your habit with a previous phone, you can setup the Back button to be on left or on the right. Remember that buttons are only tiny red dots. Another cool feature is Super Screenshot that allows you to take screen shots of a specific part of the screen, or even to record the screen. Why saving only a copy of your screen at a moment when you make a video of it?
Besides these useful and handy features, you have integrated Security and Resources manager that helps you to manage safety and resources on your phone. And there are some features related to the fingerprint sensor that behaves like an additional physical button in some situations. That's cool.
With all these features available, Nubia Z17 mini is a phone packed with features and you'll be happy to have them.
Nubia Z17 Mini Review: Performance
There is a difference in high and standard version of Nubia Z17 Mini. In this review, I use the standard version with 4GB of RAM and Snapdragon 652. Both versions use the same graphic rendering chip (Adreno 510) and have the same amount of storage (64GB). The only two differences are Snapdragon 653 and 6GB of RAM. I haven't tested the higher version on Antutu, but in terms of processing, the difference is tiny, not worth paying extra money just because of it. However, having additional 2GB of RAM comes handy and for those who can afford it, just go for it.
So, what Antutu says? The standard version scored around 83k which is a good score for a mid-range phone.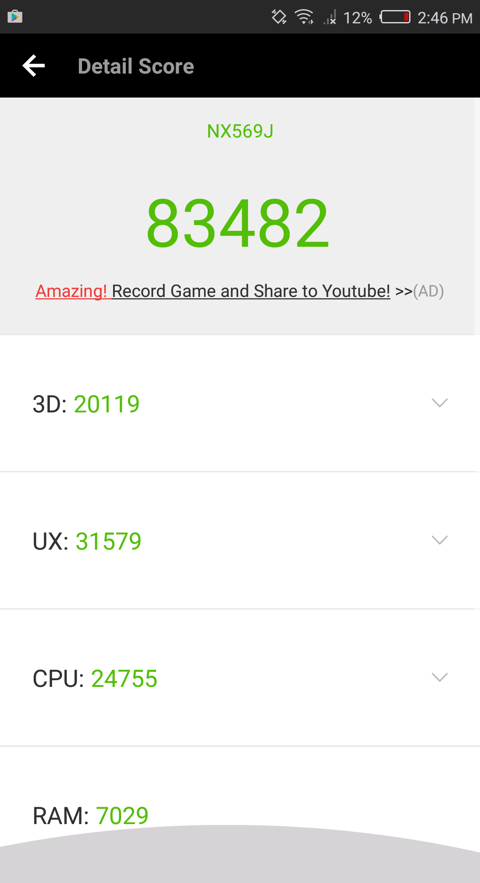 .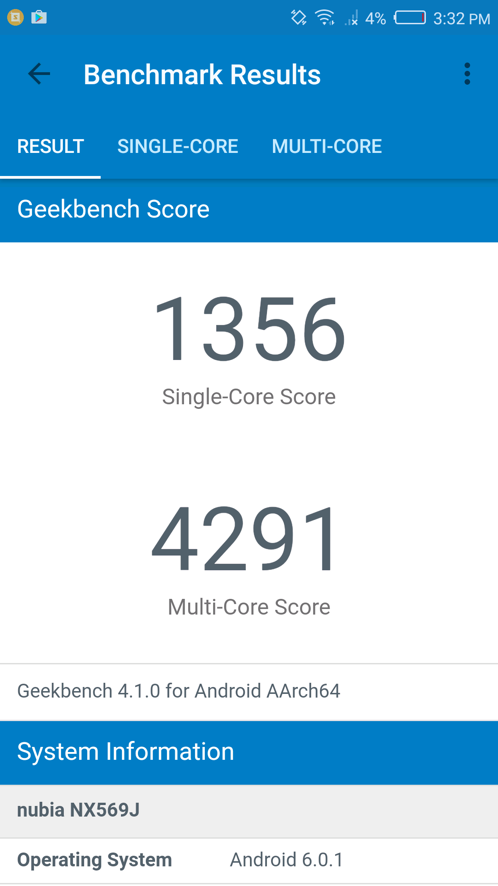 But more than plain Antutu or Geekbench numbers, I prefer testing phones by overloading their memory and opening bunch of apps all at once. Then switching between them, typing, browsing, playing games, etc. If the phone works without lagging, that means that it performs well. And, Z17 mini did! I had opened Asphalt 8, Gmail, Viber, Google Maps, Google Docs, VPN client (this one is heavy), Facebook Messenger, Camera, Chrome, Instagram and a few other less known apps. I was switching between apps and using them without any problems.
Nubia Z17 Mini Review: Call Quality, Multimedia & Audio Quality
The quality of the call is good and no issues with the sound. Chinese phone makers tend to have a metallic echo in the background, but Nubia is doing well and you can't hear it. The speaker is good, a bit of a shallow sound and lack of bass, what I expect from Chinese phone maker.
Nubia Z17 Mini Review: Camera
Well, I didn't have a title of this article ''Camera champion'' not to be fascinated by it! The camera is simply amazing – dual back camera of 13 MP as well as a selfie shooter of 16 MP. Oh yes, it's the good old Sony camera and the model is IMX258. It can be compared to the real pro SLR camera and you can pull of Bokeh effect with a simple click. However, that is not the best thing about it – the very best feature of this phone are all the apps you can use to play around with your fancy phone camera. 3D photo, panorama, Multi-expo, Star trail, Trajectory and much more. Photos in daylight and night have great colours and contrasts. The video is also great, producing some very well lit videos even during night time. It captivates environments better than our own eye in low light.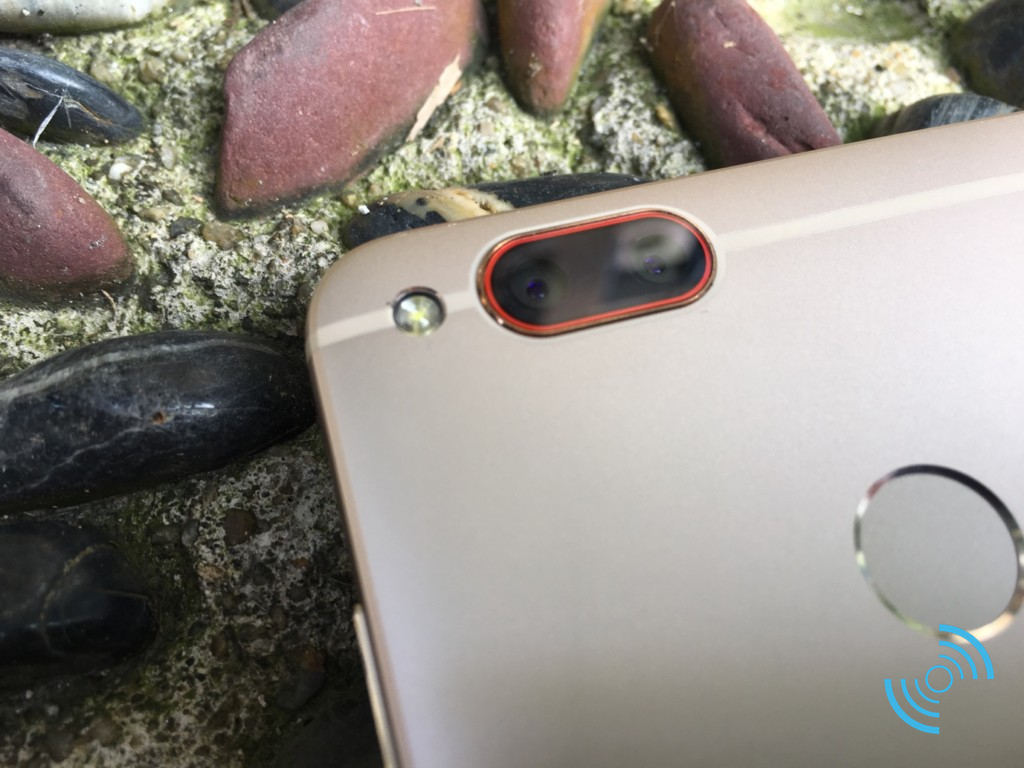 This brings me to the conclusion that this phone is targeting millennials and all people passionate about their photography. Personally, I don't use selfie camera that much – except when posing for reviews, but what I do appreciate is having this option. The screen colours are bright, crisp and picture are sharp and clear. Overall, if you don't mind a bit of Chinese user experience, this phone is amazing for the price tag.
You can check out the full camera samples of the Nubia Z17 Mini from here.
So, what do you think about the Z17 Mini?