New iPad Model Hits Geekbench With An Amazing 9K+ Multi-core Score, Apple A10X Fusion?
A new Apple iPad model has appeared on Geekbench database, with a surprisingly powerful benchmark scores. The new iPad model is believed to feature the Apple A10X Fusion System-on-Chip (SoC) because that is perhaps the only thing that can justify the amazing test score posted by the device, especially in the multi-core test.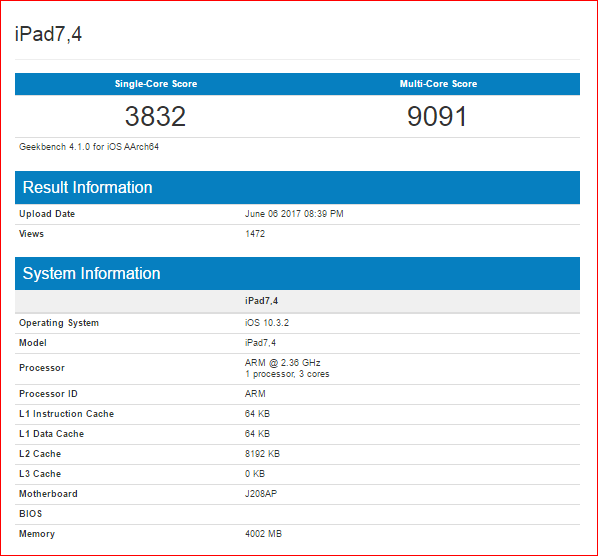 The Apple iPad model, which could be the iPad Pro, polled a total of 3832 points in the single core test but on the multi-core test, it scored an amazing 9091 points. This is a huge flight from the multi-test score of the Apple A10 chip featured on the iPhone 7 Plus which rallied around 5k points on Geekbench.
Read More: Apple iPad Pro 10.5-inch, 12.9-inch Featuring Topnotch Screens, Apple A10X Fusion, iOS 11 Officially Announced
The Geekbench listing also reveals the processor is clocked at 2.36GHz, higher than the 2.23GHz frequency the iPhone  7 Plus' A10 chip ran. Apple has already unveiled the A10X Fusion chip and rightly reveals that it features 3 high-performance cores. The motherboard also points at the likelihood of this being a new chip as the model number is different from that of the A10. Apple had claimed that the tablet would have 40 percent faster graphics performance than its predecessors due to the powerful Apple A10X Fusion chip. With this benchmark result, that may just be a credible assertion.
(source)