OnePlus 5 vs Oppo R11: Let's See How They Significantly Differ From Each Other
This week's release of the OnePlus 5 and Oppo's R11 June 10 release, we can finally compare the OnePlus 5 and its sister Oppo R11 between each other.
Both the phones look very similar to each other and to the iPhone 7 Plus, but there are some key differences that set them apart from each other.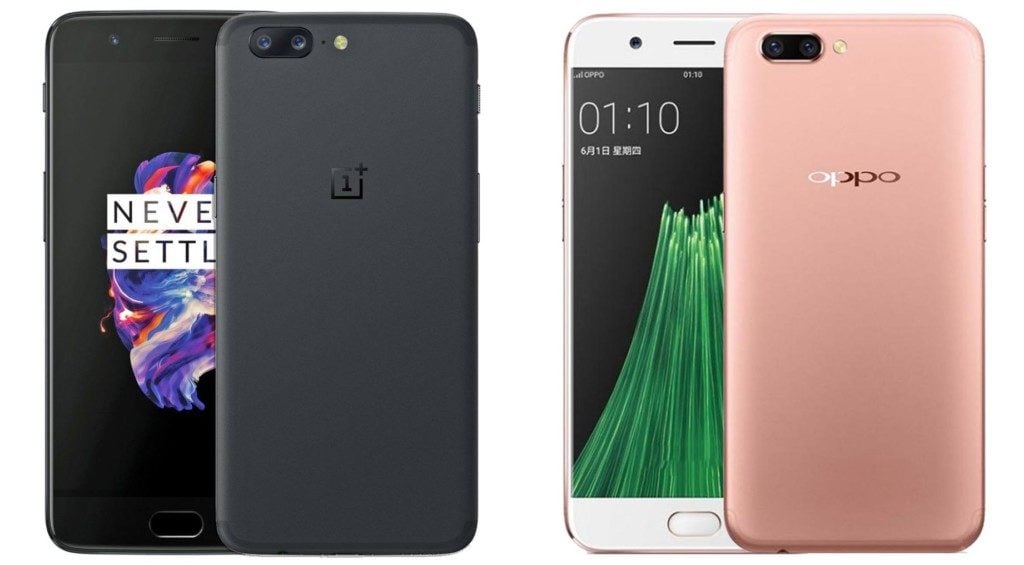 Design
From the image, we can see OnePlus has opted for antenna lines that curve toward the edges of the phones, same principle as the R11. But they are not exactly the same as the R11 has a three line design while OnePlus 5 uses a single band antenna design. Further OP5 differs from the R11 in terms of the notification slider, USB-C and the microphone between the cameras and flash on the OnePlus 5.
Hardware Specifications
In this department, we begin to see where the resemblance beings to depart. The CPUs powering each device differ, the OnePlus 5 housing Snapdragon's high-end 835 processor compared to the Upper-Mid Tier Snapdragon 660. The RAM is greater in the OnePlus at 6/8GB whilst the R11 houses 4/6GB. OnePlus has also ensured consumers that internal storage will be 64/128GB UFS 2.1 whilst the R11 will come with 64GB with eMMC speeds.
Camera
Both smartphones run with dual-rear firing shooters, to the general consumer both smartphones almost share near-identical camera setups. The OnePlus 5 (16-megapixel IMX398 regular sensor with f/1.7 lens and a 20-megapixel IMX350 sensor with f/2.6 telephoto lens), R11 (16-megapixel IMX398 regular sensor with f/1.7 lens and a 20-megapixel IMX376 sensor with f/2.6 telephoto lens).
The clearest difference is the telephoto lens, it appears that the R11 will be using a more recent variant, however, following OnePlus and DxO's collaboration, we should be expecting the OnePlus 5's camera performance to be better.
As for the front-facing selfie shooter, there is more difference, the OnePlus 5 16-megapixel IMX371 with f/2.0 lens and the Oppo R11 20-megapixel with f/2.0 lens.
Features
The OnePlus includes NFC and USB-C (with audio output) not found on the R11. Whilst the R11 offers MicroSD expansion (up to 256GB). In terms of connectivity, both OnePlus 5 models will come with Global band support, whilst the R11 will support a limited amount.
Do the key differences provide a clearer division between OnePlus 5 and Oppo's R11?