Huawei's Upcoming AI Chip Could Speed Up The Smartphone, Teaser Reveals
Huawei revealed a couple of days back, via a video teaser, that it would be holding a news conference where it will unveil its latest Artificial Intelligence processor. The Huawei Mobile AI as it was tagged, will launch on September 2 in Berlin, Germany in the thick of IFA 2017, according to the teaser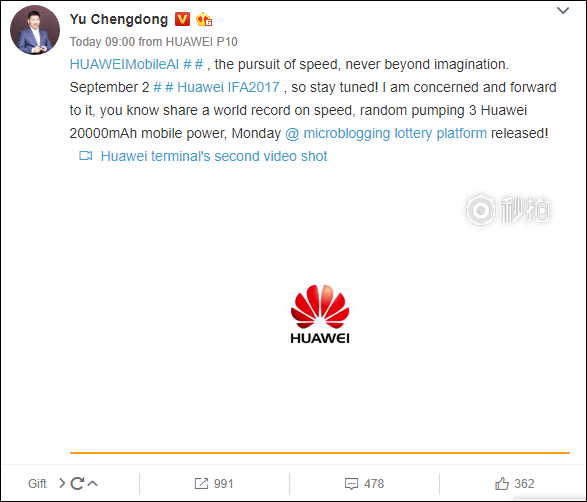 Huawei CEO Richard Yu has once again shared another teaser video which points at the launch of the Mobile AI and perhaps shows how the chip will look like. The teaser contains just three words in a slide format- "Expect More Speed", as well as the hash tag- #HuaweiMobileAI. Richard Yu dubbed the speed as being beyond imagination in his short Weibo write up. This pops up the possibility that the chip may likely speed up the performance of the smartphone. Huawei is also expected to unveil the Kirin 970 which would be used on the Mate 10 and it is likely that the chip would be integrated with the AI technology. The AI could likely also be used on other mobile gadgets apart from smartphones.
Read More: Huawei Goes Big On AI With Its New Processor, Launching On September 2
Apart from speed, we can't tell what other features the AI will add to the chip that would be of more benefit than most of the AI around which seems to be just a Voice Assistant. Recall that Huawei had earlier teased that its AI will be more than just a Voice Assistant. We expect to see more teasers showing more capabilities of the AI in the coming days. You can check out the video teaser by following the source link below.
(source)