Echo Horizon with 18:9 aspect screen lands in Europe for €169.9
by Shine Wong Sep 18, 2017 8:40 am5
Everyone in 2017 is obsessed with 18:9 displays. We have seen this aspect ratio become popular among almost all flagships this year and now, a French brand named Echo is launching a new model with the same 18:9 aspect ratio, called the Horizon. Unlike the flagships which retail for over €400-500, the Horizon will be priced at just €169,90.
French readers might have heard of this brand since Echo's earlier products were mainly focused in the French market. However, with the Horizon, the company aims to expand to Europe, and it believes that the quality and competitive pricing would make the phone attractive in other European markets as well.
Specs wise, the Echo Horizon will be featuring a large 5.7-inch IPS display sporting HD resolution (1440×720 pixel) and a fancy 18:9 display aspect ratio, which should satisfy all your media consumption needs while keeping bezels to the minimum. The elegant display also appears to be curved on the sides Samsung Galaxy S8 style, meanwhile, on the back, we find a fashionable glass panel with the two high-quality rear cameras around the top center portion, along with a fingerprint sensor.
At €169.90, the Horizon offers good value for its price.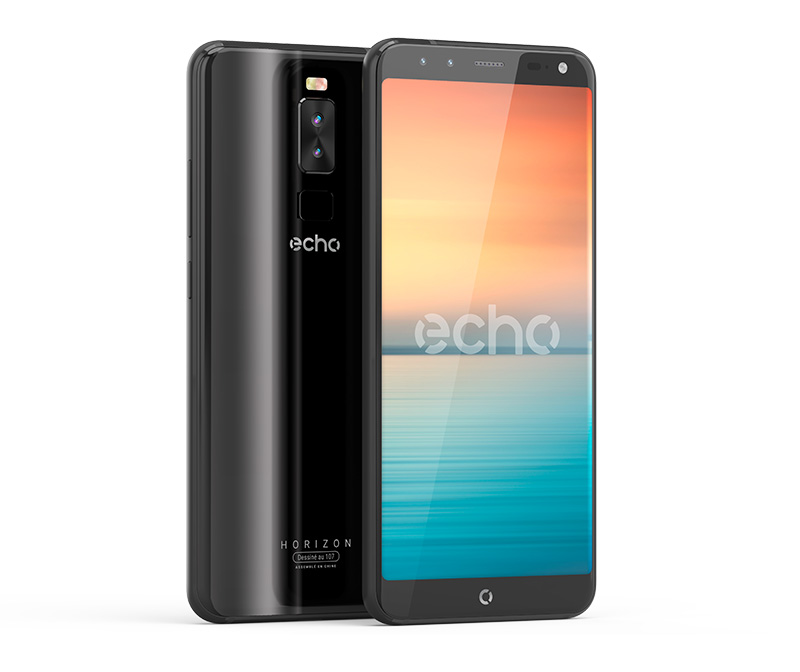 Here are the main specs of Echo Horizon:
CPU: MTK MT6750T
Display: 5,7" HD+ (1440*720), 18:9 IPS
Memory: 3GB RAM + 32GB ROM (expandable up to 128GB)
Cameras: 16MP + 2 MP (rear), 8MP + 2 MP (front)
Colors: Jet Black, Dark Blue
Dimensions: 153,61 x 73×3 x 9,15 mm
LTE bands: FDD 800/1800/2600MHz
Connectivity: BT4.0, USB2.0, 802.11 b/g/n
OS: Android 7.0